Revue Starlight ReLIVE has announced a collaboration with Sakura Wars (Known as Sakura Taisen in Japan) on the JP version of the game.
In a tweet, the Revue Starlight Twitter account announced that ther Sakura Wars collab event would start on the 16th of September, and would see the main characters of the anime come to the game as Stage Girls.
It's not known if that means they would become full-fledged playable characters, or if they'd simply follow the previous collab trends of having the Revue Starlight girls assume their roles instead.
Based on the promotional art though, it looks like the collaboration will be featuring the Seisho girls, specifically Karen, Mahiru and Hikari.
Sakura Wars is arguably one of the best fit collaborations for Re Live- with both being based off of the concept of the Takarazuka Revue- stage performances held with an all-woman cast.
Similarly, the voice actors from the Seisho group of characters in Revue Starlight have also performed the opening for Sakura Wars, Geki! Teikoku-Kagekidan during their live performances.
Sakura Wars is an old strategy game/dating sim from the 90s, based around the Imperial Combat Revu: Girls who not only perform on stage, but also pilot robots to fight off demons.
SEGA recently tried to push for a revival of the series, leading to Shin Sakura Wars- a more action-RPG take of the game on PS4, as well as the Shin Sakura Wars anime which takes place after the events of the game. There was also Sakura Kakumei, a mobile game that ended service shortly after its launch.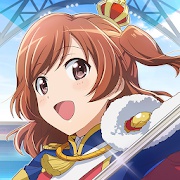 Revue Starlight ReLIVE
Android, Epic Games Store
The Adventure Begins on Stage in RPG Revue Starlight Re LIVE! A direct continuation of hit anime Revue Starlight, the story of the game picks up right where the anime leaves off, but you don't need to be a fan to enjoy all the excitement and drama that await in this RPG!