Bushiroad has announced that they've begun advance sales for Edel Delight , the musical that revolves around the Siegfeld Music Institute from Revue Starlight ReLIVE.
According to the Revue Starlight Twitter, you'll be able to buy advance tickets via a special serial code enclosed in this week's issue of Monthly Bushiroad.
Revue Starlight Edel Delight will run from February 18th to 27th in 2022 at Tennozu Gingakko Theatre.
Not much is known about the plot of the musical, other than it centers the spotlight on the Edels of Siegfeld Music Institute, who act as the main rivals in Revue Starlight ReLIVE.
That being said, it won't solely feature the characters- according to the Cast List posted online, it will also feature Saijou Claudine from Seisho Music Academy, as well as Yumeoji Fumi from Rinmeikan, Shizuha Kocho from Frontier and the three girls from Seiran.
Cross-school cameos aren't unheard of- Blue Glitter, the Seiran-centered musical also featured Akira from Siegfeld, marking the character's first musical appearance.
This isn't the first stage production featuring the ReLIVE exclusive characters, however. The different units performed together for the Starry Diamond performance, which featured music collaborations between the various troupes, as well as an in-game event detailing the stories behind the songs.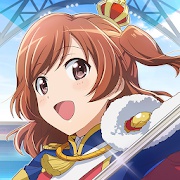 Revue Starlight ReLIVE
Android, Epic Games Store
The Adventure Begins on Stage in RPG Revue Starlight Re LIVE! A direct continuation of hit anime Revue Starlight, the story of the game picks up right where the anime leaves off, but you don't need to be a fan to enjoy all the excitement and drama that await in this RPG!
---
Check This Out Next
---