The Octopath Traveler mobile game, Octopath Traveler: Champions of the Continent, will be running a Bravely Default / 2 collaboration beginning 28 April 2021. Part 1 of the log in bonuses will give out 70 rubies over 7 days, starting 19 April. You can watch the promotional video below:
The collaboration is being held in celebration of the mobile game's six month anniversary. Octopath Traveler: Champions of the Continent will have both the cast of the original Bravely Default as well as the sequel's available as playable characters. Elvis Lesley will be the free unit, while Adelle Ein will have her focus gacha banner on 28 April.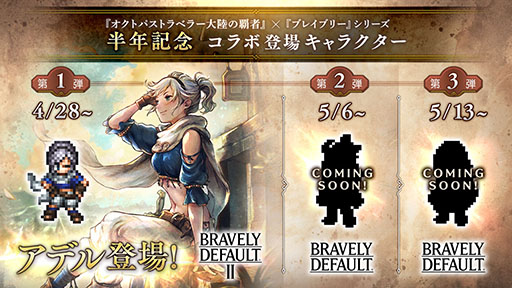 There will be two more gacha banners on 6 May as well as 13 May, with people assuming banner 2 having Edea Lee, with the follow up possibly being Agnès Oblige. All banners will have step-up gacha pulls for the first time, though it's not known at present if they will be paid only. Freebies given out include:
264 Rubies total
200 total upgrade stones for Elvis
10 single pulls on the standard banner
Adele's banner will run from 28 April to 12 May, 11:59 JST. Banner two will be from 6 May to 19 May 11:59 JST, with the final one running from 13 May to 26 May 11:59 JST.
The game will see the addition of new system, new hunts, dungeon and equipment as well.
There's no news yet on whether the game will be made available globally. You can check out the official Twitter for more information.
Octopath Traveler: Champions of the Continent
Android, iOS
A new story unfolds in the world of Orsterra! Enjoy high quality graphics, engaging combat, and storytelling akin to OCTOPATH TRAVELER in this prequel optimized for mobile devices.
---
Check This Out Next
---