Ni No Kuni: Cross Worlds is incentivising players to leave positive reviews on the Google Play Store and Apple App Store. Players were asked to take screenshots of their positive reviews and star ratings before posting them.
This is promoted as an event called Rania's Notebook on the game's Discord server, which you can see below: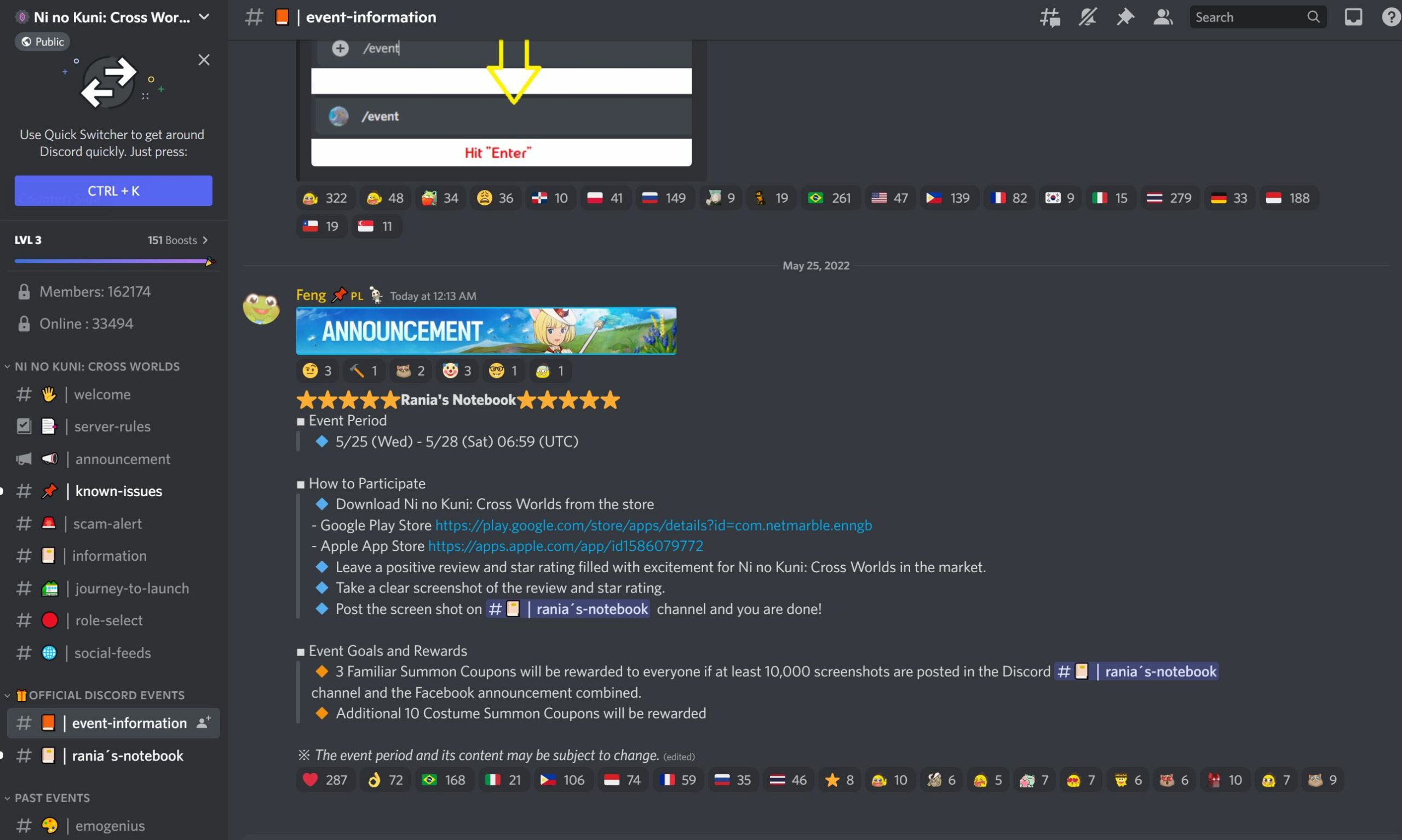 On Facebook and Twitter, the event was also advertised, but it's worth noting that the mechanisms and details for it were not explained.
Incentivised Reviews is a Violation of TOS
Regardless of whether you agree or disagree on the ethical/moral ramifications of rewarding players in exchange for good reviews, or whether this constitutes as bribery as noted by some players, Ni No Kuni: Cross Worlds appears to be violating the terms of service on both app platforms. According to Google Play's policy:
Developers must not attempt to manipulate the placement of any apps in the Store. This includes, but is not limited to, inflating product ratings, reviews, or install counts by illegitimate means, such as fraudulent or incentivized installs, reviews and ratings.
In section 3 of the App Store Review Guidelines:
If we find that you have attempted to manipulate reviews, inflate your chart rankings with paid, incentivized, filtered, or fake feedback, or engage with third-party services to do so on your behalf, we will take steps to preserve the integrity of the App Store, which may include expelling you from the Apple Developer Program.
Whether Ni No Kuni: Cross Worlds will face any punishment from the app platforms remains to be seen. In our review of Ni No Kuni: Cross Worlds, we gave the game a score of 7 out of 10, but note that this was before the first event of the game was promoted on Discord.
To stay updated on all things Ni No Kuni, follow the game on Twitter.
Ni No Kuni: Cross Worlds
Android, iOS
Ni No Kuni: Cross Worlds is an MMORPG mobile game based on LEVEL-5's famous anime IP. The dreamful story of adventures and journeys begins by saving the world from crisis, with gorgeous 3D graphics, and high-level silhouettes emphasizing the fairy-tale style.
---
Check This Out Next
---