It seems every big JRPG franchise needs a mobile spin-off and now it's Ni No Kuni's turn with Ni No Kuni: Cross Worlds a charming little MMO action RPG on mobile devices.
The game is a collaboration between Netmarble, Level 5 and Studio Ghibli, taking the whimsical world of the console games and bringing it to the smaller screen. While the game can be a little slow and hands the players hand a bit too much, it's a cute little RPG for those that want a more laid back experience in a vibrant fantasy world. 
Plot
The story begins with the protagonist participating in a beta test for a game named Soul Diverse that takes them to another realm called Ni No Kuni. 
Unfortunately, after the protagonist enters the game, it crashes and the protagonist wakes up in a kingdom that is currently under attack by an evil organization. During their escape, they accidentally find their way into a new world that contains the Kingdom of Evermore and decided to seek help from this kingdom. The player's journey starts here, meeting new allies, fighting enemies and trying to figure how they came to this world in the first place. 
Entering a New World
The Studio-Ghibli style character designs and music by Joe Hisaishi have always been a highlight of the Ni No Kuni series and that hasn't changed in this game. The art and world is gorgeous, looking almost on par with the console games. 
The game has a cosy, peaceful atmosphere for those that want a more casual RPG that they can hang out with their friends in. The game even has some social media aspects where you can take photos in-game and share them to your wall, and other players will be able to like and comment on them. You can also join a guild to have more interaction with other players.
Character customization
Before you enter the game, you'll be able to choose from five different characters, the Rogue, Destroyer, Witch, Engineer, and Swordsman. Each character has a different battle style and players can decide to choose the one that suits them.
After choosing your character, players are able to customize their character by changing most of the appearance, including eye color (you may choose a different color for both eyes), hair color, hairstyle, and default clothes. You can even adjust your character's height and body type. There are a lot of options that players can have fun messing around with, and chances are you won't meet another player that looks too similar to you. 
Quest
The main quest and side quest are what push the whole game moving forward, you click the mission on the top left, and you're ready to start. 
The strange feature in the game is that you can't walk on your own if you're on a quest. If you decide to stop, the navigation to the quest's destination will disappear. For new players who are still unfamiliar with the world, it can be pretty jarring and feels too hand-holdy. This is particularly annoying since the game's map is huge and locations can look the same so you need the navigation to find where you're going. There's also no quick travel which can really be a pain. 
Side quests are mostly related to the game's 'Reputation System'. The Reputation System' is tied to the main quest as in order to proceed with the main quest, sometimes you need to reach a certain level of reputation in a specific area.
The reputation side quests act more like a tutorial in the game's early stage but diverge away into unrelated side missions later on. Despite that, you still have to complete a lot of them if you want to continue your main quest which makes the game feel bloated, forcing you to do content that you could probably otherwise skip if you wanted, in order to pad out time. 
Battle system
The game has a real time battle system.  I chose to play as the Witch. She fights by controlling a spear that flies around attacking enemies. You have a basic attack and six skills which unlock as you proceed through the game. 
The game isn't too difficult when it comes to regular enemies, in fact most of them can be beaten easily through auto play. For fighting the bigger bosses, you'll need to think more about rolling or jumping to avoid attacks.
Like most RPGs leveling up your skills and equipment are key to getting stronger. There are a lot of resources you need to get to level up. You'll need to do quests to get resources, however there are also a lot of events that players can complete to get reousrces. 
Everything will unlock once you reach Lv40 including PVP. I haven't reached that level yet though as your level will start to get slow when you reach 25+. You'll need to do at least five swift solution quests to level up as quickly as possible, and the swift solution quest is limited to 5 guests per day. If you want to do more you'll need a specific item to increase the quest limit.
Camera View
The game provides three camera views for players: Auto/Free/Fixed. For normal play, it is better to use Auto camera view when the character is running around. For a Free camera view, you may turn your sight freely when your character is moving. The fixed camera view is the best option for when you're in a battle, as this view lets you enter a third-person perspective to see all the enemies easily.
General thoughts
Ni No Kuni: Cross Worlds is a good game for casual players. If you wish to explore a beautiful world with great music at a relaxed paced, this will do you well. It gives you a lot of options to socialise and it's never too challenging so nothing will leave you frustrated.
On the flipside however, for those that seek a greater challenge, it may not suit you as well as the game is not only rather lacking in difficulty but the constant auto gameplay means that it may get boring and repetative after a while.
Ultimately this game is likely going to be an acquired taste. It's a game that wants you to have fun exploring its' Ghibli like world. It may not be challenging but it may be right for those that want a more cosy MMO experience.
| | |
| --- | --- |
| Pros | Cons |
| Easy and accessible gameplay | Autoplay for quests gets dull |
| Comfortable game design and excellent music | The lack of navigation during quests can be annoying |
| Good social messaging features | |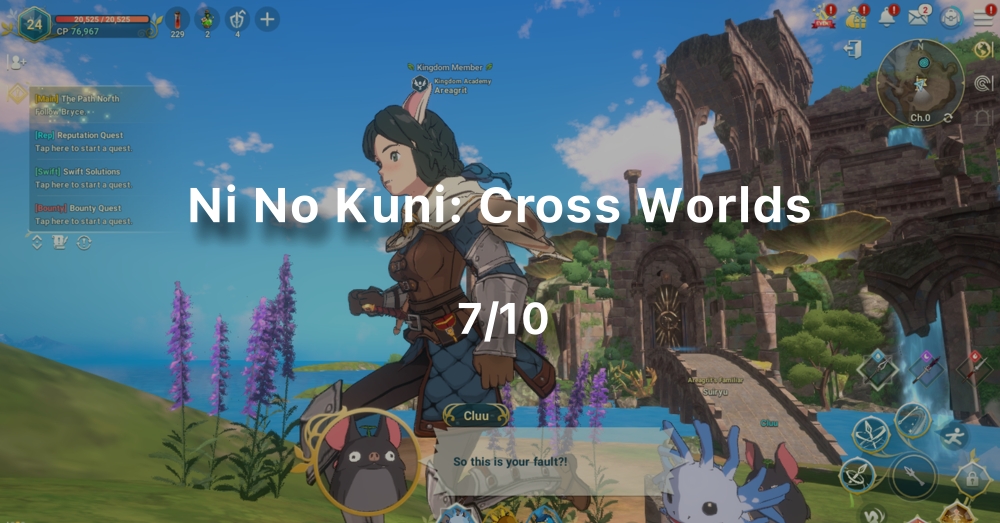 Ni No Kuni Cross Worlds will be available for PC and Mobile devices.
---
Check This Out Next
---