The MSI Stealth 14 Studio A13V is the latest entry to MSI's ever growing line of gaming laptops, which features a NVIDIA GeForce RTX 4050, GDDR6 6GB and an Intel Core i7-13700H processor.
Design
The overall packaging of the MSI Stealth 14 Studio is pretty modern and minimalistic looking with its white and light blue colours. On the box, there's the iconic MSI logo plastered right in the front, and much like its Stealth 15 counterpart, it has this shiny reflective look to it, which is very sleek.
Coming right out from the box, aside from the laptop, there's the 240W charger, and the user guide book. I personally think the charger is a bit on the chunkier side, considering it's for a 14″ laptop.
The MSI Stealth 14 Studio comes in two colour variants being pure white and star blue. We got the star blue variant and it certainly does have that stealthy look to it. The logo on the black plate is matte grey which suits the overall theme that they're going for. That being said, there isn't much RGB going on the laptop; it's only present on the keyboard and back intake, that makes up the word "Stealth" and can be controlled through the MSI Center, which is pretty cool in my opinion.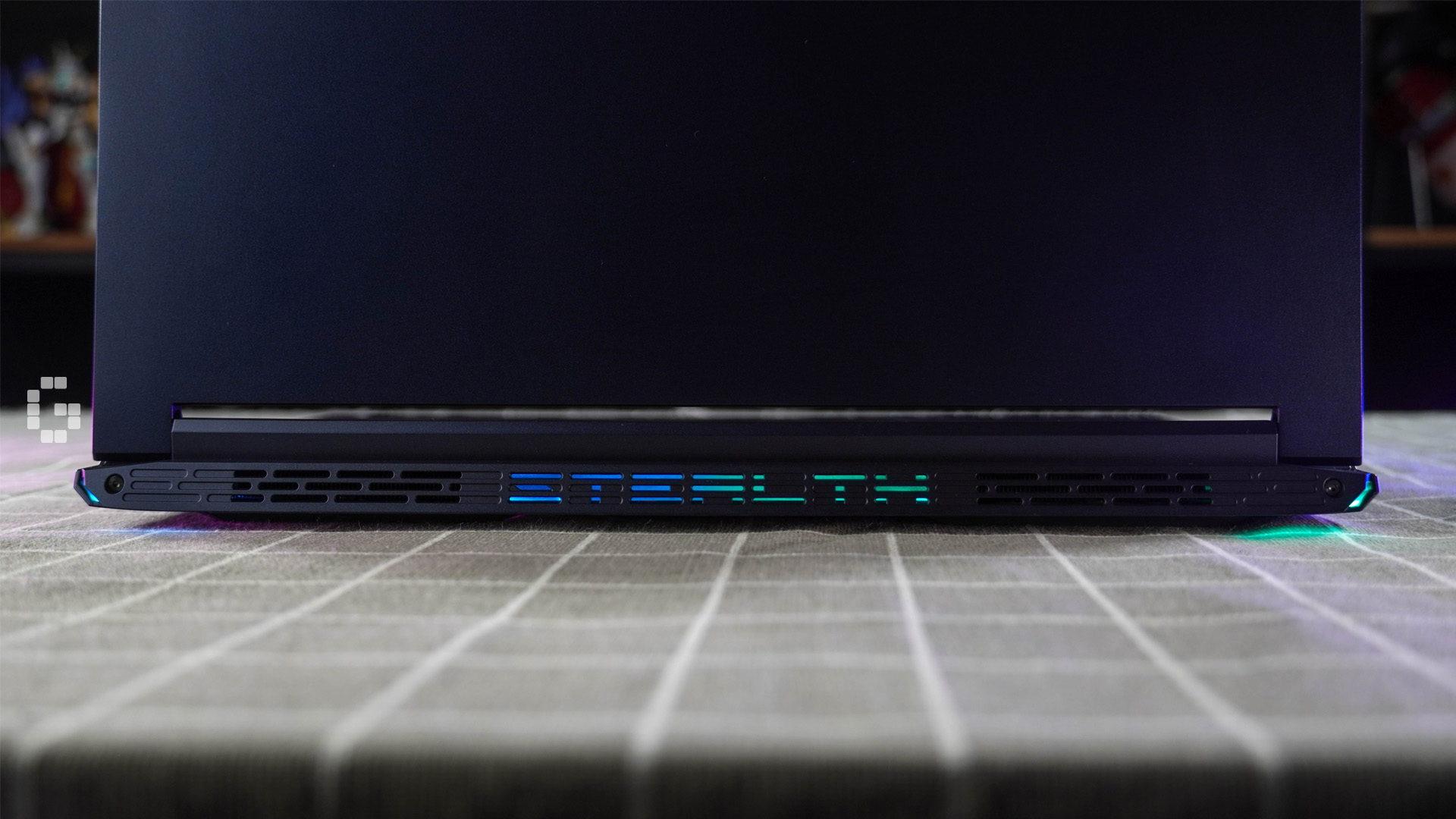 The laptop weighs at only 1.7kg and has a 19mm ultra slim thickness, which is pretty convenient considering how you can bring it with you in just a normal hand carry case. The MSI Stealth 14 Studio is also fully finger proof, meaning that you won't need to worry about leaving any fingerprints on it.
Display and Audio
The MSI Stealth 14 Studio has a 16:10 QHD (2560×1600) 240Hz refresh rate screen. It also uses the IPS panel and has true colour technology that is suited for content creators or designers since it provides the best colour accuracy. Aside from that, it has an IR HD webcam that runs at 30FPS at 720p which is good enough for meetings.
The laptop has is built with 2 speakers and 2 woofers, where the speakers are facing up and placed at the side of the touchpad, while the woofers are placed beside the laptop. The sound quality is decent enough for most users in my opinion.
I tested out the speakers by watching some videos, and the audio is clear enough for you to hear, even if you would cover it. Since the laptop is also built in with 2 woofers, you would expect that there's some bass to it, and needless to say, it didn't let me down. It provides you with some bass when listening to music, but I wouldn't say it has the best woofers since it's built-in to the laptop.
Keyboard and TouchPad
The keyboard for the MSI Stealth 14 Studio has a compact design, meaning that it doesn't come with a NumPad, which is my personal preference. The gap between each key is pretty comfortable, which is always a plus. MSI is also working with steelseries for the keyboards, and I really enjoyed the overall solid build of it.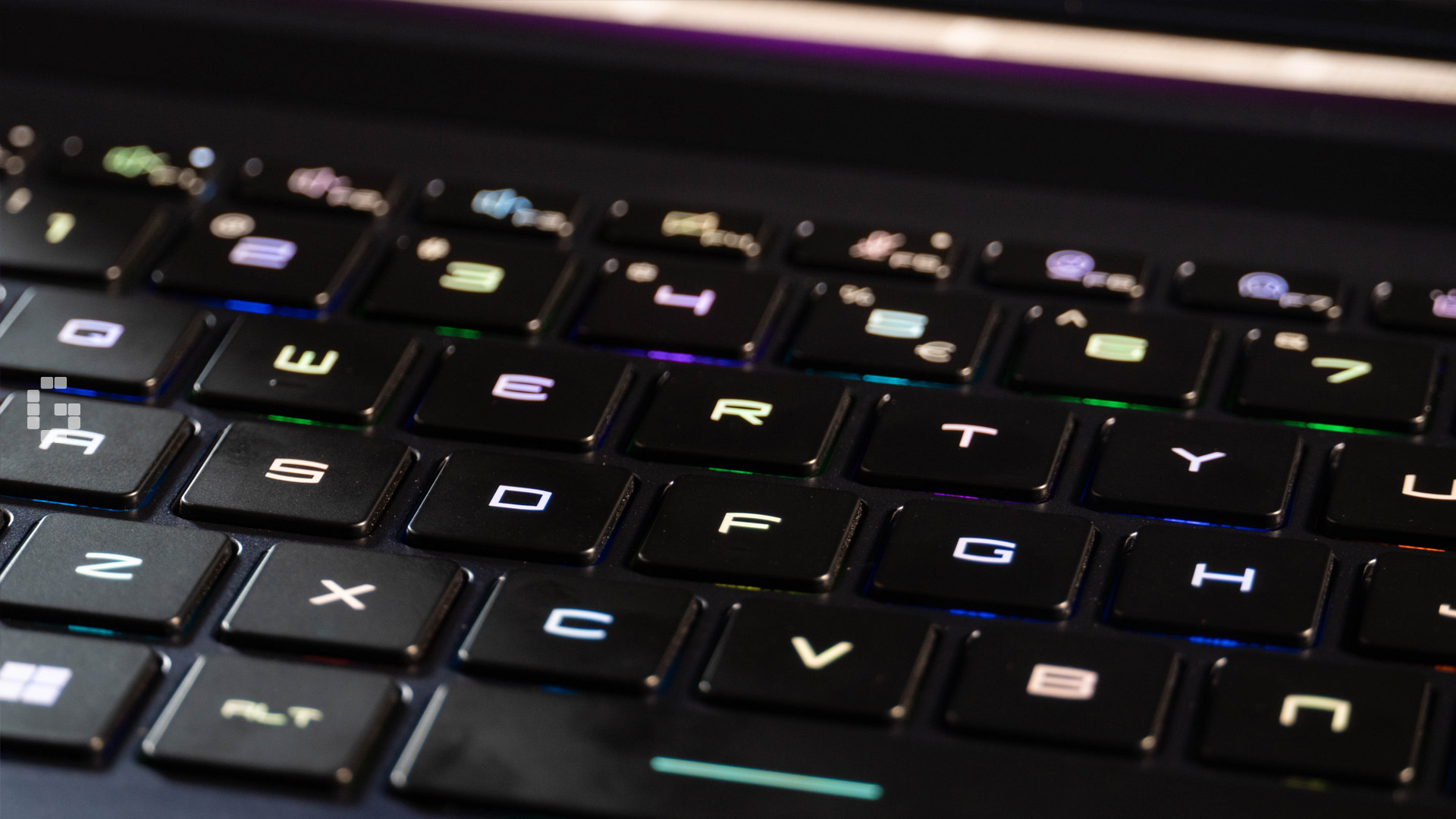 I previously mentioned about the RGB being present on the keyboard, you're able to fully customise every RGB for each of the keys on this laptop through the MSI Center, which can be pretty handy if you're a big fan of customising to fit your personal aesthetic.
The touchpad on the MSI Stealth 14 Studio is fairly sizeable, and it's pretty responsive with a lot of space for different gestures and accessibility, which makes it a lot more convenient if you're always on the go and don't want to carry a mouse with you at all times.
Connection
The MSI Stealth 14 Studio comes with a handful of different ports for your everyday needs. The left side of the laptop has a DC-in port for the charging brick, a HDMI 2.1 port, and a USB 3.2 Gen2 Type-C with PD charging. The PD charging is limited to 100W as for the stability of the port and laptop. It's a pretty convenient alternative to bringing the chunky charger wherever you go since you can just plug in a Type-C cable whenever you need to.
On the right side, it has an Audio Combo Jack, USB 3.2 Gen2 Type-A and a Thunderbolt 4 Type-C for fast connection speed. Although, I personally wished it had 1 or 2 more USB-A ports since most of the common peripherals such as a mouse, keyboard or pendrives still uses the Type-A port.
MSI Center
In the MSI Center, there are tons of different features that are provided by MSI. You're able to download different features like the Mystic Light, Game Highlight or System Diagnosis, to name a few. You can tune and customise your laptop accordingly to the different situations.
MSI also provides the user scenario feature that let users to change between discrete graphics mode, MShybrid graphics mode or even Integrated graphics mode. The true colour in the MSI Center also provides different profiles fro the user, such as Gamer, Anti-blue, sRGB, Movie and more.
Hardware and Performance
The laptop comes with an Intel i7-13700H CPU with a base clock of 2.4GHz, NVIDIA GeForce RTX 4050 Laptop GPU 6GB GDDR6, 16Gb of DDR5-5200MHz and 1TB of NVMe PCIe Gen4 M.2 SSD. Through some benchmarking tests, here are the results:
3DMark (Score: 7509)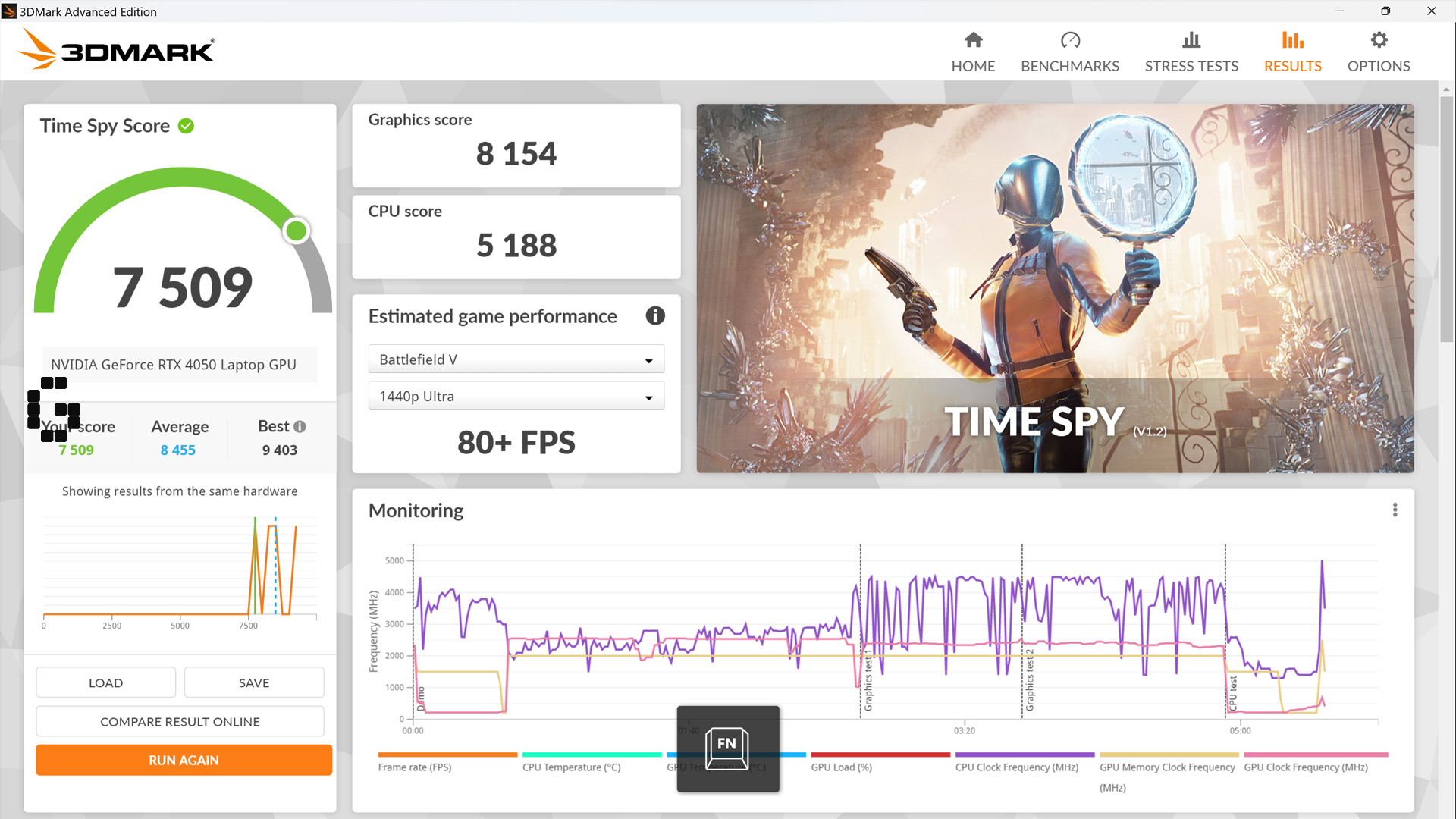 PCMark10 (Score: 7107)
Cinebench Multi-core (Score: 13444)
Cinbench Single-core (Score: 1682)
Game Test
I tested out 3 games on the MSI Stealth 14 Studio which were Returnal, Atomic Heart and Apex Legends. The game settings were all set on High with 1920×1090 resolution.
Returnal
No DLSS, No RayTrace – Avg framerate: 84FPS, 1%low framerate: 3FPS
DLSS Quality, No RayTrace- Avg framerate: 75FPS, 1%low framerate: 53FPS
DLSS Quality, High RayTrace- Avg framerate: 59FPS, 1%low framerate: 6FPS
Atomic Heart
NO DLSS- Avg framerate: 60FPS, 1% low framerate: 35FPS
DLSS Quality- Avg framerate: 88FPS, 1% low framerate: 18FPS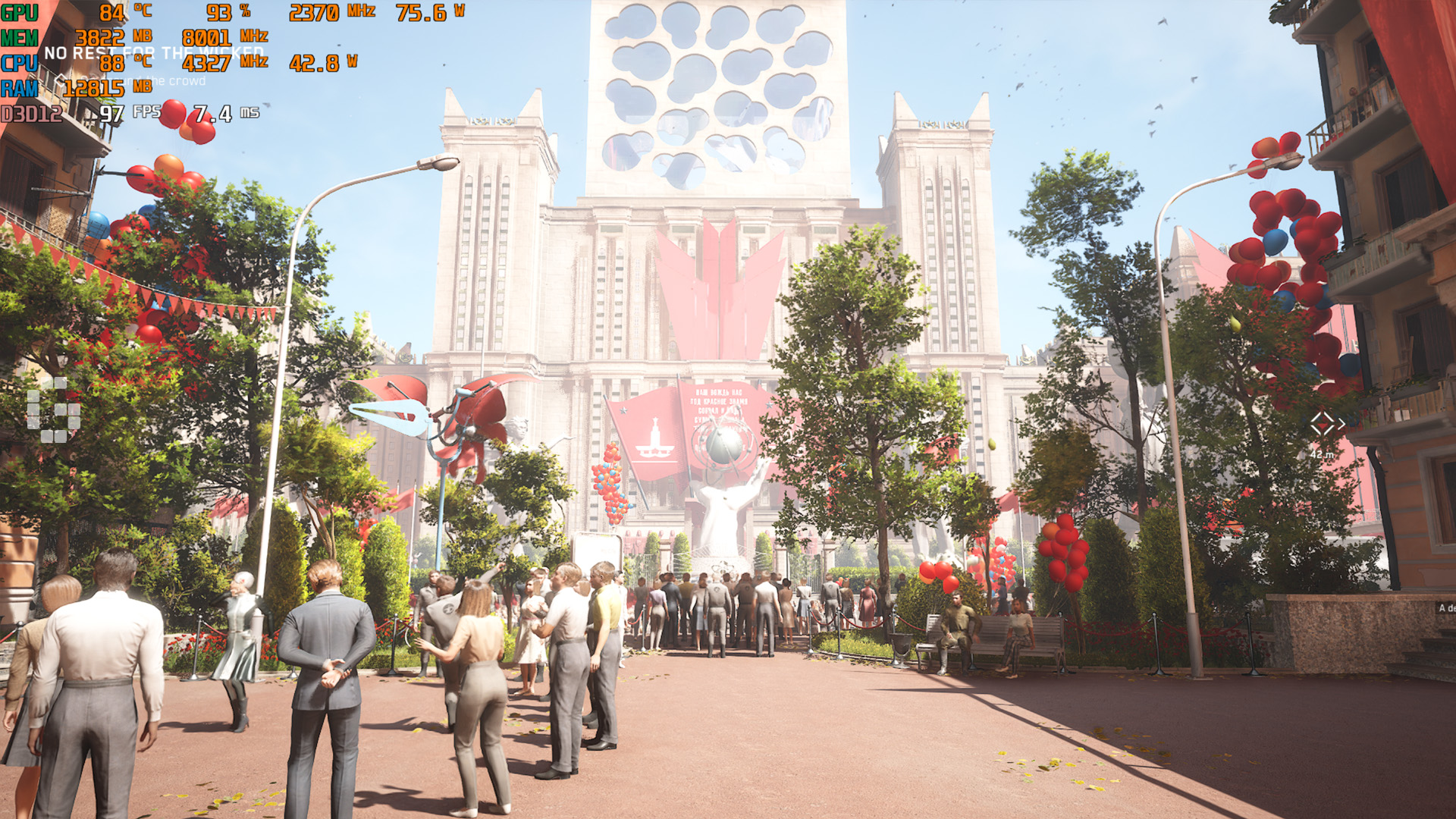 Apex Legends
Highest Quality- Avg framerate: 107FPS, 1% low framerate: 50FPS
Lowest Quality- Avg framerate: 216FPS, 1% low framerate: 62FPS
Cooling
The Stealth 14 Studio has the Vapor Chamber Cooler for the CPU and GPU to manage the thermal flow and maximising performances. It has 2 fans to keep the system cool, and the fans can run up to 7000 RPM which is pretty decent, but it can get considerably loud at times. The intake is on the back and the exhaust is on both sides, which can be annoying at times since hot air will keep blowing towards your hands when you're playing a game.
During my tests, the temperature for most of the time stayed under 80 Degree Celsius for both CPU and GPU which is pretty decent. Although, the keyboard are would heat up a little bit but it was still acceptable.
When testing out the games on the laptop, the temperature on the CPU went over 90 Degrees which deterred me from staying for long periods of time as the heated air would blow out to my hands.
Overall
With an overall weight of the laptop with the battery is only at 1.7kg, it gives a lot of portability to the user. You could even just use the Type-C port with PD charging while doing some light weight work. The screen also gives off a crystal clear image for users while they're either gaming or watching videos on it.
The cooling system in this laptop is also enough for the hardware that comes with it, and for most of the time, the temperature runs really well unless you're trying hard to push the limits, which would result in hot air blowing towards your hands.
Although, I do wish that there were more USB Type-A ports on the laptop as I previously brought up, so that I could plug in my usual peripherals like a mouse and an external keyboard. Though, that's just a minor gripe that can be solved with getting an external USB port extension.
All in all, I enjoyed my time trying out the MSI Stealth 14 Studio. It's got a solid build quality, with a good screen and pretty decent hardware and cooling system. And being able to customise an array of things from the MSI Center is just a cherry on top.
The MSI Stealth 14 Studio is priced at MYR 8,699 and for more information, do check out the official product page here.
---
Check This Out Next
---