What happens when you have a strange collection of humans and a bratty god child? You have brief shenanigans, and then see yourselves exiled to an island populated by demons, tasked to find the root of the problem and also grow some rice to replace the entire warehouse you burned down while trying to chase out the humans from your Lofty Realm. That's how the plot of Sakuna: Of Rice and Ruin kicks off; the rest is putting in the backbreaking work – kind of literal in this case – to continue the story.
MANEUVERING IN THE REALMS
In keeping with the theme of the mythical gods of yore in Japan, you have the traditional trappings of the olden days, replete with raiment and blinding beauty of the goddess, and the more humble child of man with relatively muted colours. When Sakuna herself loses her elaborate garments, she too looks more at home with her current modest accommodations, no matter how much she whines about it.
I have to admit, one of my initial assumptions was that the game would look close to Okami, but besides the mythological inspirations and general setting, Sakuna has its own style. Between the dinners with the family unit and heading outside to hunt, the game gives me a "comfy" vibe. One thing I'd complain about is that the camera seems a bit too sensitive when you're in the overworld, giving me slight motion sickness. When in combat proper, there's no issue as it's a side-scrolling 2D action platformer.
Unusually enough for a console game, the hotkeys can be rebound! I despised the default controls on the Nintendo Switch version, so I was extremely grateful for the option. You have both English and Japanese dub, with difficulty able to be set any time within the game. If you're not used to action platformers like I am, then the lowest difficulty will be fine.
With attacks, you have both your quick and heavy attacks with your one- and two-handed weapons, along with fighting skills which utilize a stamina bar that will appear under Sakuna. The raiment is your main form of mobility, swinging around enemies for rapid directional changes or latching onto terrain to haul yourself up. Your raiment can also be utilized for combo/control chains when you're good at it! The raiment isn't flexible though, as when you throw it out, it will stop you in mid air, which can be troublesome when you start out.
TOIL AND TROUBLE
Sakuna has a blend of so-called farming sim, and action platformer. The farming is pretty expected: it's right in the name! Besides that, it's kinda reminiscent of a "metroidvania" in that you're encouraged to return to previously explored areas thanks to additional objectives in the maps. There's also a day/night cycle, and there will be hunting you can do at night to. Let me just say it right now: don't be a hero and try to fight the night demons when you're starting out. No matter how skilled you are, the problem is the beefed up stats for the enemies which you're not gonna chip through efficiently in the beginning. It's also really, really dark.
When you're out exploring, you can regenerate health, but only if Sakuna's not hungry. Once her fullness meter is depleted, you either leave to the world map to have dinner – which you can do at any time so long you're not locked in to some boss battle – or try to carry on to clear the area. Time will continuously pass even if you idle in menus, and throughout exploration, so boss battles can suddenly become much harder. Dying doesn't seem to have massive penalties, but I only died at a point I couldn't escape to the world map, so I can't judge it too accurately.
PUT YOUR BACK INTO IT
Instead of just a simple hoe and plant, here, you do have to manually do every step of the process:
Tilling
Planting

Weeding: While marked with exclamation marks and using a different button prompt, the weeds are honestly quite hard to see still…

Reaping
Drying
Threshing
Hulling
You take care of the little patch field outside your humble dwelling, putting in the labour accordingly. It feels like it's grounding you, as Sakuna grumbles about her divine task. You can pass the work on to Tauemon, but when starting out, I will heavily discourage this. You learn skills the more you do the honestly quite thankless tasks to reap the bounties of the earth later on: both for making farming easier, and combat skills!
The soil can be fertilized too, with materials and amber you obtain from your hunts. The base is delicately scooped out from the outhouse, and there are three types of fertilizers: root, kernel and leaf. When you start out, you would not have much to really mix in besides spoiled food – yes, your food can spoil – so you can think of it as an early boost to the crops before you really study the delights of farming. If that's your thing.
I find the controls a tad awkward especially when it comes to planting, but perhaps I need to get into a rhythm like with threshing. Hulling is basically breaking my joystick if I want to make white rice. It gets kinda fun, but the camera changing POVs every now and again during the threshing is honestly more distracting than adding anything to the experience.
If you're like me, you'd wonder how one plot of land can feed so many people, but more do open up in the story with the other characters said to be in charge of them. Gameplay wise, you only need to watch over the main plot, so depending on how much you like the farming, you might prefer managing multiple plots, or be glad you it's just the one.
COOKING MAMA MYRTHE
One of your earliest quests is to obtain acorns for Myrthe, who will be in charge of dinner. The first one is a joke, and gives you an inkling into the whole gourmet thing. Ingredients will spoil, as mentioned, and you should definitely want to clear up these cooking related quests as soon as you can, especially the first one to unlock better food. Having a good dinner, besides getting character interaction and story, provides stats and passives for Sakuna to help her in exploring for the next day.
Later, you get the ability to preserve food, which is especially handy for the winter when your rice should have been processed accordingly, and also doesn't spoil! You can adjust the menu to give you stats or passives as you need them, but you can just leave it to Myrthe to cook and you can work with whatever you get until you can more reliably get the ingredients to make the best foods for your plans.
A WAR GOD TOO
There's a little training area you can practice your moves a little ways down from the house. I'd recommend just going in there even if you're not up for swinging as you get some scrolls that explain more parts of combat. Sakuna wields both a one- and two-handed weapon, leading into quick or heavy attack combos both on the ground and mid-air. She also has access to techniques that use "SP" (basically stamina).
The game also has a parry system, but this won't be explained to you early in the game. You'd probably do it by accident, when Sakuna makes an audio cue and the enemy flashes purple. Your equipment have their own requirements to upgrade, as well as having specific bonuses which can differ from seasonal bonuses, combo-related bonuses and more, and upgraded with treasures. Sending enemies flying into each other is a feature, as they damage each other when they collide. It deals quite a lot of damage too!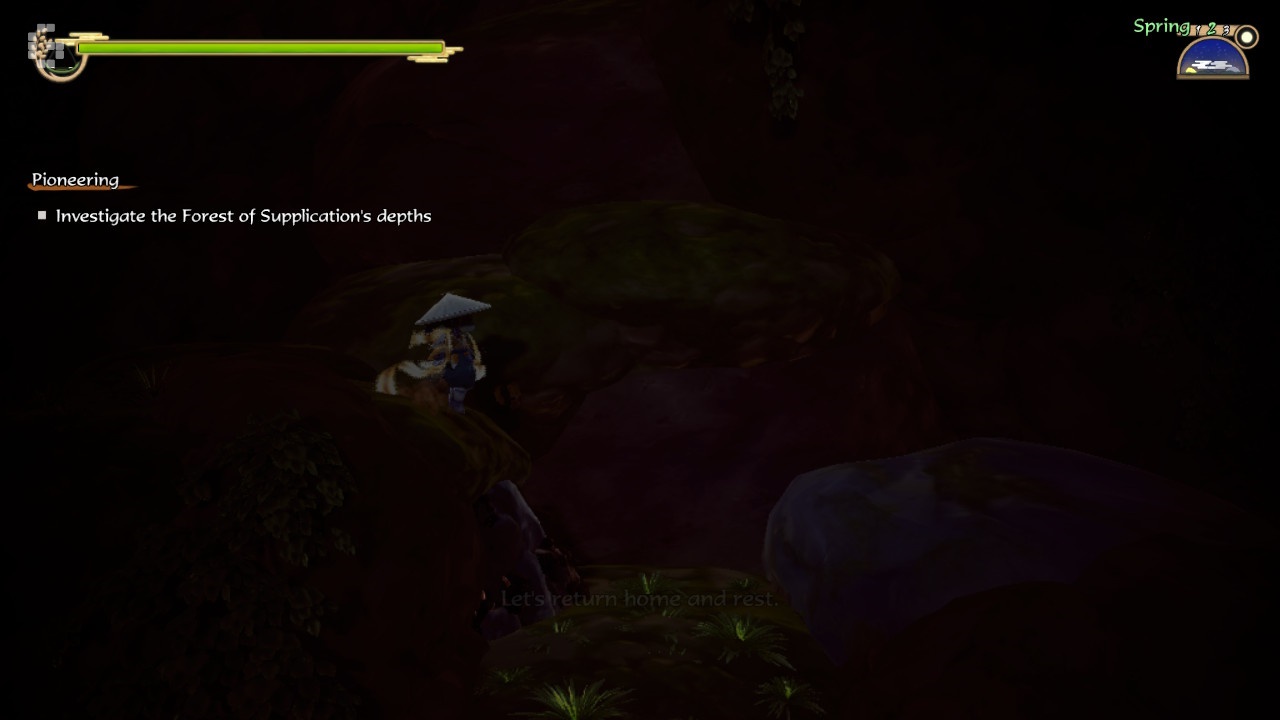 You can continue your hunting after dark, but as mentioned, it's, well, dark, so until you get a lamp, it'll be, at best, an eyestrain, even if you have the stats to ping pong the demons about. In any case, you want to use your techniques a lot, as they improve the more you use them, just like with your farming.
YOUR POSSE OF HUMANS
As you progress through the game, completing additional map objectives to unlock more areas to explore, you can also get a dog (and multiple!!!). Besides being able to pet and carry the little shiba, you can send your humans off to gathering points for additional materials. They will get more the longer they're out there, so you'd want to send them out first thing prior to hunting.
I send Kaimaru, the literal baby, out to gather, because I can. Besides doing vaguely concerning distribution of work, doing their quests unlock things like a smithy for Kinta, and a looming hut for Yui. Kinta will be where you make stronger implements of death and farming, and Yui will make the "armour"/clothes for you. I feel like unlocking clothing options is much slower than weapons, but I guess weapons are more important in general anyway.
DIVINE EXORCISM
I think Sakuna is a "comfy" game. That doesn't mean "relaxing" by any means, but it's nice to sit back, do a spot of farming, and then head out to bash some demons. I'm not very good at platforming, so the fighting can honestly get somewhat stressful until I can overwhelm the creatures with sheer stats from upgraded gear. They try to balance out the farming and fighting, but you'd probably spend far more time fighting as quite a bit of the rice growing process involves waiting. There's gathering to be done outside the farm!
The tutorializing is kept pretty minimal, with advice and info concentrated in the scrolls you pick up. This is both good and bad: you can miss picking up the scrolls, and when you do read them, time will continue to pass which can be stressful. It's good though, in that you can take your time absorbing the information rather than being forced to sit through lots of text to teach you parts of the game.
There are objectives you get here and there, but all in all, the game is much free-er than you might initially expect. Take your time learning and growing the rice; if you don't feel like studying, you can ask Tauemon for the quick hits to immediately rectify any issues and go about your merry way.
All in all, the game is quite enjoyable as you learn the ways of the farm, interspersed with character growth from all the parties involved in this exile.
| | |
| --- | --- |
| Pros | Cons |
| Combat is fluid and involving | Info dump in missable scrolls |
| Hard work always gets rewarded | Finer points of farming can feel like unnecessary busywork |
| YOU CAN PET THE DOG | |
FINAL SCORE
8 / 10