With Computex 2021 being held all across June of this year, many brands have jumped in to show off all the great tech solutions consumers will soon be able to buy. These covered everything from cutting edge SSDs for writing big files, to powerful GPUs to make sure you're gaming in style and even more, such as bundles for Chia farmers.
The Taipei-based show features a star-studded line-up including big names like Kingston, LEXAR as well as some must-have items like new RTX 30 series and Nitro+ series GPUs.
ARM
Introducing the Armv9 With Simon Segars
ARM CEO Simon Segars gave a keynote to kick off Computex 2021, discussing plans for how the world would move on from the Covid-19 pandemic.
The keynote, titled "Sparking the World's Post-Pandemic Recovery", demonstrated how technology can be a remarkable force for good that will be critical to the world's recovery and create a more sustainable and secure future. The combination of computing in the age of AI will accelerate how we tackle complex challenges surrounding climate change, security, and equitable access to technologies and connectivity.
Segars indicated that long-term investments in research and development are the key to shaping that future. Arm has invested significant resources in its next-generation architecture. Armv9 will enable partners to solve hard problems in the next decade of compute related to security, compute efficiency, and AI-enabled services, all while fighting climate change at the same time.
Introducing The Armv9 Architecture
The official debut of Arm's latest architecture titled Armv9 is an investment and research project that the company and its partners have poured in a whole decade that stands as a major upgrade to the brand's processor architecture. It is designed with a focus on security and compute efficiency on top of the core optimization targeting ubiquitous and AI systems.
Using Confidential Compute To Keep You Safe
Security has always been a challenge since the beginning of the digital era and Arm is confident that Armv9 will be able to securely process data either at endpoints, data networks, or clouds to protect the interest of both industry partners and its clients. The Confidential Compute architecture in the Armv9 completely segregates memory regions for general and sensitive data or code to make sure only the appropriate security modules are allowed to process or carry these data but not view them.
A Greener Future Via The Neoverse N2
Arm has also acknowledged its role in fighting the climate crisis, with the Neoverse N2 platform. This allows the Armv9 architecture to maintain high output, but without consuming extraordinary amounts of power, hurting the environment.
According to Arm, you can even see up to 40% performance boost with the Neoverse N2 platform.
Arm's vision in creating a better world through technology is supported by the company's specialization in compute platform and ecosystem while NVIDIA's superior AI prowess will consolidate into many innovative ideas where it will come to fruition and becoming practical for the world to apply and benefit from.
With all these solutions, Arm is set to take on not only the world we have now, but push the world to a greener, more efficient future.
Into The Future With Armv9 and Rene Haas
ARM IP President Rene Haas delivered a second keynote as well, wherein he touched on the acceleration of computing trends in technology. He also touches on the Armv9 architecture, and its role in the bright new future.
He starts off the topic with Arm's involvement in supplying the world with solutions based on the company's design and in the near future, all digitally shared data will be securely processed, transmitted, and stored from the start until the finish line. Aside from recapping the Armv9's major architecture and features from the 1st keynote, he also shared the new era of computing is approaching where AI and ML will be the key to every compute environment enabled by specialized processing in which Armv9 is designed to do so from the beginning where he used the flagship Cortex-X2 as an example that brings high CPU and GPU performance while raising the longevity of battery life, a next-generation improvement if you will.
Contributing to specialized processing also requires the software part to be optimized, dynamic, and richer than before. Therefore, Haas introduced the Total Compute solutions that span across tools, IPs, and applications that help partners to develop mature products from the more consumer TV, smartphones, and laptops down to industry use HPC, cloud computing, etc. He also elaborated on the recent announcement of NVIDIA's Grace CPU that is fully dedicated to AI and ML usage alongside several HPC developer kits.
Lastly, Haas rounded up everything in a simple message: No devices should be left behind, even the smaller and cost-sensitive components can be made smarter and more capable to serve all data at the closest proximity and Armv9 is the key to unlocking the limitless potential of AI and ML.
Kingston
Kingston specializes in storage solutions, making sure your computer can store all your important data effectively for all your creative needs.
NV1 PCle NVMe SSD 500GB (RM269)
Launched during the Q2 of this year in Malaysia, the NV1 PCIe NVMe SSD is the latest product substantial storage solution sitting within the comfort zone of even the most budget spenders in the market due to its focus on providing the most bang-for-the-buck value on a dollar per GB storage scale. With access speeds of 2.1GB/s reads and 1.7GB/s writes that starts from RM269, it has been shipped under high demands from users around the world, particularly those looking for a flash-based backup storage with the M.2 2280 form factor.
KC2500 PCIe NVMe SSD 250 GB (RM249)
For those who can shell out a bit more funds, the KC2500 PCIe NVMe SSD delivers even more performance by manufacturing the product with 96 layers of 3D TLC NAND flash governed by a Silicon Motion controller for a top-class 3.5GB/s reads and 2.9GB/s writes access speed under the PCIe Gen3x4 protocol. Systems that constantly move large files will notice almost no performance throttle thanks to the onboard DRAM cache that sustains the immense performance and overall endurance. Workflow improvements in workstations, media servers and high-performance computing environment without the needs to approach industry-leading hardware are where the KC2500 shines the most.
Kingston Workflow Station and Readers: RM403 (Dock), RM105 (SD / microSD Reader)
Sticking to the topic of workstations, the Kingston Workflow Station and Readers is the brand's answer to the longing problems of most content creators out there: Insufficient ports for the sheer number of external devices needed to be connected to their PC and laptop. Starting off with the Workflow Station Dock, it is fitted with 4 USB-C 3.2 docks that a wide range of Readers standards of USB miniHub (USB-A + USB-C), SD and microSD to quickly move files from all 4 storage at once at blazing fast speed. As the Readers are fully modular and be removed with ease, content creators will only need to bring around the Station Dock and the required Readers to any remote location and work onsite instantly.
LEXAR
Lexar has also shown off a variety of storage solutions, targeted at devices ranging from computers to cameras and more.
Professional CFexpress Type B SILVER and GOLD Series
Lexar's Professional CFexpress Type B GOLD Series card has been a staple choice for many industry professionals to capture high-quality image and footage in RAW 4K and 8K with superior access speed of 1.75GB/s reads and 1.00GB/s writes and that's here to stay. What's interesting is the brand releasing a new SILVER series within the same memory card category for better accessibility and affordability for use cases that are more into the semi-professional and casual scene. Available in capacities of up to 256GB, the Professional CFexpress Type B SILVER Series is still fitted for professional image capture and rated for standard 4K video format. As for the access speed, it is slightly lower at 1.00GB/s reads and 600MB/s writes.
Lexar's Professional CFexpress USB 3.2 Gen2x2 Reader
Lexar's Professional CFexpress USB 3.2 Gen2x2 Reader is capable of handle it all. Utilizing the latest and fastest USB protocol, offloading 8K videos with speeds of up to 1.70GB/s will crank productivity level to new highs while the small form factor will allow users to carry them in bagpacks and storage boxes easily. Additionally, it comes with a 2-in-1 cable with USB-C to USB-C and USB-C to USB-A ports for multi-platform compatibility.
JumpDrive P30 USB 3.2 Gen 1 Flash Drive
With 450MB/s reads and writes speed up its sleeve, the JumpDrive P30 USB 3.2 Gen 1 Flash Drive already matches the top speed of conventional SATA-based SSD while securely stores your file with 256-bit AES encryption algorithm. With capacities going as high as 1TB, portability and performance is the name of the game here.
Lexar's NM620 M.2 2280 NVMe SSD
For the computer-based storage devices, Lexar's NM620 M.2 2280 NVMe SSD makes a return to the spotlight through the addition of a new 2TB model. To recap, it is PCIe 3.0 drive with speeds of 3.30GB/s reads and 2.85GB/s writes that features LDPC (Low Density Parity Check), which is great for most casual use cases.
On the other hand, the newly announced Professional NM800 M.2 2280 NVMe SSD takes the storage game to the maximum that utilizes PCIe 4.0 to achieve a maximum speed of 7.40GB/s reads and 5.8GB/s writes. It is made to target high-profile file access, editing and moving use cases such as editing 8K videos.
PNY
PNY showed off their new XLR8 Gaming EPIC-X RGB DDR4 RAM kit, bringing more power to your PC builds when the device becomes available. They also showed off technology targeted at Chia farmers, to help with their storage solutions.
Armed with CAS latency of 18 at 1.35V, both Intel and AMD platforms are able to utilize these high frequency RAMs of either 3200MHz, 3600MHz and 4000MHz with more through XMP 2.0 profiles while staying stylish through the radiant dual-sided 5×2 configuration of RGB LEDs and frosted light guide lens. . Equipped with RGB compatibility across brands like ASUS, GIGABYTE, MSI and ASRock, adjusting them to fit your rig's theme is just as easy.
No price or availability was announced for it, however, so stay tuned for future announcements.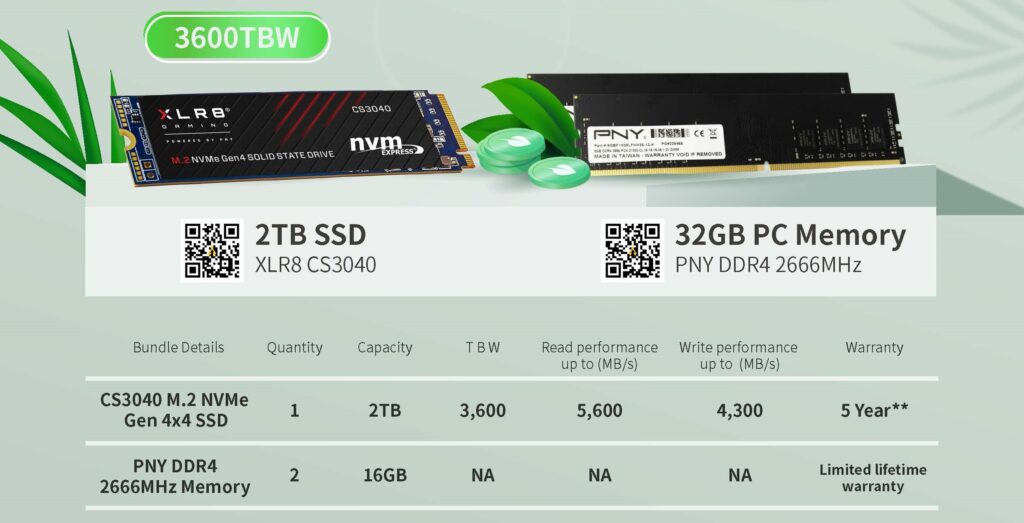 PNY also showed off their products to help Chia farmers, who require their own storage solutions for managing their produce.
To this end, PNY also revealed a brand new 'Green Miracle' bundle that includes one PCIe 4.0 XLR8 CS3040 NVMe drive with 3,600 TBW endurance, 5.6GB/s reads and 4.3GB/s writes for plotting and a pair of 16GBx2 DDR4 2666MHz RAM kit to enable both newly-entry and experienced farmers expanding their own Chia field at a relatively valuable price point.
SAPPHIRE
As AMD's exclusive board partner, SAPPHIRE brings new offerings to the table, with the new Nitro+ series of GPUs.
SAPPHIRE Nitro+ AMD Radeon RX 6900 XT Special Edition GPU (RM7700 – RM8000)
In contrast to the TOXIC lineup that comes with an All-in-One water-cooling solution, the Nitro+ series is among the best in the brand's mainstream air-cooling offerings. Now boasting an even higher 2365MHz boost clock compared to the standard edition's 2285MHz, SAPPHIRE is no doubt skilled in pushing the Special Edition GPU to the limit while keeping the core numbers the same at 5120 stream processors, 80 Ray Tracing accelerators, and 16GB of GDDR6 VRAM.
While the standard dual 8-pin configuration has been retained, now there is an extra 6-pin that provides an additional 75W for better overclocking stability. Succeeding the RX 6900 XT's strategy of catering to a wide range of gamers, 2 versions of the RX 6900 XT SE are also made available with one equipped with 1 HDMI 2.1 and 3 DisplayPort 1.4 port while the other has 1 HDMI 2.1, 2 DisplayPort 1.4 and 1 USB-C Display port.
PALIT and Gainward
As Team Green's exclusive board partners, PALIT showed off the new NVIDIA GeForce RTX 3080 Tis, providing a nice middle point between the 3080 and 3090 GPUs.
For starters, the CUDA core count of the RTX 3080 Ti is at 10240 versus the 10496 of RTX 3090 and 8704 of RTX 3080 where the RTX 3080 Ti is approaching closely to the RTX 3090 so we should be seeing only slight differences in the 1440p and 4K gaming area where the VRAM capacity should have less overall impact. Following up the VRAM topic, Palit has hinted 12GB can be found in the RTX 3080 Ti while the RTX 3070 Ti has a total of 8GB, both in GDDR6X. Speaking of RTX, we are also expecting the RTX 3080 Ti's 2nd generation RT Core and 3rd generation Tensor Core count touching the boundaries of the RTX 3090 thus providing all the NVIDIA RTX technology goodness like Broadcast, Studio, Voice with all settings cranked to the maximum. On the other hand, the RTX 3070 Ti fills the gap of being the "above-average" kid where it can do what the base RTX 3080 does but at a slightly lower performance level.
For the assortment of models and variants, Palit will be introducing the GeForce RTX 3080 Ti GameRock and RTX 3070 Ti GamingPro under the original branding whereas its other sub-brand Gainward will be having the GeForce RTX 3080 Ti Phoenix and RTX 3070 Ti Phoenix. The company will reveal more information to the public very soon so stay tuned to us for the latest news about them.