If there's one thing Invader Studios has shown us, it's that they love a good survival horror game. With their second outing in Daymare: 1994 Sandcastle, available now, they've shown how to take their Daymare series and rework it into something that not only homages classic Survival Horror, but adds modern twists to make it feel both familiar and fresh.
As with any new entry, Invader Studios took this opportunity to re-evaluate how to best hook people in. Daymare 1994: Sandcastle takes place before the events of the first game, meaning it's a great time to get new people on board. With that in mind, let's take a look at all these new changes coming to the game .
Better Combat Makes For Happier Players And Sadder Enemies
While Daymare 1998 was a slower, more methodical approach, Daymare: 1994 Sandcastle has a lot more going for it for the player who likes to take a more… active role in dispatching their enemies.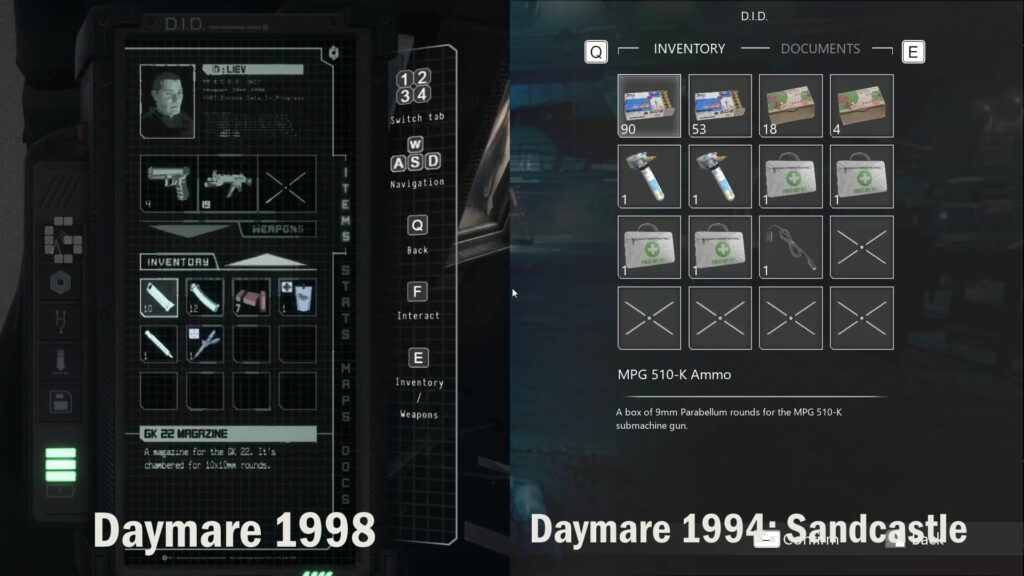 The biggest sign of this is how the ammo works. In 1998, ammo was a whole song and dance to equip- you needed to load magazines with bullets before reloading them. Downtime would ideally be spent making sure your ammo reserves are being optimized as a result. However, Daymare: 1994 Sandcastle eschews this in favor of a more traditional reload, where you won't have to worry about the bullets in every magazine.
It's way more welcoming to new players too- I can't tell you how much harder it is to explain the old magazine-based reload system to a new player. This way, Daymare: 1994 Sandcastle just works the way you'd expect it to- you shoot the gun, and hit reload when it's empty.
This works well with the other new feature of Daymare: 1994 Sandcastle- the reworked enemies. Enemies are now controlled by an electromagnetic anomaly, and can glow either blue or red. On killing an enemy, a colored orb will escape their body, which will either resurrect nearby bodies or strengthen still-living enemies. Every encounter now feels much more elaborate than the last, since the same handful of enemies can feel like a near-endless horde just reviving and strengthening each other.
These are the best kinds of changes- the type that go hand-in-hand together to benefit the player. Mix that with the more clear animations- it's now more obvious if an enemy is staggered vs if it's actually dead, and you've got a real step up in the combat experience. For as much fun as shambling in the dark while keeping track of my magazines is, these changes turn combat into real encounters- making sure it's your strategy that's doing the carrying, rather than your ability to prep beforehand.
The fact it's combined with a redone DID system definitely helps new players, too. In Sandcastle, you won't have to worry about squinting at your character's tiny screen. Now, your inventory is a simple menu, accessible with the push of a button for all your management needs.
She Blinded Me With Science
Of course, there's way more new going on in Daymare: 1994 Sandcastle, too. The most obvious is the Frost Grip- a remarkable tool that lets you solve environmental puzzles by freezing things to cool them off, or stopping enemies in their tracks. Early on, you're given two uses for this tool- either in a spray-type for putting out fires, or in a slug-style blast for freezing in a wide area. Given how much of a threat the red-glowing enemies can be, it's a real blessing that the Frost Grip is as useful as it is.
Instead of every room being a duel to the death, Frost Grip means being able to turn everyone into sculptures, finish them off to save your ammo, then proceed to your next task. It's very Survival Horror at its core- because it's technically unlimited, but needs to recharge after a certain amount of use. I found myself having to constantly see which of these were encounters I just didn't want to deal with anymore, and saving Frost Grip charges just for them.
Finally, Daymare: 1994 Sandcastle also brings us the HADES Scanner, a new feature that lets you better invest in the world of Daymare. Considering the game is a prequel to Daymare 1998, it feels great just having more of the world unfold to you when you scan certain objects with the HADES Scanner. Survival horror games will live and die by their atmosphere, and nothing gets you more in the mood than reading through computer terminals and the like.
A Great Time For More Daymare
If you found Daymare: 1998 a little too eccentric for your tastes, Sandcastle is a perfectly good time to get into the series. It doubles down on what works for the Daymare series, while also introducing so many new things to shake things up in a way that's fun for all survival horror fans, regardless of their experience.
Personally, I'm most happy with the Frost Grip. Any kind of crowd control option always means the potential for harder encounters in Survival Horror, and Sandcastle is one of those games that's balanced around expecting you to be able to stop a horde of enemies in their tracks.
The game's available now, so be sure to check it out if you've any love for secret underground facilities, monstrous enemies and copious resource management.
---
Check This Out Next
---