Last month the Super Nintendo cult classic RPG Live A Live was finally released overseas with a 2D-HD remake for the Switch. With the game seeing success, I've been thinking about all the SNES or rather Super Famicom RPGs that are still exclusive to Japan.
The SNES is the grandfather of RPGs, home to some of the best games in the genre: Final Fantasy VI, Chrono Trigger, Earthbound, and many more but there were even more titles that were exclusive to Japan. Thankfully over the years more and more of these games have seen localization in the form of ports, remasters, and remakes including Final Fantasy V, Dragon Quest V and VI, Trials of Mana, Star Ocean, and many more.
So let's take a lot at some of the best SNES RPGs that are still stuck in Japan in hopes that they may see a global release sometime in the near future.
Fire Emblem: Mystery of The Emblem/ Geneology of The Holy War/ Thracia 776
With how successful Fire Emblem is nowadays, it's easy to forget that the first six games were not released outside of Japan which is a shame because the Super Nintendo was an important part of the series' formative years.
Mystery of The Emblem was a part remake, part sequel to the first Fire Emblem. The first half is a retelling of the original Fire Emblem Shadow Dragon and the second is an entirely new story. It sees Marth and his army return as a new threat comes to the Kingdom of Altea.
While Mystery was a great start, Fire Emblem became truly ambitious with the Jugdral games: Geneology of The Holy War and Thracia 776.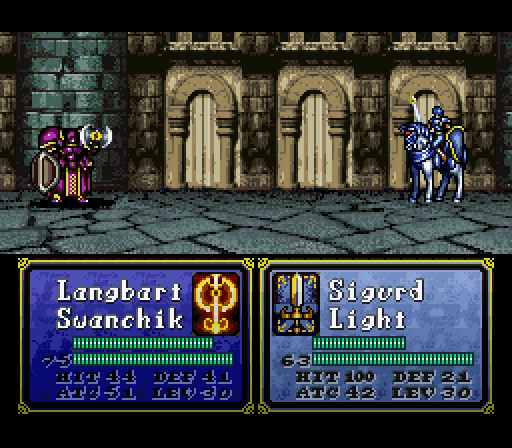 Set on the continent of Jugdral these see the noble Sigurd attempt to protect his kingdom and loved ones, at least at first. I can't say much more without spoiling the plot but you know how everyone likes to pretend that Fire Emblem are these Game of Thrones-style medieval political thrillers (outside of Three Houses they're really not), well that's actually what these games are. Genealogy weaves a complex network of politics and backstabbing with one of the darkest twists in the entire series.
The story spans years to the point that its' sequel Thracia 776 actually takes place in between chapters 5 and 6 of Geneology. This comes alongside ambitious new game mechanics with large multi-part chapters across sprawling maps and the introduction of the child system. These are Fire Emblem games every fan should play at least once. Now if only they actually could.
Shin Megami Tensei I, II, and IF…
Yet another series that RPG fans have probably heard of, SMT didn't make an appearance outside Japan until Nocturne was released for PS2. This is likely because middle-aged American soccer moms would have a heart attack at its 'lack of Christian values' so to speak
SMT I takes place in modern Tokyo on the cusp of a demonic invasion before moving into a post-apocalyptic setting. II takes place decades after the end of the first game where what remains of humanity live in Tokyo Millennium. Near the start of the game, the main character Aleph is proclaimed to be the messiah but there are many dark secrets about Tokyo and its rulers are not all that they seem.
I'll admit, early SMT's gameplay hasn't aged well with the first-person dungeon crawling being confusing at times and combat a bit too grindy and unforgiving.
That being said, I cannot understate how innovative SMT was at the time. Ideas like monster collecting, a darker modern setting, morally ambiguous endings, and having the actual Christian god be your final boss were popularised by these games. Combined with the surreal, isolating atmosphere and you have a series of very different RPGs from others at the time.
We should also quickly mention SMT IF…, the third mainline entry that moves away from the apocalypse in favor of a high school that has been transported to the demon world. While often considered the worst of the SNES SMT games it paved the groundwork for the Persona series, with the high school setting and focus on more contemporary issues affecting modern-day students.
Bahamut Lagoon
Now we get to some lesser-known titles. Bahamut Lagoon was a 1996 tactics RPG made by many of the Final Fantasy team under the supervision of Final Fantasy creator Hironobu Sakaguchi.
The game takes place in the world of Orelus, a place made up of a number of floating islands called Lagoons. The Kingdom of Kahna is invaded and overrun by the Granbelos Empire leading the Captain of the guard Byuu to find allies and get his kingdom back.
The game uses a grid-based tactics system similar to Fire Emblem or Tactics Ogre. You deploy an army of different classed soldiers to fight for you on the battlefield. What makes the game interesting is the use of dragons (hence the name Bahamut in the title). Dragons are unique units that are completely AI-controlled but have an immense amount of power for destruction. It's kind of like sicking a big angry pokemon against your enemies.
With a unique setting and amazing sprite work, this is definitely one worth your time if you're a tactics fan.
Front Mission Series: Gun Hazard
The Front Mission series is rolling back onto consoles with a remake of the first two games, but you may not know that a spin-off was created soon after the original game. Said spin-off took the mechs of the SRPG and combined it with a 2D run and gun shooter. This was Front Mission Series: Gun Hazard.
The plot is about Wanzer pilot Albert Grabner who's been sent to guard the president during a coup d'etat. While it may seem typical of an action title, the game does actually have a good amount of world-building with attempts to go into topics of morality and philosophy. It does a pretty solid job at them too.
The large sprites of the game look beautiful with glistening backgrounds for your highly detailed mech to travel across, not to mention top-notch explosion effects. It makes you feel all the more powerful as you blast your way through enemies in the mech.
It may seem like this would appeal more to Contra or Metal Slug fans but it still maintains RPG elements. You need to upgrade and customize your equipment between missions and there is an assortment of guns you buy. There are also many partners you meet across the game you fit into different RPG classes like tank and healer, and they will also level up as you use them.
The game is a little on the linear side but for an early action RPG, it's a good time with giant robots.
Treasure of The Rudras
Treasure of The Rudras was the final RPG Squaresoft released for the SNES in Japan. With this game, you can tell that after all the years of programming for the console, they had it down to a craft. The game is beautiful with brilliant shading and animated sprite work that pushed the system to the limit.
The story is based on Hindu mythology, taking place in a setting where the world is destroyed every 4000 years by a God called a Rudra. It starts 15 days before the destruction with different factions attempting to find ways to reverse or take advantage of the catastrophe making for a complex plot filled with deceit and hidden agendas. It's a refreshingly different premise and has a good mixture of dystopian sci-fi alongside its fantasy elements.
There are three scenarios where you play as three different characters. Sion The Solider, Riza The Priestess, and Surlent the archeologist. You can play as any of them in any order and can even save your game in one scenario and start on another before coming back to it.
The game makes use of a classic Final Fantasy people-in-a-line style turn-based system but what makes it interesting is how you unlock spells. Spells or 'mantras' are unlocked by typing in and putting together different words or phrases you hear throughout the game.
For example, you'll soon find out that the phrase 'lef' is the healing spell and 'na' is a suffix that affects the whole party so you can type in and create 'lefna' which is a spell that heals the whole party. 
If this game came out to international markets I honestly think it would be held up as a masterpiece of the SNES the same way RPGs like Chrono Trigger and Secret of Mana are. We can only hope Square decides to come back to it one day.
Closing Thoughts
These are just some of the SNES RPGs that have yet to shed their Japan exclusivity. With many of these games approaching 30 years old, it would be nice to see them finally make that leap and get an official global release and I'm very thankful to fan-translators who have made these games accessible in the first place.
There's no indication that any of these might come out with an English release but I never thought Live A Live or Trials of Mana would eventually get translated so perhaps there's still hope for them yet. If we're lucky we'll see more SNES RPGs finally make that global debut outside Japan sometime soon.
---
Check This Out Next
---