Babel Tower, regarded by many as the hardest challenge in Punishing Gray Raven, is a great source of challenge and rewards for players.
Note that this guide is a general guide for Babel Tower and is not specific to a particular season. It will include strategies, tips and approaches specially targeted for free-to-play (F2P) players to achieve all the rewards and also some advice on getting the Tokarev Tower Badges.
Babel Tower
Babel Tower, also called Project Babel in-game, is unlocked when your Commandant level reaches 60. Babel Tower's availability typically follows that of the game's ongoing event duration, which means that each "season" of Babel Tower lasts over 30 days in global, before it is refreshed and a new season takes over. Note that Babel Tower does not consume any Serum, so players can repeat stages as many times as they want.
By completing and achieving higher Strategic Levels in Babel Tower, players can redeem rewards under Challenge Missions. These rewards are extremely useful, with some of them even being 6-star memories. Beyond Strategic Level 100, players are rewarded with Tokarev Tower Badges. Tokarev Tower Badges have no gameplay benefit. Instead, they appear beside your name whenever you send a message in the in-game chat, purely for bragging rights.
Babel Tower is divided into 5 levels, each with 4 different stages. What makes Babel Tower harder than other Punishing Gray Raven content is the presence of Environmental Intelligence and Strategic Targets. Basically, both of these are handicaps that take place during combat, ranging from taking increasing damage over time to enemies turning into black holes and automatically pulling you towards them every few seconds.
The first 3 stages get harder with each stage, as more Strategic Targets are added onto the last. The 4th stage lets you mix and match your own choice of Strategic Targets.
Another factor that makes Babel Tower a bigger challenge is that Constructs are locked to a specific level and cannot be used in the other levels. You can unlock them either by clearing stage 3 of the level or by deleting logs. However, once you clear stage 4 of a level, the only way to unlock the Construct is to delete logs, which results in the Strategic Levels earned on that specific stage to be reset.
As a tiny form of consolation, the 4 stages of a level have Additional Support, which are basically buffs for the player. Still, even with bonuses like gaining a Signal Orb every 3 seconds, the odds are still heavily stacked against the player.
Climbing the Tower
As F2P, the primary goal for players would be to reach Strategic Level 100, which provides players with all the useful rewards.
The first thing to do is to clear stage 3 of each level. This unlocks stage 4, which is necessary to take on so that players can customise their Strategic Targets. This, in turn, lets you increase the Strategic Level to reach.
The first 3 stages shouldn't be too difficult. Simply use the best Constructs that you have or the ones who can contribute towards the Additional Support.
Once you have cleared stage 3 of each of the five levels, you should have 50+ Strategic Levels. The next target is to get the remaining Strategic Levels from completing stage 4. It's best if you have 5 or more Constructs before attempting this. It's still possible to achieve Strategic Level 100 with fewer Constructs, but it will be a lot difficult.
Strategic Targets
As a general rule of thumb, F2P players should avoid the following Strategic Targets:
Overload – Buffs all the stats of the enemy
Domination – Disables matrix (slow motion)
Boiling Mind – Increases damage over time on the player
Recovery – Enemies regenerate x% of their HP every second
Radiation – Enemies deal damage over time to the player when nearby
Black Hole – Enemies turn into magnets that pull the player towards them every few seconds
The above Strategic Targets are amongst the most annoying. It is recommended for F2P players aiming for Strategic Level 100 to choose other Strategic Targets. Here are some Strategic Targets that players can consider getting a lower-level version instead of the highest level version.
Precise Planning – Reduces dodge gauge
Gravity Adaptation – Reduces player movement speed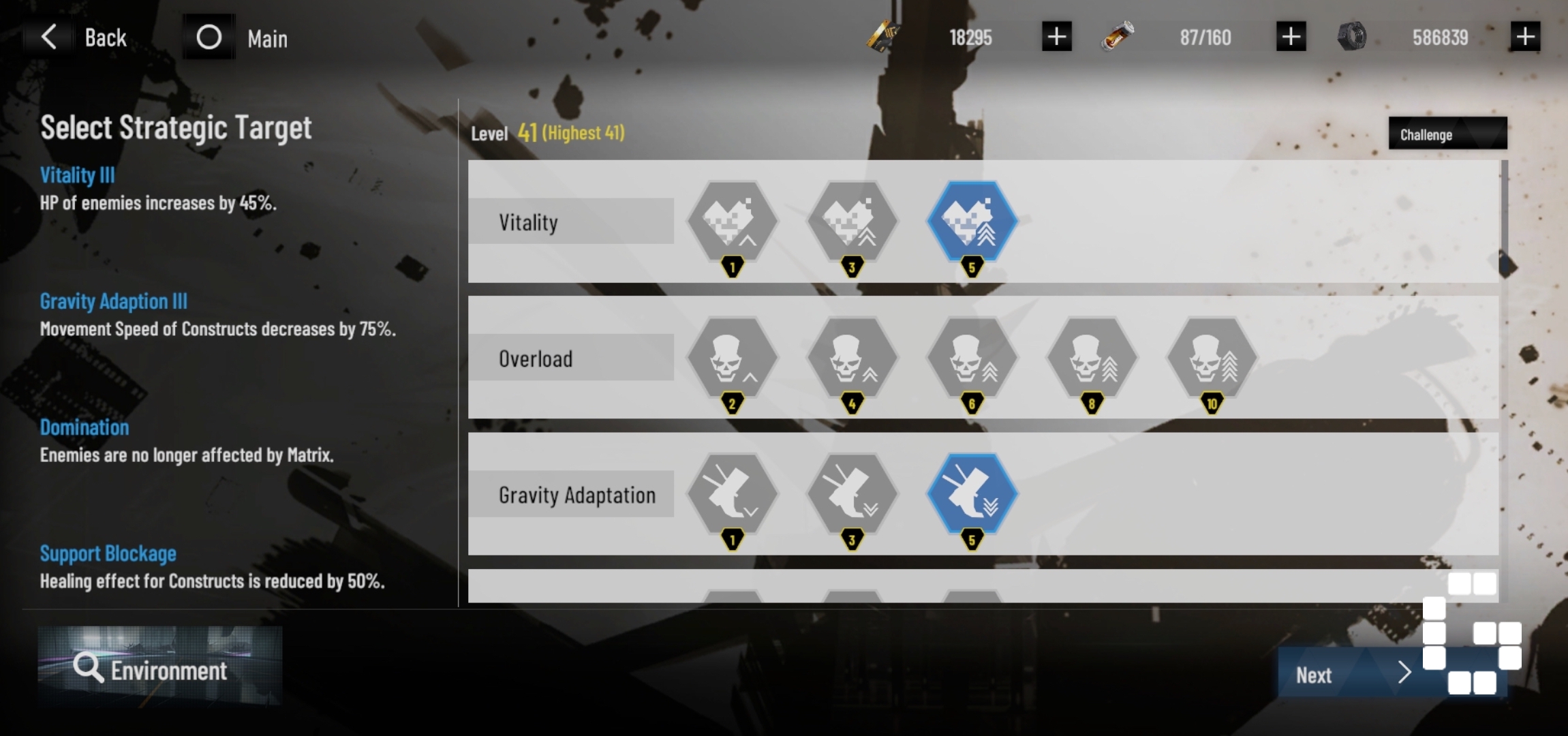 You can consider getting level 1 or 2 of the above Strategic Targets as it's generally still manageable, but level 3 should be avoided.
The other Strategic Targets are a lot more manageable. In particular, pay extra close attention to Bomb and remember to put some distance after killing an enemy.
There is no need to choose all the Strategic Targets which are not listed above for every level. You can balance out the gain in Strategic Levels between the 5 levels so that you do not get overwhelmed. In addition, while you Constructs are locked once you complete stage 4, their equipment is not, so you can let other Constructs use the memories or the weapon of the locked Construct.
Beyond Level 100
If, for whatever reason, you still want to increase the Strategic Level while still remaining as F2P, here are some tips for those who want to farm Tokarev Tower Badges.
Take on Babel Tower in the last few days of the season.
You have over a month to make your Constructs stronger, so there is no need to rush on the first day.
The more Constructs you have, the easier.
This is where whales have an advantage, simply because they can get more Constructs to be battle-ready earlier. More Constructs means more health, dodges and an overall easier time in Babel Tower.
Learn how to survive without Matrix.
Slow motion makes the game a lot easier as it gives quite a lot of time for the dodge gauge to recover. Learn to position yourself without the help of slow motion. Sometimes, attacking, using a 3-ping or just running away can be a better alternative than dodging.
Easy-to-spam ultimates are useful.
Bianca: Zero is a prime example of this. Since Domination and Precise Planning limited your options for dodging, ultimates are useful as they grant you invulnerability. For even more spam, use 2 Cottie memory set.
Don't underestimate B-Rank Nanami.
Related to the above point, Nanami: Storm's ultimate gives you 5 seconds of invulnerability, giving you the breathing room you need.
Kamui: Bastion is extremely reliable.
Even a single yellow orb counter gives Kamui: Bastion 75% damage reduction, which is huge. The blue orb skill can stun enemies on top of giving you a shield. Bastion is probably the most reliable (and consistent) Construct for Babel Tower, making him a great choice for the stages which you have the most trouble with.
It will take a lot of retries.
Rexlent might make reaching Strategic Level 235 as F2P look easy, but what you don't see is the countless hours of failed runs and retries. Remember to take breaks in between as you keep retrying that failed run.
---
That is all for our Punishing Gray Raven Babel Tower guide. We hope that you'll find it useful for the challenges ahead.
Check out our other guides: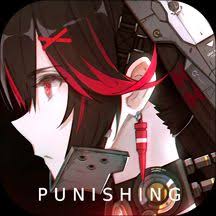 Punishing Gray Raven
Android, iOS
Punishing: Gray Raven is a fast-paced ultra-stylish Action-RPG. Mankind is almost extinct. Earth has been conquered by a robotic army—the Corrupted—twisted and warped by a biomechanical virus known as The Punishing. The last survivors have fled into orbit, aboard the space station Babylonia. After years of preparation, the Gray Raven special forces unit leads the mission to reclaim their lost homeworld. You are their leader. As commandant of the Gray Raven unit, you are tasked with assembling the greatest cyborg soldiers the world has known and lead them into battle. Unravel the dark truths behind the Punishing virus, push back the Corrupted and reclaim the Earth in this stylish Action-RPG.