For most players, the game finishes when the end credit rolls; but with Diablo IV, it's where it begins. Ever wondered how the end game content of Diablo IV looks like? We've got you covered.
Trees of Whispers
Once players finish up the story of Diablo IV, they'll have access to a quest to start off the very first Tree of Whispers quest. These Tree of Whispers offers players random quests that has a time limit and appear all around the map of Sanctuary, when completed rewards you with a new currency called Grim Favors.
Once you collected 10 Grim Favors, you'll be able to exchange them for rewards from the tree. As previously mentioned, these quests have a certain time limit to them, where new quests will replace the ones that expire elsewhere on the map.
Nightmare Dungeons
Once the post game of Diablo IV rolls in, you'll start getting material drops of Sigil Powders, and sometimes even Nightmare Sigils from defeating monsters. For the veteran players, these Nightmare Dungeons are akin to the Greater Rift in Diablo III. Players will need to farm these Nightmare Dungeons in order to upgrade the Glyphs on your Paragon Board. Do note that the higher the Nightmare level, the higher the difficulty level of the dungeon would be.
Paragon Board
After reaching level 50, players will receive their first paragon skill point. From there onwards, for every quarter of an exp level you gain, you'll get a paragon skill point. As the name suggests, these Paragon skill points can be spent on the Paragon Board, and the board nodes will provide passive stat bonuses.
Each Paragon board will have at least 1 free node where players can freely insert Glyphs. For every level the Glyph gains, it increases the effect as well as the radius once a certain level is reached. Upon reaching a Paragon board gate, you'll get to choose a different board to attach onto your existing Paragon board where you can even rotate it to get those important nodes first.
Helltide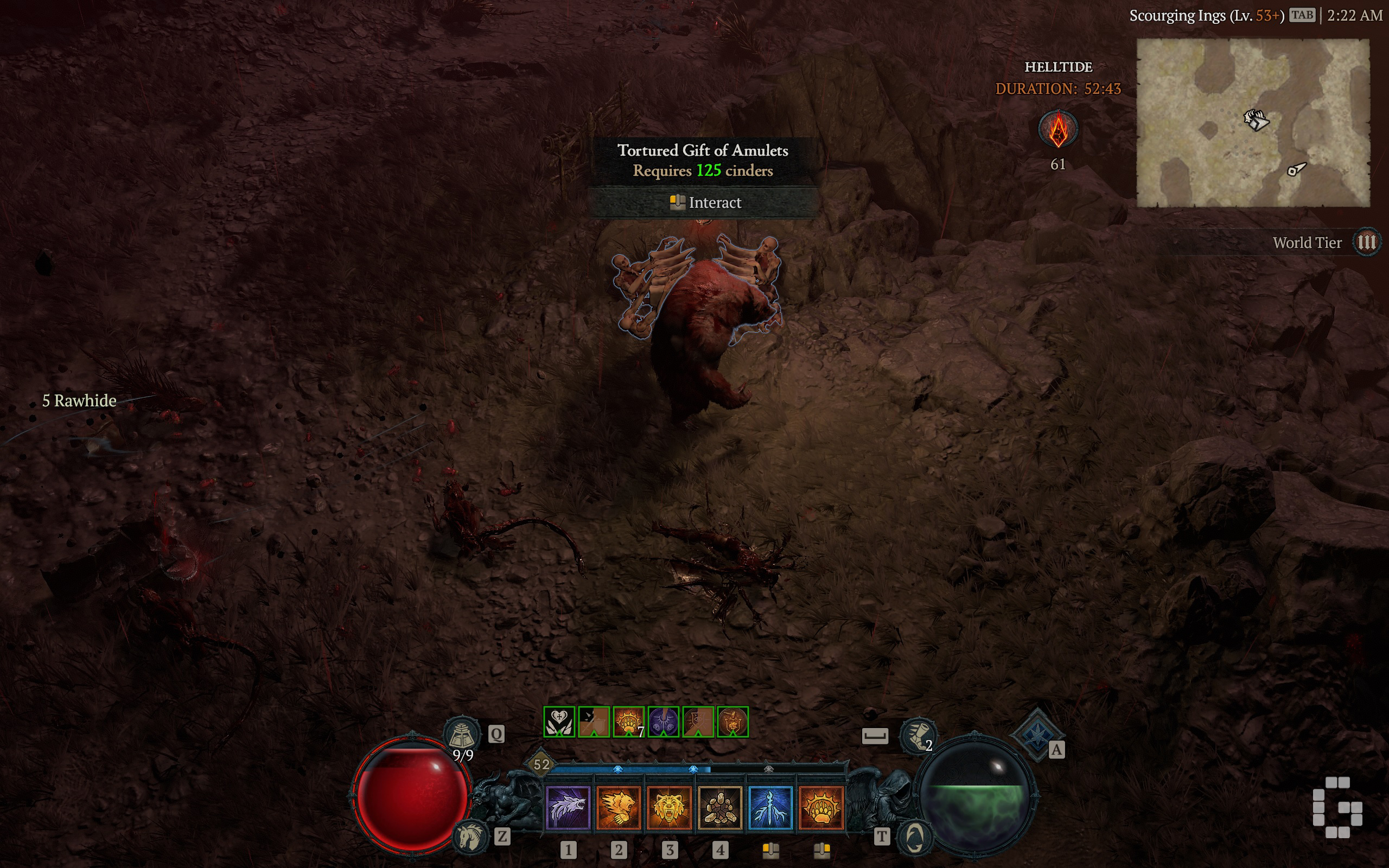 Do you want to swap one of your equipment attributes to something else but you're lacking certain ingredients? Players can find both Fiend Rose and Forgotten Soul exclusively in Helltide. Helltide is a timed event that covers a large area where it spawns Helltide Cultists on top of the usual mobs and creatures. Both cultists and the usual mobs will drop Aberrant Cinders, where players can use to unlock chests found during the event. Fiend Roses are found from the plants while Forgotten Souls may drop from monsters.
World Tier 3 & 4

Looking for better gear such as Sacred tier items or just post level 50 gear in general in the post game of Diablo IV? Then you'll need to access World Tier 3 and beyond. Both World Tier 3 and Tier 4 have a Capstone Dungeon where the enemies inside are a few levels stronger than the current world. It sort of functions like a level check to see if you're ready to progress to a higher World Tier.
Additionally, the game also has one final challenge that players can take on – Echo Lilith, which is only available at the final World Tier.
Starting a New Class
Perhaps you want to try out a different class once you complete the game for the first time, but you don't want to replay the entire story content all over again. Don't worry, players have additional perks to when they create new characters after completing the story at least once:
Being able to skip the campaign entirely
Have access to mount straight away
Bonuses from the Lilith Altar
Bonus skill points from Renown map claims
Having access to Tree of Whispers quest
All main city waypoints unlocked
The Diablo IV Early Access is now available while the official release of Diablo IV will be on the 6th June 2023. Do check out our review of the game here.
Diablo IV
Microsoft Windows, PlayStation 4, PlayStation 5, Xbox One, Xbox Series X|S
Diablo IV is an upcoming action role-playing game developed and published by Blizzard Entertainment, and is the fourth main installment in the Diablo series.
---
Check This Out Next
---