While covering GDC 2023, we were able to schedule an interview with Peter Li, the Head of PICO VR, one of the world's leading virtual reality tech studios.
Peter Li first joined PICO's parent company ByteDance working in strategy and investment before joining PICO itself to head their VR-based Projects. He has over five years of experience with virtual reality technology and has worked with industry leaders like McKinsey and Procter & Gamble. In this interview, Peter told us more about PICO's partnerships with third-party companies and the challenges they face in the gaming market. 
Since PICO is from China, you obviously know that the Chinese government has very strict rules in terms of publishing games. Considering China is still recovering from the license freeze, do you think that it actually impacts PICO in any way?
That's a very tough question. At this moment, we do have a pretty strict compliance requirement for games now on the platforms in China. That does make it a little bit slower for us to launch anything in China. But I think it's probably worth it because if you want to do safe business, there are rules you need to follow. So I think it's just like any other gaming company in China, you probably need to be complying with the rules and regulations. 
Companies like MiHoyo, Netease even Tencent themselves, actually have a separate branch in Singapore so that they can use it to publish games globally. Do you think PICO would have any plans for that in the future?
It's a little bit different between PICO and the other gaming company you just mentioned. So in PICO we actually don't publish games, we are a platform like PlayStation and Xbox. So we do have foreign entities, but that's for us to do sales and marketing for the other. I think we do have a Singapore entity for business operations.
Do you have any plans to develop your own first-party titles that are fully exclusive for PICO?
Yes, we do, we have one game that's currently in development at this moment. It's gonna be the first first-party video game for PICO, and we do have studios, first-party studios to game development at this moment. For now, the internal studio is mainly focused on how we maximize the features.
The Asian market tends to be more skewed towards games that are easily accessible like mobile games. What is the plan for PICO to entice people to adopt VR?
That's a really good question. The thing is that a VR headset gives you a very different experience when you are playing the games, the immersive experience is way beyond any other platforms. At the same time, when you are playing a game in a VR headset, you have to actually get your whole body moving, instead of just sitting there and playing with the controller. That's actually the reason we spent a significant amount of effort and resources in developing the solution for full-body tracking.
We have our full body tracker coming in a few months. With those body trackers, you can actually play a game that's using your feet. We have been discussing with multiple developers, and almost every single one of them was super interested in the specific specs of the trackers because they have been dreaming about the gameplay that uses both hands and feet. I think that would probably differentiate PICO from other platforms because there is gameplay that you can only play with the VR headset.
Platforms like PlayStation and Xbox have a lot of big games from AAA publishers. Do you have any AAA games that are going to publish their game on your platform anytime soon?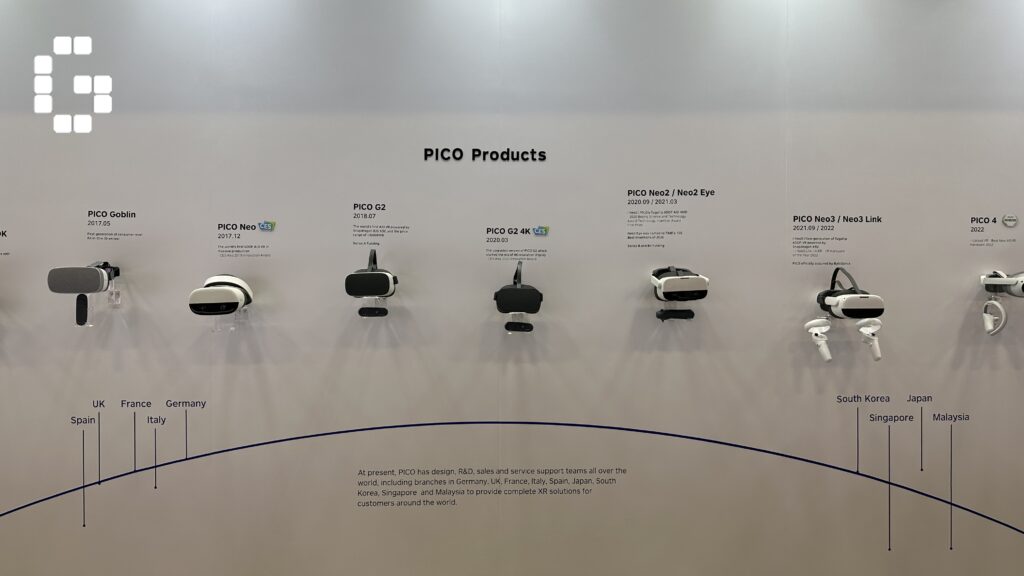 We probably have been talking to every AAA game publisher already, but not all of them have plans for VR games. We are working with some of them on VR on, but I might not be able to disclose the names at this moment, because I'm not sure if it's covered by our NDA between us and the publisher.
Are you more focused on developing first-party games or reaching out to third-party publishers?
Almost all of the games are third-party games, we have only one first-party game in development. The reason for that, as I just mentioned, is the internal studio is more focused on the games that can maximize the features of the hardware. So it's like more pioneering the game design to kind of showcase what the device can do, to the other developers.
For example, we have more than 300 games in the PICO store at this moment, none of them are first-party games, but by next year, the number of games could probably be something around 450 games. I can tell you for sure that there will be only one first-party game in the PICO store because that's what we have been focusing on, just pioneering features.
So a lot of games on PICO right now are third-party games, so that means that you also need to entice developers to produce games for the platform right? What kind of support do you give these developers?
Well, there's actually quite a lot. From a financial point of view, we discuss different structures that would help the developers to better produce games. It's my eleventh meeting today and in the previous 10 meetings, we have been discussing early-stage ideas with all the developers, and seeing what kind of structures or funding could be helpful for them to actually finish their game. That's on the financial side.
On the technical side, we do have a lot of engineers working together with developers to see what would be the easiest way to actually finish their games. For example, we have multiple engineers working on the algorithm of the body trackers, working together with developers to see what kind of gameplay they are designing. If we need to cater to that kind of gameplay, what kind of APIs and algorithms do we need to provide in order for the developer to actually have a better design or an easier way to develop the game?
So, it's a little bit of case by case thing, it depends on the gameplay, but usually we kind of co-develop the game with the developers from the 'how we are engineering' point of view.
Right now mobile gaming tends to have mass popularity in the market. With that in mind, do you think of smartphone gaming as one of your challenges and do you have any strategies to convert smartphone gaming users into PICO users?
I think the goal here is not actually to convert mobile gamers because everyone can be a mobile gamer as long as they have a mobile phone. I think the occasions for VR games and mobile games are very different, in the sense that you can play mobile games whenever you want, while VR games require you to have a living room and a lot of time, so I don't think mobile games will be a challenge. Also, we actually have a number of good relationships with many mobile game developers.
The VR Gaming market is getting increasingly competitive, especially overseas. Since games are such an important part of a platform's success, do you have any plans to make PICO's catalog of games more appealing to consumers?
First of all, I think the fact that our competitors have been doing it for a longer time than us, is actually quite a good thing. Since as a pioneer, they spent a lot of money to incubate the whole market so we should be thankful.
In terms of gaming, platform and console competition is not exactly a new story. Like if we look at Xbox and PlayStation have been there for years. We think that this is a normal way for us to compete, we just go and make our own hardware better, and sell our own better products to the people. I think this is actually quite a nice thing. Like, the competition really drives innovation and high-quality products.
If you look at VR devices, we are still in quite the early stages. If we look at the whole technology road map, I feel excited about the future as there is a lot of new tech to develop for VR like hand gesture recognition, better haptics, full body motion tracking, and shorter and more accurate tracking device, including better controllers.
All these actually have more possibilities for games, but before all this stuff happens, you have to let the developers earn enough money so that they can continue operating on the platform. So going back to just now, I'm actually very appreciative that some companies spend a lot of money on it. Let's just see how are we going to make this stuff better.
For the PICO how much will you be focusing on multiplayer games compared to single-player games?
Multiplayer games are currently in high demand amongst our users. We are also doing a lot of stuff now, for a lot of games that are in development, one of the tops priority is for them to have a multiplayer mode. As with any other platform though, single-player will still be abundant since the engineering for them is relatively easier, and the game design is less difficult.
I think this is normal for an early-rising platform. As time moves on, you'll slowly be seeing more and better multiplayer games which will become a significant part of the platform.
A big question about any new hardware is the distribution of devkits. When you release devkits to developers do they have to purchase one or do you simply give it to them?
For most of our developers, we actually send them devkits, but not for all of them since there are just too many of them. The top developers would receive the next generation of our hardware a lot earlier because we need them to get a really good understanding of our hardware to better customize their games.
Since users themselves are able to develop apps, are there any individually developed apps being made? 
Yeah, there are quite a few individual developers, and one of the biggest apps in the store is called 'Virtual Desktop' which was developed by individual developers. In the future, we would like to have the function to let small developers upload their apps or games directly to a kind of test store, a little bit like the app lab. So it will be so much easier for small developers to test their apps on the end users.
If I want to play mobile games, the entry level is actually very low because it's very cheap to get a mobile phone. To play a VR game obviously I need to buy a headset which is not the exact cheapest thing. Do you think in the coming future, it would be possible to have more affordable kinds of VR tech?
Yeah, I do think so. Our engineering is actually working on all kinds of solutions to actually make the device more affordable, and easier to wear. So in the future, I think it's gonna be lighter, easier to wear, and more comfortable.
PICO VR
We are very thankful to Peter Li and PICO for allowing us to conduct this interview. The company is in an interesting spot, launching what is essentially a new console platform in the form of a VR headset. It's interesting to hear how about they conduct business with third parties and where they believe the VR gaming industry is heading. We wish them the best of luck.
---
Check This Out Next
---