Tyson Smith, or more commonly known as Kenny Omega is a popular pro wrestler that's now settled in Japan wrestling professionally in the NJPW (New Japan Pro-Wrestling). He was known for his references to video games like his name, his entrance music and his signature move. His signature move is the Hadouken from Street Fighter which is often used during his wrestling matches. This has made him widely popular and well known amongst gamers around the world – and we got to meet and interview him at GameStart Asia 2018!
Tyson Smith (Kenny Omega)
As WWE has been a big part of our lives (or some of us), pro-wrestling was also introduced to Kenny Omega ever since he was a child. He started off training and working in TRCW (Top Rope Championship Wrestling) in Winnipeg, where he was born. After a year, he made a gimmick of himself as Kenny Omega, a Hawaiian surfer. He then later dropped that gimmick and went on to be an otaku/gamer gimmick which he incorporated some the Hadouken from Street Fighter as one of his signature moves. Even his name "Omega" is a reference from Final Fantasy!
Since then, he has other finisher moves like the One-Winged-Angel which is a reference to Sepiroth from Final Fantasy VII. Other references like his entrance theme song often come in variations from Megaman's Dr. Willy theme music. Video games have influenced his persona in the pro-wrestling scene for many years and now he is basically the living embodiment of a gamer-slash-pro-wrestler who can also speak fluent Japanese and lives in Japan with a permanent citizenship.
The Interview
As we already know, one of his signature move is the Hadouken from Street Fighter. It was a move which he drew inspiration from the popular game Street Fighter 2 when it was ported over to the Super Nintendo Entertainment System (SNES) back in 1992. It was then his love for fighting games began! It was also the game where Omega experienced first hand the thrill of playing against other players. There was also another fighting game which caught his attention back then which was Mortal Combat, where he loved the real-life characters and finisher moves.
Aside from the fighting genre, Omega also loves RPGs and horror games. One of his personal favorites of horror games was Resident Evil 7, Fatal Frame 2 and Silent Hill. As games have been a huge part of his life, we had to ask, "How do you balance between your career and gaming?". Like any normal person would do, we either sacrifice our sleep or after his fights when he could game to relax. As Omega does not drink alcohol or smokes, he plays games as a form of relaxation.
But playing isn't fun without some competition. As we recalled, Omega did have a match with Xavier Woods, another pro-wrestler from WWE in Street Fighter V back in June 2016, at the Community Effort Orlando (CEO). They have been head to head with each other but Omega claims that right now he is taking the lead against Xavier. As currently, Omega has won 2 Street Fighter matches and lost 1 match on Tekken against Xavier.
Talking about his pro-wrestling career, one of his dream matches is to wrestle with those whom he has never faced before. Wrestlers like Roman Reigns, AJ Styles and even John Cena. Although, he'd also like to face Seth Rollins even though he has faced him before, people tend to compare the two of them so a match with Seth Rollins could set things straight. Drawing inspiration from Mr Perfect (the late Curt Hennig), Rob Van Dam and Jeff Hardy, he became who he is today – a pro-wrestler that has inspired many others as well.
Jumping over to the gaming scene, Omega would also like to see eSports to be recognized as a true sport as well as to be included in the Olympics. He believes that eSports do require intense training as well and a player does not just require finger dexterity but also mental and physical fitness. Giving an example of Nascar racers, the drivers are also required to stay physically fit even though they are only sitting and driving during their race. Omega mentions that the public may not understand the stress that one needs to go through to prepare themselves before committing into the sport and needs to be aware of.
Being also a gamer since he was young, we were also curious on what are some of the old games that he'd like to see make a come back in this generation. Some of them are Capcom Vs SNK 3, Rival Schools, a new Silent Hill and a Mother: Earthbound game. These are games that were released back in the '90s and it was a generation where these games were highly popular. However, Omega doubts that games like Mother: Earthbound may not get a new title.
Word of Advise
Anyone from different walks of life can be a wrestler these days. It isn't like the old days where you need connections or know someone that's in the scene to get into wrestling. But what makes a successful wrestler is the passion for wrestling and performing, and character development. As the name Kenny Omega is an extension of who Tyson Smith is, Omega advises to come up with a character where people can relate to. With fans all over the world watching it live, the character that one adorns would need to be globally entertaining as well.
Fun Facts!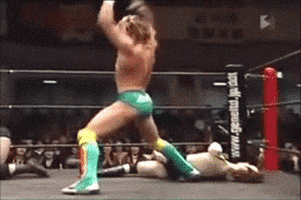 Kenny Omega wishes to be featured in the game "Undertale" as Kenny Omega.
Hadouken became a signature move from his love of Street Fighter – a double-palm strike to the chest or the face.
Omega wishes to build an eSports team with "The Elite".
Omega interprets 'geeks' as someone who is not afraid to like and support whatever it is they enjoy in life.
Should there be any eSports events in Malaysia, Omega would love to participate – if his schedule allows him to.
---
Though Kenny Omega is a pro-wrestler who is travelling around the world and defending his world championship titles, he still finds time to chill and relax by playing his favorite games. He doesn't just play the fighting genre but he also enjoys playing RPGs. For someone to be successful in the pro-wrestling scene with a personality that references games he loves, it is inspiring to many people out there to be just who we want to be or who we want to love. This is also a live example of how video games have made a great and good impact on an individual's life.