Exos Heroes, a hero collection mobile RPG developed by OOZOO, will be making its way to Android and iOS on 21 November 2019 in South Korea. A global launch will follow early 2020.
The game boasts a roster of 200 heroes that players will be able to collect, all of whom are seamlessly rendered in 3D derived from original artwork by an unknown artist, who presumably is of South Korean origin. The narrative-driven RPG will focus a lot on the story, which is promised by thee developer to be very immersive and engaging.
Combat is turn-based and is tactical in nature, and you will need to take advantage of the weakness of your enemies in order to prevail. Auto battles are an option here, but we reckon this will only be viable only in the early stages where you need to farm or when your gear is at a certain level.
The world of Exos Heroes is fairly large and you will be spending quite some time traversing the map which has been detailed nicely. As you make your way from one location to another, there will be some random encounters as well. Even this portion of the game can be automated to a certain degree as your party will wander the map for pickups and experience, so some level of AFK farming is will be present for those who want to optimise the game time.
Once you tire of the single player campaign, you will be able to test your mettle in PVP, although no details were disclosed by the developer at this juncture. From what we have seen so far, the game is shaping up to be a rather interesting title with high production value.  Expect to hear more from us about the game as the global launch nears, whenever that is.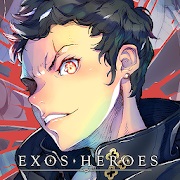 EXOS HEROES
Android, iOS
The grand adventure to search for 'Exestruk', the missing sword of the emperor, and the curse of the ancient dragon! Experience the adventure of your lifetime. Experience the unique visualism beyond your imagination. Experience the unique, extraordinary RPG!