Crisis Core: Final Fantasy VII Reunion is an HD remaster of the original Crisis Core for the PSP. The game acts as a prequel to both the original Final Fantasy VII (FFVII) and Final Fantasy VII Remake, presenting the story of Zack, a minor but important character from the original title, as well as depicts the tragic events that would lead to the former title, including the downfall of the once celebrated soldier Sephiroth.
Crisis Core Reunion is more or less the same game as the original and that means that it comes with a few of the same shortcomings of the original, like a couple of odd story beats and the rather hit-or-miss DMW wave. That being said, Crisis Core makes up for these shortcomings with a fun story, a loveable main character, and a great attempt at action RPG gameplay. If you enjoyed Final Fantasy VII Remake, then Reunion should be your next stop.
Crisis on Midgard
Crisis Core Final Fantasy VII Reunion stars Zack Fair, a member of the Shinra military group SOLDIER who dreams of gaining a first-class rank like his mentor Angeal. When another SOLDIER named Genesis leads a rebellion against the company, Zack will have to work alongside the greatest member of the division, Sephiroth to put a stop to them. However, in doing so they learn more than a few things about the dark past of Shinra that will change the course of history for all involved.
The game is split into ten chapters, totaling around 10-15 hours of playtime. While you don't have to play FFVII or Remake to understand Crisis Core, I would highly recommend it. The game is clearly made with the previous title in mind and spoils many of the larger twists of VII's world. Certain events and foreshadowing later in the game just won't hit as hard if you don't know what happens in FFVII.
The most noticeable aspect of the remaster in particular is the new visuals. All of the assets in Reunion were remade from the ground up to look more in line with FFVII Remake and their heroes. Zack and Cloud are prettier than ever with more detailed models that really bring them to life right down to the pores on their cheeks. The settings and areas have likewise received quite the glow-up, from the decrepit slums of Sector Five to the sinister halls of the Shinra labs.
Reuniting With Zack
Brightening up those sinister labs is our hero Zack, perhaps one of the most fun protagonists in the series. He's upbeat, approachable, and raring for adventure. The dude's constant energy is infectious, making him the kind of guy anyone would want to be friends with and you can see why Cloud and other characters take to him so quickly. It also makes it all the sadder when the game continues on and Zack's idealism is put to the test. He's a guy you want to see succeed even when the odds are stacked against him.
I also really liked what they did with Sephiroth. This is the game that depicts his fall from grace but at the start of the game, he's actually pretty reasonable and even sympathetic. He's aloof but it's clear that he takes his role as a soldier seriously and cares for his allies. His actual transition into an evil mama's boy is a little too abrupt but it's still interesting seeing him change and slide into insanity.
An Awkward Genesis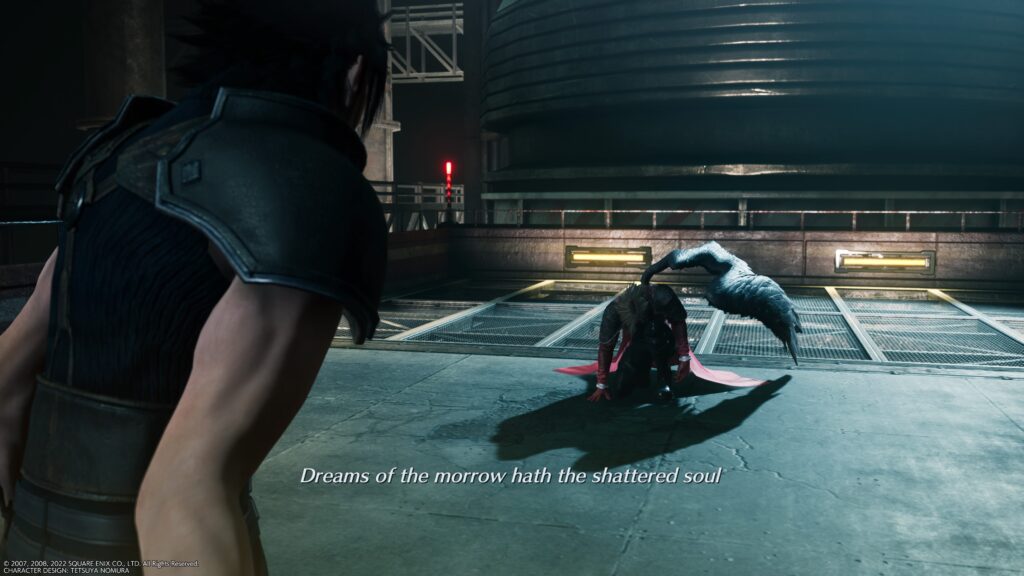 This however takes us to our main villain Genesis, voiced by and modeled after Japanese 2000s musical sensation Gackt. I'm convinced anytime people accuse Final Fantasy characters of being "emo", mellow dramatic pretty boys, they're referring to this guy. Not only does most of his screentime consist of self-indulgent whining but he's obsessed with this poem called Loveless and projects it onto his own life and other characters. Half of his lines are actual bad poetry and it's just as cringe-inducing as it sounds.
He didn't ruin the story by any means but every time Genesis popped up on the screen, I couldn't help but roll my eyes and wish he'd just hurry up his 7th-grade diary entries so we could get back to the cooler characters.
Slot Machine Combat
When it comes to gameplay, Crisis Core is a pretty standard action RPG. You have an attack button, a dodge button, and an item button. It's a pretty easy system to manage and once you get good at dodging, even the largest mechs and bad-tempered ostriches won't be able to touch you.
In order to use magic, you hold down the L1 shoulder button which brings up different spells to perform. These range from elemental attacks, to healing to physical moves that use up your AP bar. If you've ever played Kingdom Hearts, the magic system is a lot like that and does a good job of making combat more engaging, although certain spells may make the game a little too easy to cheese. Seriously if you're ever in trouble, keeping your distance and spamming Blizzard on enemies' heads will solve all your problems.
New magic moves are gained by equipping Materia orbs and you can get more of them by doing side missions. These can be accepted from save points and they usually take a few minutes at most making them a great way to grind for levels and items. As someone who's never been much into sidequests, I enjoyed how quick and efficient they were which in turn made me want to do more of them to see what I'd get. Later on, you're given the ability to fuse the Materia together to make stronger spells which just fueled my inner collector even further. By the end of the game, my Blizzard concussions could not be stopped.
The Digital Mind Wave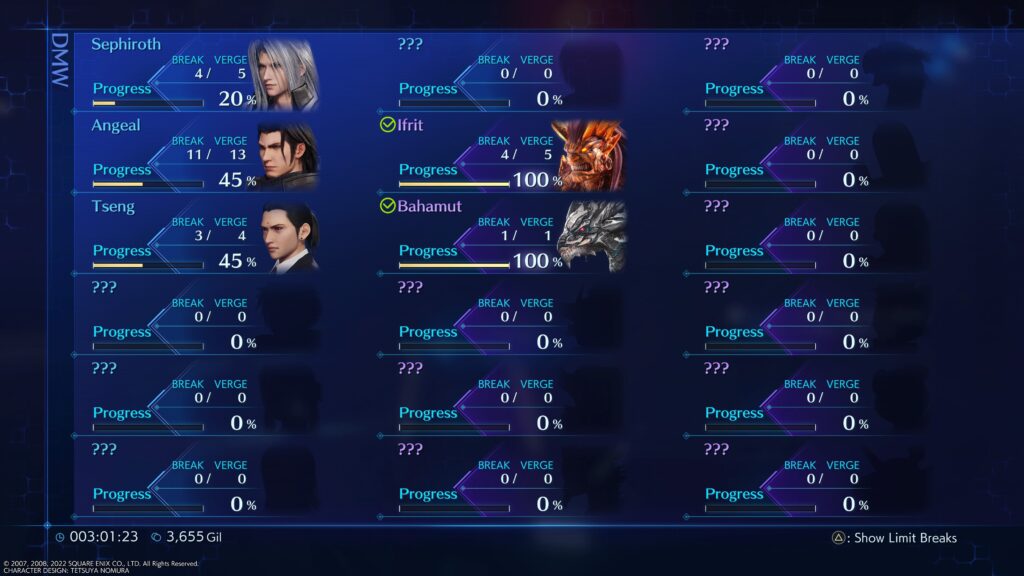 This is all spiced up by the more unique feature of the battle system, the Digital Mind Wave (DMW), aka a slot machine. Every time you attack, a slot machine will roll in the right-hand corner of the screen. Depending on the character it lands on, you can game access to different limit breaks, summons, and other buffs and power-ups.
It's a divisive system as even your level-ups are tied to the DMW. Those looking for more strategy in your RPG may not appreciate having so many core mechanics be randomized as it leaves a lot of the battles to chance. There were definitely moments where I wished I could manually use a limit break and take out an enemy faster.
That being said, it's not that much of a detriment. You still level up regularly enough and the various powerups were often a nice surprise that keeps battles feeling fun. Being able to suddenly someone Odin at the press of a button was very satisfying even if I didn't when he'd show up next.
If anything the DMW skills are neat bonuses on top of the usual attack and dodge mechanics. Even if you are a couple of levels down, as long as you have a steady stock of potions and the dodge buttons you'll do fine, even if it'd be nice to get the limit breaks more readily.
Crisis Core Reunion
Crisis Core: Final Fantasy VII Reunion is a fantastic addition to the Final Fantasy VII Universe. It gives us greater insight into the journey of Zack, Sephiroth, Cloud, and many others leading up to the events of the beloved original and its praised remake.
While DMW may be a little hit or miss and Genesis could have done with some sharper prose, these don't detract that much from the fun of hacking down Wutai troops and dropping the occasional limit break to sweeten the battle. It's been great Zack, I'm glad we could reunite, even if only for a little while.
Crisis Core Final Fantasy VII Reunion is available for PS4, PS5, Nintendo Switch, Xbox One, Xbox Series X|S, and PC. A review copy was provided by the publisher and the game was reviewed on PS5.
For more information on Crisis Core Reunion, check out our interview with the game's producer and creative director Tetsuya Nomura, and Mariko Sato.
---
Check This Out Next
---
The Review
PROS
Combat is fun and accessible
Insightful expansion on Final Fantasy VII's lore
Remastered visuals look fantastic
CONS
Genesis
DMW might be too random for some people