Astria Ascending from Artisan Studios has the makings of an incredible JRPG at first glance. The title launched 30 September 2021 for PS4 / PS5, Xbox One / Series X | S, Nintendo Switch, and PC via Steam, so everyone who even has a remote interest in the genre can try out the game. However, I find the overall experience rather… mediocre at best, and I hope I can better explain what I mean in the following sections.
THREE MONTHS TO THE END
We join our heroes about 33 months into their tenure as "demi-gods". As the story goes, people are chosen to receive zodiac power to protect the world from enemies known as "Noises". They run their course for 3 years – seeing a pattern yet? – and then they "Transcend", essentially dying. The demi-gods' next of kin will be able to live out the rest of their lives in comfort after services rendered.
The 333rd party is led by Ulan, featuring a ragtag bunch of people who have on a thin veneer of "professionalism". They're punch-clock heroes, barely appearing to like each other as they simply perform their duty. Since they are the playable bunch, their retirement isn't going to go smoothly, as it seems that Noises are cropping up in towns, and thus forward they must march.
I don't mind knowing nothing about these characters to start as frontloading exposition can bog down the story. However, I don't feel compelled to know more about these characters, or their world, which feels like a death knell for a genre often lauded for immersive narratives. I get brief tidbits about the pasts of these demi-gods, how awesome they've been all this time, and yet, I feel exactly like them: we are just here by happenstance, a mere quirk of fate, and once the job's done, we can go about pretending not knowing each other. If duty did not bind these people to their task, I'm not convinced they would willingly protect anyone outside of their circle.
SETTINGS AND CONTROLS: PLAYING A DEMI-GOD
There aren't many settings to fiddle with to start, with basic options such as changing voice / text language, text size, volume and vibration.
Other settings for exploration and battle will open up later. You can toggle side quests, field encounters or respawning enemies in dungeons, as well as displaying info about hunt quests, bosses or chests on the map. For battle, you can control gains for XP, SP, Lum and Items, adjust the ratio of XP / SP reserve members can get, weakness indicator on or off, and battle difficulty.
I don't get why the options aren't available from the beginning.
Besides that, by default, plenty of the actions can be done with just one half of the keyboard, though it can feel just slightly clunky at times. The clunkiness fortunately does not overly extend to the occasional platforming you'll need to do.
PRESENTATION: THE BEAUTIFUL WORLD
One thing I can say about the game is that its art style reminds me so much of Vanillaware. With CyDesignation also credited as concept art, I could draw comparisons to Granblue Fantasy as well, or with other Cygames' properties in general. Both enemies and characters have this subtle motion that gives me the impression of looking 3D, and there's plenty of animations for Ulan on the overworld: opening chests, standing around, and there's just so much care put into the art.
There's a blend of fantasy and "modern" aesthetics, something close to my heart. The backgrounds in combat change depending on your location, and the monsters that populate them look right at home. Equipping a weapon changes how it looks in combat, for an extra touch. There are both Japanese and English dubbing which are fine for the most part, though I feel like the English dub has some issues with sound balancing. Perhaps that's just me.
While it's pretty and all, I have issue with the battle screen. It just feels like there's far too much empty space that they're not using enough. To wit:
You can stack multiple status effects on one unit, but they don't appear all at once and instead cycle one at a time
Indicator for active target isn't very obvious
UI elements spaced really far apart
While I understand the lack of a victory result screen can help make a snappier transition into exploration again, the pop-ups don't stay long enough for me to parse. The fixed camera can also cause some issues, making exploring just that bit more bothersome, when it zooms in and out without your input.
For a 2021 title, it also lacks the QOL where you can immediately equip a new piece of equipment you bought.
GAMEPLAY: BEING A DEMI-GOD KINDA SUCKS
Combat is a pretty standard turn-based affair, with no turn indicator. Hitting an enemy's weakness gets you Focus points, while hitting resistances / getting attacks absorbed or nullified will deduct Focus points. This is mechanically similar to Octopath Traveler's "Boost" mechanic, except you don't get them over time. An action can be Focused up to 4 times for 200% effectiveness. You MUST hit a weakness to store Focus points, as the Focus action only provides temporary ones.
This does encourage more strategic play, but in practice I'm less certain, as I'm salty from failing Max Focus actions. Focus Points are needed for a summon's active abilities, or you're left with just slapping with auto attacks. Enemies also have their own Focus bar, though I can't tell if / when they used it. The typical array of status effects are available, some of which seem to take priority over overs, as I watched a Stunned character still take a pot shot.
You can only field 4 allies in combat, and DOES NOT swap to the reserve if they all die. Items likewise only apply to the frontline. You can, however, swap all four of them out at once on your turn, which is pretty nifty. Summons take up the entire screen, leaving you only one unit to control. I find it really restrictive and not very fun, as summons can't also be repeatedly summoned in battle. As powerful as they are, taking only one action at a time does not make for engaging combat. HP and MP can be refilled in towns, while exploring in dungeons only refills HP.
Escaping battles does not despawn the encounter, but it can change the enemy line-up. There's some light "metroidvania" in play, where you'll find some rings to manipulate things on the environment for exploring or puzzles. Enemies can be frozen with a ring and you can hit at it for a pre-emptive strike, though pre-emptive doesn't seem guaranteed so why bother? The zodiac ring seems to miss with a slight elevation difference, which is unfortunate.
I've seen complaints about the game having "bad balance", and I can sort of understand that. I didn't have enough job crests (more on that later) at a point where it looked like I needed more stats, and the enemies resisted my elements, and I missed attacks… well, if you turn on Very Easy difficulty, the stats are so laughably low, it'll be much easier to breeze through if you so wish.
CHARACTER GROWTH
This includes both regular levelling up, their skill tree, their equipment and jobs. Levelling up and equipment should be pretty self-explanatory, so I'll talk more about the skill tree.
You'll come across equipment that are locked to certain classes. All of them can equip a weapon, shield, helmet, armour, and 2 accessory slots. Only the weapon will change its looks with different ones, but it's a nice touch regardless of how minor it is.
Grinding is probably in your agenda when it comes to SP. Each job you can unlock and equip have their own skill trees, AND certain nodes will ask for Stat Orbs to properly unlock. There's a degree of flexibility as you can choose which stat you'd like to boost, and most nodes tend to have multiple paths you can take to get there. It'll be a while, but it's possible.
Jobs require Crests to unlock, and you need the specific Crest (Main / Sub / Support) to get them. This just doesn't feel fun, as there are quite a number of options you can have per character. I'm not incentivized to try funky skill builds because it's so tedious to get even the starting job kitted out.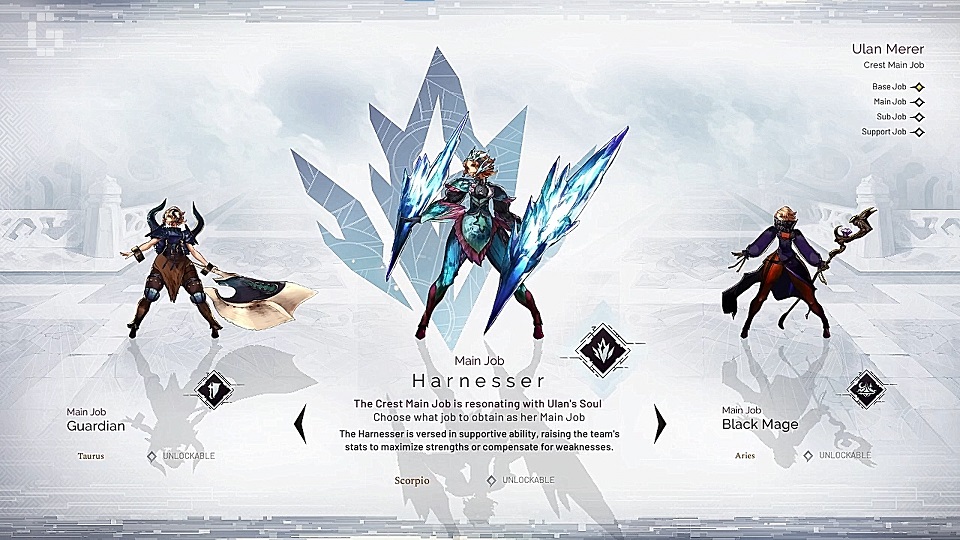 EXPLORATION
Astria Ascending employs a degree of "Metroidvania", with platforming and puzzles to solve, some requiring specific items e.g. the rings, before you can proceed. I don't find the map intuitive to use even with the provided legend. On the field proper, the self-adjusting camera can make it hard to figure out if the gap is actually an instant kill pit, or you can fall down to a lower level. At least if you die to a pit, you respawn pretty close by.
J-STER
The game in the game is played with 5 tokens per player, in what I call a vague blend of Yu-Gi-Oh! and Othello / Reversi. Each hexagon token has a power value, with all sides marked. You would want to have a "Neutral" or "Advantage" edge to avoid your token from getting flipped over.
As is usually the case, there'll be various flavours of rules you can choose, and just about everyone can be challenged. At the start of a game, two tokens will be picked, one from each side. One will be placed in the middle, and the other will be discarded. Tokens can be obtained from battle, or have enemies be turned into one.
VERDICT
Astria Ascending has many elements emulating other JRPGs, but there are many strange design decisions that I feel holds the game back from being a truly great homage.
I know JRPGs are well known to require many hours to "get good", but if the starting journey doesn't hook me, I will struggle to continue. It's really unfortunate, as I can see the makings of a good game here, and the presentation is nothing short of stunning.
Astria Ascending
Microsoft Windows, Nintendo Switch, PlayStation 4, PlayStation 5, Xbox One, Xbox Series X|S
Explore a vast world on the brink of chaos in a mature, emotional JRPG. Experience an epic story with rewarding, turn-based combat and expansive customization rendered in glorious 4K hand-drawn visuals.
The Review
Astria Ascending
A shiny veneer that can't hide its various flaws.
PROS
Really pretty
Has some building blocks for a great game
CONS
Mechanical decisions make it clunky
Story is simply not compelling
Review Breakdown
The ascent fails to hit the mark

0