Episode 6 of Arknights is opening on its global servers, dubbed Partial Necrosis. With it comes part 1 of the episode's release event.
The episode itself will go live on 30 June, 2020 10:00 UTC-7. Players will need to have cleared stage 5-11 before they can start on episode 6.
A log in event will give a new outfit for 3-star Defender, Cardigan, as well as various materials. The log in bonuses will run from 1 July 2020, 04:00 UTC-7, to 15 July 2020, 03:59 UTC-7. Rewards include:
Sanity potions
Headhunting ticket
Limited furniture
Chip catalyst
Running stages excluding Annihilation maps can drop 10 Sanity potions or supplies. These stages will also provide 50% more Trust to Operators Blaze, GreyThroat and Ambriel. 1-7 is considered a good deal to take full advantage of this event – orirock time – from 30 June 2020, 10:00 UTC-7 to 14 July 2020, 03:59 UTC-7.
The event headhunting – Enthusiasm, Expansion, Explosion! – will run from 30 June 2020, 10:00 UTC-7 to 14 July 2020, 03:59 UTC-7, introducing new Operators on rate up:
New outfits for Pramanix, Schwarz, SilverAsh and FEater will be available for purchase.
Last but not least will be a new Furniture set, Rhodes Island Workstation, available to purchase from 30 June 2020, 10:00 UTC-7 to 21 July, 03:59 UTC-7.
While not mentioned here, four Extreme Mode maps will also open some time after Episode 6's release. Partial Necrosis is probably hyped up for Arknights fans with Frostnova's appearance and the Operators that come with its release, so good luck and enjoy the story.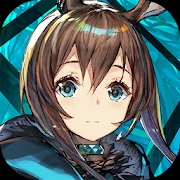 Arknights Global
Android, iOS
Take on the role of a key member of Rhodes Island, a pharmaceutical company that fights both a deadly infection and the unrest it leaves in its wake. Together with your leader Amiya, you'll recruit Operators, train them, then assign them to various operations to protect the innocent and resist those who would thrust the world into turmoil. Your tactics will determine the future of Rhodes Island. Fight for the Dawn!