After hibernating over the covid pandemic, Anime Film Festival (AFA) 2022 returns to Singapore larger than ever with new exhibitions, events, and further innovations to impress otaku and anime fans from across the region.
Going live from Friday the 25th to Sunday the 27th of November, we spent the whole of the first day exploring the various shops, merchandise, art, and music one after another. We can safely say that the convention is back in full form. Here's a look at some of the highlights of the first day.
The Exhibitions
The first thing that comes to mind with any convention is getting some collectibles and the AFA's various exhibitions certainly bring the items. The booths range in products from Figurines to acrylic stands, to pins and artwork. I will say these often ranged on the pricey side but there was definitely something for everyone. Here are some of the more notable displays.
Bandai Namco's Gundam Exhibition
If you're a fan of Gunpla, Bandai Namco has brought the goods. Their exhibition brings in a host of new model kits particularly based on the latest Gundam anime: The Witch From Mercury with figures based on both the robots and their human pilots.
MAPPA
Anime Studio MAPPA came ripping into AFA 2022 with a slew of new Chainsaw Man merch. The acrylic stands at the store were pretty expensive at $50 Singapore dollars but I can't deny they're high quality. The acrylics were solid, heavy blocks with detailed characters inside of them. If you wanna a more affordable takeaway, badges, posters, and chibi-style merch were also available. 
The best part about MAPPA however was the booth itself. The side of their booth had a giant screen playing Chainsaw Man's opening and various endings. With the amazing visuals and catchy-as-hell music, it really got the adrenaline rushing to start the day. 
Bushiroad
Bushiroad brought an assortment of Weis Schwarz cards and merch (T-shirts/pins). The highlight of these was the Hololive super expo 2022 cards, not to mention Hololive binders, card jackets, and wall scrolls to show allegiance to your VTuber of choice. There were also cards based on other popular anime like Tokyo Revengers, Dragon Maid, bunny girl senpai, Attack on Titan, and Danmachi. They even gave me some free cards on the way out!
Kotobukiya
The king of premium figures, Kotobukiya brought Scale figures, Zoids, and many lines to the show. Their main attraction was the Persona 5 Red Joker scale figure, ready to steal your heart (and your wallet with the pricing). Other scale figures on sale come from series like Re: Zero and Hololive. There were also a number of cool statues on display, some of which will only be released next year. 
Genshin Impact
Genshin Impact has become quite the phenomenon. The number of cosplayers at AFA dressed as Genshin characters is proof enough of that, so of course, an official merchandise boof was set up as well. The store has the usual acrylics, keychains, and pins you'd expect but still, it's always nice to get some Genshin goodies and the long line at checkout shows the game's popularity won't be dying down anytime soon. They also give you free stickers. 
The booth is also having a mini-competition. You get a free postcard for taking a picture of their booth and posting it to any social media with the hashtags #genshinimpact and #AFASG2022. You can get another postcard by answering trivia questions about the game. 
AFA shop
AFA's own merch shop may be the most popular of all of them. The line to get in was huge, perhaps the largest of any exhibition and not moving too fast. I can see why though. The AFA Store features Limited Edition Good Smile Figures including newly released Nendoroids as well as official Hololive merch including plushies of the English first generation. They all cost an arm and a leg but are incredibly cute with premium details. I was lucky enough to get the last 15th Anniversary Hatsune Miku Nendoroid and she certainly looks sweet.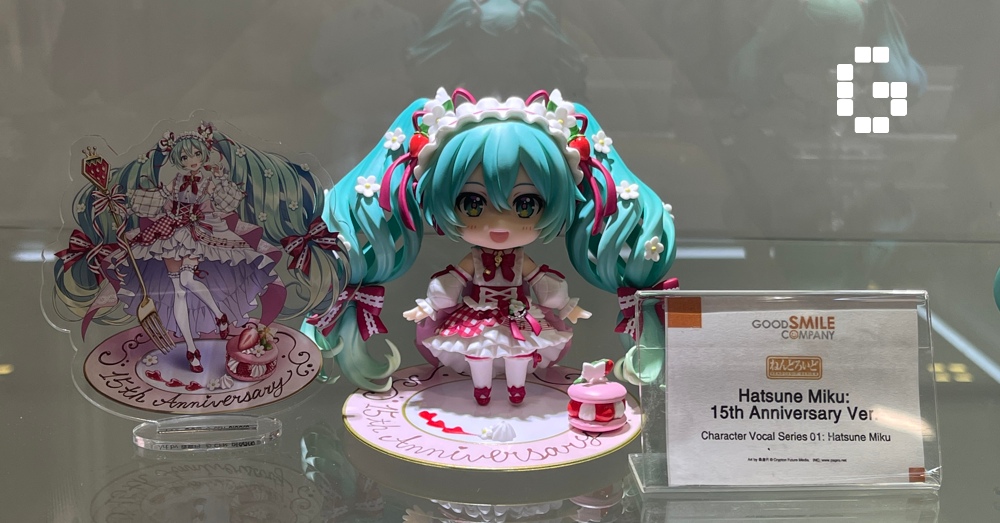 I briefly spoke with one of the Exhibition Staff named Zack who said the line had been quite big for the past few hours. He told me that after the covid lockdown, he was personally really excited about AFA coming back and believes that most people were the same. That was the reason it was so crowded and the lines so long. He certainly wasn't the only person who felt this way. 
The Day Stage
AFA 2022 wasn't all just buying merchandise though. One of the big features of this year was the 'Day Stage', various large events happening on an exclusive stage throughout the day. We caught two of such events today: The Obey Me concert and a Q&A with esteemed Malaysian Cosplayer Hakken.
Obey Me
I know very little about Obey Me as a game beyond hot demon guys, but I do like some good music, and this 45-minute concert by the voice actors for Asmodeus and Leviathan: Miura Ayme and Satoshi Kada was devilishly energic. The room was filled to the brim with hard-pumping J-rock complimented by the sound of screaming fangirls. 
The duo briefly said that this is the second time they have come to AFA but the first time they've performed and they are very excited and happy to be here. They spoke about how much they loved eating Singaporean chicken rice and having Mcdonald's at midnight. They were very good at playing up the crowd. I think my favorite part of the banter however was when they started asking the crowd who their favorite demon was. 
"Do you like Lucifer!?"

*Crowd Cheers

"Do You Like Satan!?"

*Crowd Cheers Even Louder
Hakken
The next event saw the elusive Hakken take the stage. The minute they appeared in a new military-style concept uniform, you could hear the audience swoon. "So beautiful!" one voice called from behind me. The host of the event began asking Hakken a series of questions about cosplaying and just how they've been recently.
They spoke at length about returning to conventions. This is Hakkens' first AFA since 2019 before the pandemic however they did attend AnimeFest at Paradigm Mall in Malaysia, speaking about how they initially thought it would be a small showing only to be swamped by an enormous crowd. I actually attended that one as well and I can tell you the crowd was definitely a little too big but they were at their largest around Hakken's booth. People really wanted to see them in person.
The cosplayer admits their first thought was how tiring it would be to go back to conventions but that it also felt good to see people face to face. Online events just weren't the same and they get "energized" from seeing so many people. 
Hakken will be appearing throughout AFA 2022, holding meet and greets with fans. On Saturday, they'll be premiering a new cosplay of Zhongli from Genshin Impact. They also said that the cosplay they found most fun was their Jojo cosplay which as a Jojo fan myself, made me very happy.
Akiba Stage
The Day Stage wasn't the only stage at AFA 2022. Throughout the day number of smaller events were performed on the Akiba Stage in the main convention hall for the public. These could range from up-and-coming Vtubers to singers, to DJs like Jonboi letting the crowd jam out to some of the most popular anime themes of all time. It ended with a Cosplay All-Stars showcase with all the big guest cosplayers (which serves as the feature image for this article).
The musical acts were the best as they really got the crowd pumping and singing along. Anime fans across the decades know these songs by heart and when we sing in unison, it truly feels like something special. At certain times, you couldn't get anywhere near the stage because so many people were sitting down around it so that they could listen and vibe along. 
Creator's Hub
Like all conventions, AFA 2022 features a number of booths filled with artists as part of their Creator's Hub. There was a range of different styles from cool, official-looking art, to cutesy cartoony art, to more lewd depictions.
I briefly spoke to one of the stall owners, and she said she was happy to see AFA back and giving so much spotlight to showcasing different artists. She did however lament how expensive it was to rent a booth this year. Still, it's only Friday and she thinks sales will rack up over the coming weekend.
AFA 2022 Is Just Beginning 
There are two more days of AFA with a number of major events coming up from Arknights and Lycoris Recoil anime features, to a meet and greet with Hololive members.
As I walked past the many doors and colorful costumes of the convention, there was one sentiment that seemed to be on everyone's mind: they were just glad AFA was back. After two years of lockdown, trapped watching anime at home, people were itching for a new convention. AFA was packed today, with huge lines just to get the tickets in and rooms filled with people but you can tell it's because everyone wants to take part again.
I asked one person what his favorite part of AFA so far has been. He just said "everything", since he was just glad to attend again. There were a number of fans and cosplayers that seemed just happy to be here, hanging out with friends and like-minded people. It was a busy day at AFA but I'm so glad to see it come back. Here's hoping for two more great days of fun and anime. 
---
Check This Out Next
---