Anime Festival Asia (AFA) 2022 returns in person this year, with the snazzy AFAVERSE introduced for its inaugural event. The organizers have often mentioned about using it in more events, so what does it do?
WHAT
In essence, the AFAVERSE is a browser-based app that attendees are able to use on-site at AFA. Basically any smartphone can run it. On making an account, a 3D avatar of Seika, the event mascot, will greet you. On scrolling down to see the dashboard, you'll find links redirecting you to the exhibitor list, event times, map and, handily, food stalls. It's extremely convenient to have all these links consolidated so that you don't have to rack your brain as you're carrying ten tons of merch or cosplay props (or both).
GAME ON
Ease of navigation aside, the AFAVERSE's big feature is an interactive section offering real-world prizes. Stop by a AFAVERSE Station and be greeted by large screens and a motion-tracking camera. Following that, scan the NFC chip in your pass bracelet and the game can kick off. These games are mini-games related to the exhibits, like how one attached to Kotobukiya has you strike a pose like one of their figures, or one next to the food stalls has you put in the correct ingredients into some cup noodles. There's one which tests your weeb knowledge where you have to guess who said which anime quote from multiple-choice answers. It's one of the better ones, not just for flexing your knowledge, but because the motion capture stands to be improved in accuracy for future shenanigans.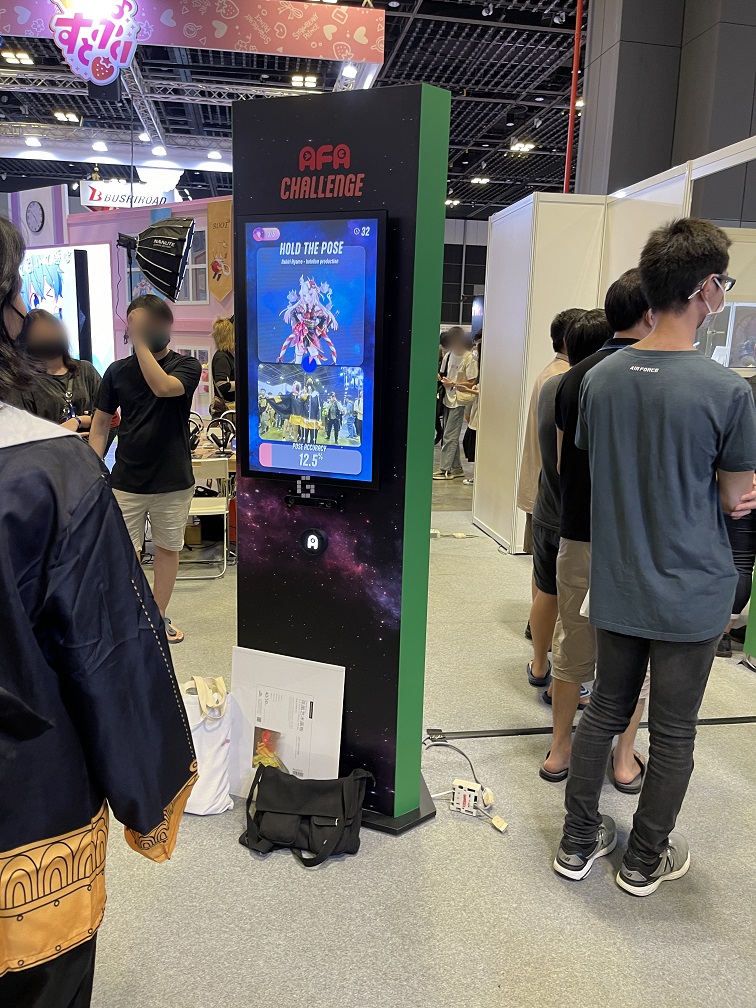 Completing a game gets you EXP and AFAcoins (which are mercifully not blockchain related). EXP will earn you new titles, where you work your way up from a mere "intern" through the ranks of the AFA Hero League. The top ranking player will become the ambassador for the next AFA event, as well as getting themselves a certificate, 3-day VIP access, help design Seika, AFA merchandise, and have priority access.
TOSS A COIN TO YOUR WEEB

Now that you may have thoroughly embarrassed yourself for the good of weebkind, what can you spend those AFACoins on? Take them on over to the AFAVERSE Booth, and redeem a physical prize. You could get anything between capsule prizes to a redeemable cosplayer meet-and-green session, or a figure. You could also just use them to dress up your personal Seika on your app.
This interactivity certainly seems to be a big enough hit where most of the higher valued prizes have been snapped up. It certainly helps that the queues at these stations were long with people trying to get both prizes, or just for fun. If you're all tuckered out, you get to chill out at these AFA Pit Stops to get some coins and EXP every 15 minutes. What I can say is that it sure can get the neurons firing…
CLOSING THOUGHTS
Besides wrangling with the motion sensors, the experience has been overall a fun one. I mean, who wouldn't want to play some games and redeem some shiny real life stuff? Outside of that, we're all at an event to have fun, with AFAVERSE adding to a festive carnival vibe. I'm up for seeing wider use of the app, just iron out some of the tech and we're good to go!
---
Check This Out Next
---