With Watch Dogs: Legion's multiplayer, Ubisoft has set out to bring the unique experience of Legion to group settings. Instead of just having it be a purely single-player experience, how can you go about bringing more for players than just running around London with friends?
We spoke to Jean-Pascal Cambiotti, Online Director for Watch Dogs: Legion. He helped us shed some light on some of the more unique design decisions that went into making Legion's multiplayer a fun romp.
So like we mentioned in our preview, one of the things most fans would realize is that Watch Dogs: Legion's multiplayer is not meant to be massively populated. Rather than have sprawling cities full of other players, Legion instead limits it to 4 players per session. Rather than have it be because of limitations, Jean-Pascal says this is very much about how they want people to approach the game.
"We know that with 4 players we can achieve missions that are comfortable, there's a dependence on other players while not feeling too crowded or not populated enough. We are exploring ways of increasing that number further down the line, but right now we are focused on the 4-player experience", he says.
Building Your Squad Again
Of course, once you're into the multiplayer session, there's the question of what you even do? According to Jean-Pascal, there's no harm in just taking it slow. Considering how much of the game is based on building a healthy list of operatives, you might even want to take some time and go hunting for the perfect operative.
"My hope is that as soon as players get into the game they're going to want to start building up their team of operatives. It is something that will help them throughout the rest of the content that they will play, so before going into any type of mission, player will need the appropriate character", he says.
"So, it starts with exploring the open world, identifying which are the characters that you want to bring into a mission. Some characters are higher value than other characters, other characters can be harder to find as well, and the way it works is that you're going to want to recruit these characters using influence points and you earn influencer points by completing online activities and earning XP. These XP will give you ranks and which each rank you will unlock cosmetics that are exclusive to online or recruit operatives or you can spend it on upgrading your Dedsec gadgets and abilities", he says.
Once you get your team of operatives, however, there's plenty to do in London. Jean-Pascal described to us just all the different things you can do once you hit the streets of London with your friends.
"We have open-world experience where the goal is to free roam and the place to do recruitment, low intensity experience and appeal a little bit more to solo players so the chances of encountering other players and the reliance on teamwork is fairly low", he says. "Its like a no-stress environment where solo-players can go to complete their personal assignments, challenges and build up their team of operatives. And then when players are ready for it or wants to play with other players with a little bit more intensity, they can jump into the co-op missions where we start to introduce the concept of teamwork".
"So, there will be mission objectives that will ask players to do something simultaneously or within a time period which puts a little bit of a pressure to work within a team of players. These co-op missions will support between two to four players, so it is not something that player can do alone", he adds.
"And then we have tactical ops which really like take the teamwork experience to the next level, in terms of communication. These are kind of like highly difficult versions of the co-op missions where the rules are a little bit different, here as soon as one of your teammates gets incapacitated, you'll have to revive them. If you don't, the mission fails, and you'll have to retry it. There will also be more advanced gameplay sequences where the team will have to split up to complete separate areas of the mission and then come back to do something together, so there is a high dependency on your teammates", he says.
"The last mode to just kind of to mess around, to let off some steam. It is high intensity, it's a PvP mode called PvP Spiderbot Arena where players take control of a spider bot and it is a free-for-all arena deathmatch where players can go around, collect mystery weapons throughout the map. The maps are built for verticality, so a lot of actions like jumping, dodging, aiming and shooting will be involved. It's just a lot of lighthearted fun", he laughs.
No Ops Like Tactical Ops
Just like in Watch Dogs: Legion, these all revolve around your ability to build a squad of operatives. Rather than shy away from the familiarity, Jean-Pascal says it's the perfect time to introduce new mechanics. He says a good example of this is in the game's Tactical Ops:
"The tactical ops take place in London so that's why we're going to see familiar settings. However, I do feel like we introduce new mechanics, new opportunities where the mission is build around 360 approach, so having varied operatives and focusing on play as anyone, especially within an online setting is really important", he says.
"Depending on who you bring into the mission, you're going to be contributing in different ways. You know if bring someone hat is that is very good at infiltrating like an Albion soldier that can put on the Albion uniform, you can like sneak into certain areas bring undetected and disable the security devices, let your friends come in and then just the nature of the mission structure for the tactical ops, I think makes them really standout from the other experiences. We often times ask the player to do things within a time limit, to do things that are separate and then have to come back together so there's a very high dependence on not only the actions that you perform, but the action that collectively as a team you are able to perform", he adds.
"Then finally players get to a certain gameplay sequence that can only be found in tactical ops. Like very early on, there was this modified Albion drones that are patrolling the area that are quite difficult to pass, you know you can't shoot them down, you need to acquire the download codes and then you need to upload it onto the drone in order to expose their vulnerabilities before you can finally take them down. This is an example of a mechanic that can be found in the tactic ops".
For those who aren't into the gritty seriousness of Tactical Ops, Jean-Pascal also elaborated on the more casual mode, Co-Op Missions.
"In Coop missions, they are made so that they are quite permissive in terms of the operatives you take. Certain operatives will shine a little bit more, but there's always that reliance on other players, and when the mission starts at the beginning, you can swap operative, so you can choose another operative. If you know you went into the next mission with let's say, the grandma by mistake, and maybe that's not the operative you wanted to bring in there, you can just swap to another one of your Operatives", he said.
"And also in Co-op missions, which is a different rule set the tactical OPS as soon as you get incapacitated and you don't get revived, you can simply respawn and you can select a new operative to respawn with", he notes.
With all the exciting content planned, fans have plenty to look forward to when Watch Dogs: Legion's multiplayer drops later when it drops March 9th, 4M CET. Thanks again to Jean-Pascal for taking the time to talk to us, and Ubisoft for the opportunity to interview him and hear about the new features coming to Legion's multiplayer from the man himself.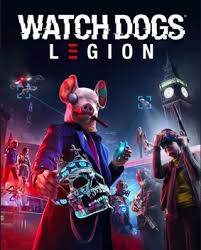 Watch Dogs: Legion
Epic Games Store, Microsoft Windows, PlayStation 4, PlayStation 5, Stadia, Xbox One, Xbox Series X|S
Build a resistance from virtually anyone you see as you hack, infiltrate, and fight to take back a near-future London that is facing its downfall. Welcome to the Resistance.
Recruit and play as anyone in the city. Everyone you see has a unique backstory, personality, and skill set.
Hack armed drones, deploy spider-bots, and take down enemies using an Augmented Reality Cloak.
Explore a massive urban open world featuring London's many iconic landmarks and fun side activities.
Take your recruits online and team up with your friends as you complete missions and challenging endgame content.
---
Check This Out Next
---