I don't know about you guys, but one thought I had while playing Watch Dogs: Legion was that it could do with a dash of multiplayer. The game's skill-based approach is practically screaming for it, considering all its randomized operatives can have a variety of tools to solve puzzles. More important than having more than one making current problems easier to solve, having multiple operatives active at once means you can drastically increase the difficulty of the puzzles.
Thanks to our friends at Ubisoft, we managed to get a special media preview of the Watch Dogs: Legion multiplayer. It's pretty much what I just explained- all the fun of Watch Dogs, but now with your friend next to you instead of backseating your terrible stealth skills.
The Watch Dogs Legion multiplayer experience is surprisingly well-crafted, having many different mission types based on what kind of experience you want. On top of that, it has a 4-player free roam, letting you terrorize the streets of London and go fishing for new recruits.
Admittedly, some players might want a bigger free roam session, but I'd argue it goes against the spirit of Watch Dogs. Unlike other big sandboxes, Watch Dogs is way more about working together, since you're supposed to be The Resistance so it wouldn't do you well to be getting into gang fights with each other outside a deli. Since four is the maximum number of players per mission, it makes sense to restrict the number of people in a session to four, too.
Just like regular Watch Dogs, you can't just gacha for the best operatives and clear every mission with them. Instead, you'll need Influence points if you want to win over some of the more useful operatives. Completing missions will get you Influence, and there's no shortage of missions for you to do to get them. Here's but some of the missions you can do to win over the operative of your dreams:
Tactical Ops For A Tactical Guy
For those who want a strict mode that forces co-operation, you need to try out Leader of The Pack. These missions are long and complex, and require an utmost mastery of the game. This is by far the most fun mode in terms of immersion, as you absolutely need to be on the ball when it comes to doing these missions.
The one that spawned during our session kicked off with forcing our group of four to split in two, with each side having to tackle different objectives. "Just do one at a time" wasn't an option, since a key part of the mission involved flipping a switch at both locations simultaneously.
It required equal parts combat and hacking mastery, which meant your party had to be very thoughtful about which operatives they were bringing into the mission. Being downed also fails you the mission, so you have to make sure to have each other's backs unless you like listening to Bagley's funny rants at the start of each mission.
In our session, our party had begun to swear by the security operatives, due to their overwhelming firepower. While generally good for shooting things, we soon learned the hard way that the Security types were only good once things had already gone south, and it was hard to salvage the mission once you're doing a final stand against a seemingly endless horde of guards.
One of the most important things you learn from these missions is that you need to work together. This seems obvious in retrospect, but you'll never realize your team's potential for redundancy until you realize that only one spiderbot is needed to disable all the security, so your other operatives should find some way else to contribute.
Similarly, our team's mantra of "Guns out, Fun's out", stopped working fairly quickly, since Albion apparently has some sort of fast cloning machine to endlessly send security guards after us. Sure, the hordes of guards could be mowed down with ease, but the point is they never stopped, and so we got no hacking done anyways.
The layouts are quite cleverly designed, and they're definitely meant to be failed a few times as you get used to the layout of each location. Communication is key here too, as you'll need someone at vantage points disabling drones and the like while the other player gets in.
Despite the fact we didn't have enough teamwork to beat the mission, this was probably my favorite part of the multiplayer experience. Personally, I'm a sucker for immersion, and Leader of the Pack has that in spades. I can't imagine doing these in public queues, though, so I'd really advise trying it only if you had friends with you, or a resilient amount of charisma.
My one gripe here is that these missions can, as a result, feel less open. From our limited experience there's really one way through all of these, so it's not as fun if you're looking for the zany side of Watch Dogs: Legion. There's not going to be a problem solved by descending from the sky in a quad drone, and there's no way to avoid the gunfight portions. Leader of The Pack should definitely be treated as more advanced content, because it definitely demands a minimum level of skill from you.
Co-Op And The Fun Of Casual Violence
On the other hand, the game also gives you a game type called Co-Op Playlists. These are much more open missions, with way simpler clear conditions. From the ones we tried, they're infinitely easier, and favor the more chaotic run-and-gun approach as you descend from above. They're not entirely braindead though, as it has you defending points or stealing vehicles.
I definitely recommend this mode if you're the type to get the game just to play the multiplayer, because it doesn't require as much fine knowledge of the game. It feels a lot like GTA Online's missions, where one competent person can take care of all the technicalities while everyone else roleplays the world's most excessive security detail.
That being said, the co-op missions have much stricter penalties than Leader of the Pack, as operatives lost during co op missions will be arrested/hospitalized. They aren't game-breaking, but they definitely make use of Watch Dogs: Legion's "no one good character" system way better than Leader of The Pack. As a result they're also a lot more forgiving, since losing your operative doesn't end the mission.
I can see the Co Op missions getting old in the future, but I have good faith that Ubisoft will make sure the launch version of Multiplayer will have enough different types to keep you entertained as you grind for influence. In our session, we had to infiltrate an area to steal some cars, which would mean getting through a secure gate.
Or, you know. Cargo drone in from above with everyone jumping on the drone. It's stupid, but incredibly satisfying and leaves you with a fun story to tell- which is essentially what the mode is for. It's great for lazy friday nights, or just idling while chatting about your day.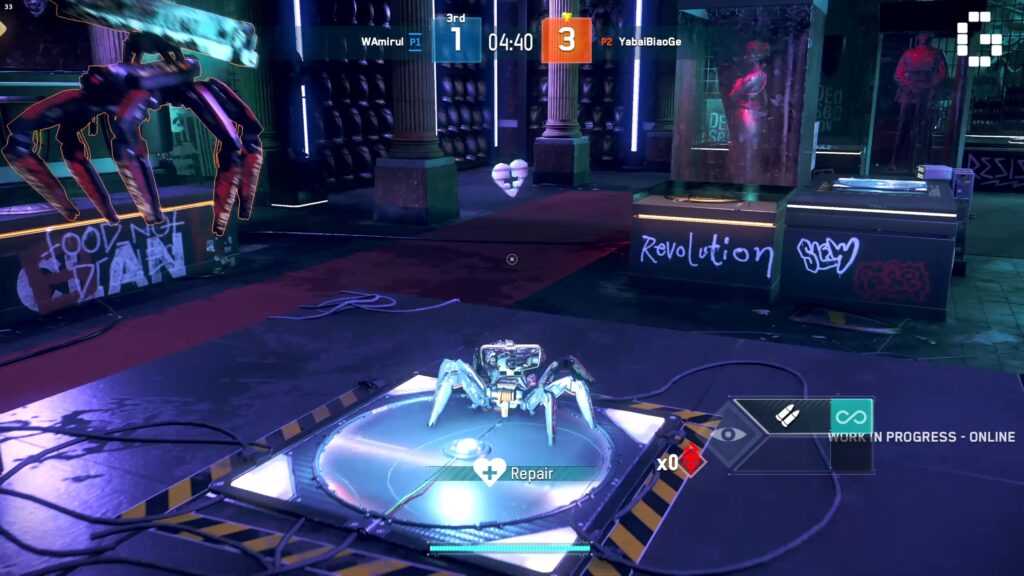 Meanwhile, Spiderbot arena is a mode for people who specifically just want to shoot things, specifically each other. It's a fun arena shooter, with plenty of pickups to give you all sorts of weapons. The controls are the definition of tank controls on account of the spider bot, but it's still a lot of fun. In our session they only allowed up to 4 players, but Ubisoft tells us the mode will have up to 8 in the full Multiplayer release.
The random weapon placement really kicks the fun up a notch, since there's no conceivable way to build a meta for this. It's just a silly mode for silly fun, and I think more games need these kinds of game modes.
Hanging Out With The Lads In Watch Dogs: Legion's Multiplayer Is Pretty Fun
Of course, if you're not in the mood to do missions or even kill spiderbots, there's also just messing around in the open world. The multiplayer takes place after the events of the story, so you don't have any boroughs to free. Future-London is still incredibly gorgeous, and causing chaos will never not be fun. There's also World Events that can pop up like a drone swarm, which makes for good adventure stories when you're telling them back to your friends at work.
I like that there's also minigames in the Watch Dogs: Legion multiplayer mode, since you can juggle soccer balls in the park. The game even keeps track of everyone's scores for you, letting you compete with your friends while you wait for someone else to come on. It's silly, but minigames like this really do help the world feel more alive. The less about overthrowing fascists the minigames are about, the better. Let the big missions be about that, now I just wanna play some footie with the lads.
One gripe I do have with the game is that it really can seem like every mission starts out in stealth and ends in violence. It's not just because we're terrible, either -some of the objectives will straight up be "defend a point" at which point an alarm is triggered and becomes a defense mission. I get the need to balance out different types of players and operatives, but I feel like Watch Dogs players would have a higher occurrence of players who could actually pull off perfect stealth runs, and I can imagine the frustration that it always ends in a gunfight regardless.
Wrapping Up On Watch Dogs: Legion Multiplayer
All in all, the Watch Dogs: Legion multiplayer experience looks like exactly what you'd expect for a game like this. It's not nearly as chaotic as games like Grand Theft Auto, but it's not meant to be. Despite that it's also not entirely serious either, and you can still have a lot of fun driving horribly and hacking things while your friends look on in horror.
Like any big mission experience though, how long it remains fun is completely reliant on the devs making engaging content, but it's definitely off to a good start. The different levels of difficulty for the mission types is a brilliant idea, and since for now they mostly give the same rewards, you're really at liberty to just play the missions you want.
Ubisoft says the mode will be available March 9th, 4PM CET, so get ready to cause all sorts of mayhem with your friends. It's thanks to them that we even had the access to write about the multiplayer beta, so make sure to give it a go when the feature becomes available for all players.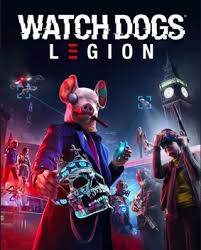 Watch Dogs: Legion
Epic Games Store, Microsoft Windows, PlayStation 4, PlayStation 5, Stadia, Xbox One, Xbox Series X|S
Build a resistance from virtually anyone you see as you hack, infiltrate, and fight to take back a near-future London that is facing its downfall. Welcome to the Resistance.
Recruit and play as anyone in the city. Everyone you see has a unique backstory, personality, and skill set.
Hack armed drones, deploy spider-bots, and take down enemies using an Augmented Reality Cloak.
Explore a massive urban open world featuring London's many iconic landmarks and fun side activities.
Take your recruits online and team up with your friends as you complete missions and challenging endgame content.