With a new banner refresh that will last until 20 May 2022, we have the addition of Ines Fujin to the Uma Musume stable.
★3[オールタイム・フィーバー]アイネスフウジン(CV:#嶺内ともみ さん)が登場!
定評のある飛び出しの速さでマイルや中距離を駆け抜ける、面倒見のいいお姉ちゃんウマ娘です!
ガチャで獲得すると今だけ「アイネスフウジンのピース×90」がおまけで付いてきます!#ウマ娘 #ゲームウマ娘 pic.twitter.com/uyu8lbiQOw

— ウマ娘プロジェクト公式アカウント (@uma_musu) May 10, 2022
It has been a while, but we finally have a new runner and it is a familiar face as Ines Fujin has been in the game from the get-go, at least as a support card. Regardless, let us take a look at the last member of the Nigekiri Sisters unit.
A mile and medium distance runner by default, Ines Fujin is able to handle just about the majority of the races in-game, which is great for the Make A New Track mode. Given a little tweaking, she can run in long as well. Given her skillsets however, medium is where you would want to run her most of the time. With a built-in golden runner heal to work with, you can focus on providing her with a wider range of support cards. What's more, Ines Fujin gets training bonus in both speed and guts, the latter of which has become very important when it comes down to the wire. More interesting however is Ines Fujin's rather curious unique character skill, whereby if there is a slope at the final 300 metres, she will get a massive speed boost instead of just the usual boost. Depending on the track, this could allow Ines Fujin to dominate certain races, which will of course include ones featured in the Champions Meeting. Definitely roll for Ines Fujin if you are someone who plays at a more competitive level, although her cuteness should warrant it in any case.
Uma Musume: Pretty Derby is currently available on Android and iOS for mobile, and DMM Games for the PC.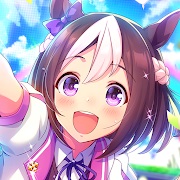 Uma Musume: Pretty Derby
Android, iOS
Horse girls take to the track! Train up these cute horse girls to be the best of the best.