One of the best things to come out of the Switch era of RPGs is Square Enix's use of the HD-2D aesthetic with Octopath Traveler and now they continue the oddly titled series with Triangle Strategy, an SRPG harkening back to titles like Final Fantasy Tactics and Ogre Battle. And it certainly isn't one to be slept on.
Triangle Strategy has to be the most surprising game I've played this year so far, with a deep medieval political thriller that rivals the best of Fire Emblem and a fun albeit limiting battle system. If you're looking for the next big RPG for Switch, best to start planning your strategy. 
He who controls the salt…
If you're looking for story in your RPGs, Triangle Strategy very much has you covered. Set on the continent of Norzelia, three kingdoms are vying for power. Each has a different resource that the others need, one has good land, the other iron, and the third salt and the salt, in particular, plays an important part in keeping all three nations running. While they talk of peace, each secretly schemes for control of the continent. 
You play of Seranoa of house Wollfort of the country Glenbrook. He has recently been betrothed to Frederica of Aestfrost and with his small handful of allies, will decide the fate of the region. 
The game is a slow but fascinating burn. For the first few chapters, there's barely any combat with the majority of your time being taken watching cutscenes and exploring various towns. The gameplay does eventually catch up around chapter 4 however the visual novel sense of narrative remains throughout the game. As someone who loves visual novels, I really got sucked into the deep worldbuilding and characters but I can see someone who just wants to get to the gameplay finding it frustrating having to constantly go through walls of dialogue. 
I would say that for those that like medieval political thriller aspects in their fantasy stories, you'll like this game. The worldbuilding is rich, tackling heavy subjects like slavery, resource ownership, and the use of religion in society and looks at them from different angles. Each nation has flaws but also pros and different people in each country who look at these areas from different angles.
Our main characters are likewise fun the follow. Especially like our leads of Seranao and Federica. The two are pawns of an arranged marriage that want the best for their kingdoms and families even as they learn of the horrors each has committed. How they change through the story kept me coming back for the next of the game's 20 chapters. 
What are your convictions?
Dialogue is important in Triangle Strategy as it plays into one of the game's main mechanics: the conviction system. Throughout the game, you are asked to make choices that will raise one of three conviction values: morality (doing what is morally right), utility (doing what seems most practical), or liberty (doing what you feel you should do). These as similar to Shin Megami Tensei's law, neutral, chaos choice system, and like that system, the value you align most with will determine which of the four endings you get during the game as well as what character will join your party. 
These values also aren't restricted to the dialogue choices. Everything you do in the game adds to these values from healing partners in the battle to speaking to NPCs on the overworld. There are also several points in the game where your party will use the scales of conviction, and vote for what path to take next in the game. Here you have to convince each individual party member to side with your vote. 
I really enjoyed all the heavy emphasis on choice as it was often genuinely difficult to decide. The game portrays a morally nuanced world where all parties bring up good points and characters are fleshed out to the point that you often don't want to say something that could upset them, even though you inevitably have to. 
Bringing the Triangle to Strategy
Triangle Strategy's combat is accessible for newcomers but offers enough to maintain a challenge for genre veterans. Like other strategy games, you'll be placing different units on the map, and outwitting enemies with various abilities like an anime world version of chess. 
Where this differs from games' other strategy games is that you don't have recruitable units. Rather, every playable character is a unique individual with unique abilities and unlike Fire Emblem, you don't get a high number of new recruits that can fulfill the same roles as others (thankfully there's no perma-death either).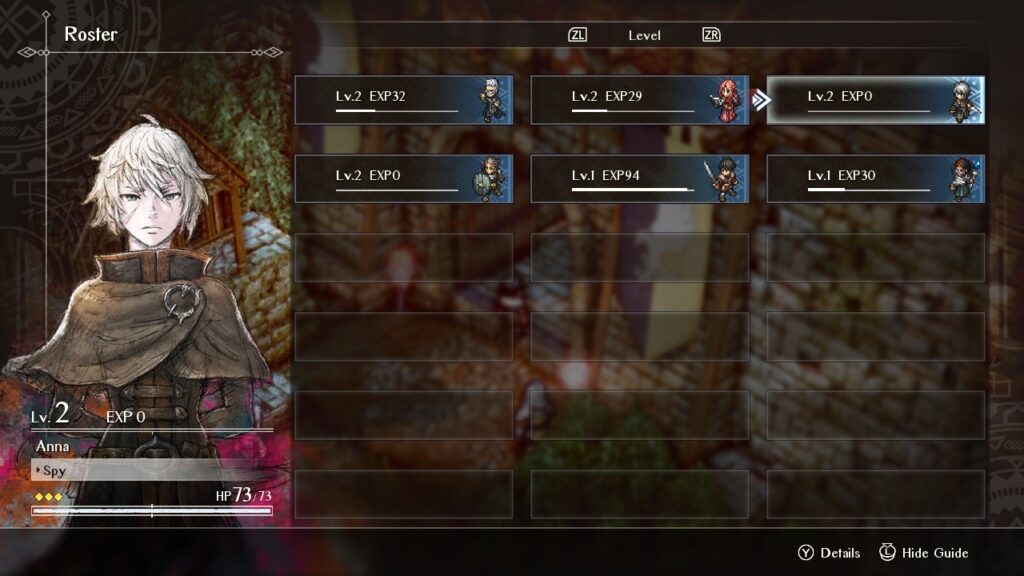 I can see more hardcore RPG fans finding this too simple as it limits the amount of customization in the game. While you can upgrade a character's classes and weapons, their progression will be fairly linear, just the next strength or defense stat getting a boost. 
That being said, I do think it brings a unique challenge to the game. Because all you have to work with is the small band you have, it becomes more important to understand each character, to figure out what their unique strengths and weakness are in battle so you can get the most use out of them. For example, Anna can make two moves in one go, making her useful for attacking and healing other characters but she's incredibly frail meaning she can get knocked out early in the stage if you're not careful. It also makes getting new recruits more intense as you're always looking for new blood to add to your party, adding to the tension of each dialogue option. 
Another interesting mechanic is pincer attacks. If you attack an enemy and an ally is on the other side of them, they'll attack as well. This plays a pivotal role in planning your strategies as you want to place your units to take advantage of pincers without falling for them yourself. 
HD 8-bit Kingdom
The HD-2D art style of Otcopath TRaveler returns in Triangle Strategy at it looks just as good. Each kingdom and area has an incredible amount of detail and the life-like water still blows me away. I especially like the cultures of the different areas which all feel very unique, giving each country a sense of identity beyond, forest town, snow town, and desert town.
One thing I didn't like however was the English voice acting. Some of the performances were ok, but others were very stilted and didn't fit the characters. With Benedict, in particular, you could tell he was voiced by a guy trying to play a character far older than he actually is and really not pulling it off.
It even affected the story a little as several characters that are supposed to sound jovial or relaxed somehow sound more threatening. It was very odd. Thankfully, you can change the audio to the Japanese dub if you really don't like it. 
Conclusion
Triangle Strategy is another high-quality RPG for the Switch's library. It has a great story filled with deception, heart, and intrigue and the conviction choice system will keep you on your toes all the way through. 
I can see the gameplay being a little too linear for hardcore SRPG fans but I felt it was accessible enough for casual players to easily jump into while still offering a challenge for veterans. If you're a fan of games like FF Tactics or are looking for a game with an SMT-style moral choice system, Triangle Strategy is worth your time.
Pros
Cons

Great Narrative, characters, and world-building

Lack of units could be too restrictive for genre veterans

The conviction system is well integrated and interesting

Some of the English voice acting could have been better

Graphics are beautiful and vibrant
Triangle Strategy is available for the Nintendo Switch.
Triangle Strategy
Nintendo Switch
Command a group of warriors as Serenoa, heir to the Kingdom of Glenbrook in a tangled plot where your decisions make all the difference. Key choices you make will bolster one of three convictions—Utility, Morality, Liberty—which together make up Serenoa's world view and influence how the story will unfold. When faced with truly momentous decisions, multiple characters will weigh in by casting their votes on the Scales of Conviction. In these moments, the allies and decisions you make can determine the fate of whole nations and the continent of Norzelia itself.
---
Check This Out Next
---