Obviously, Slime ISEKAI Memories has a lot more content and players than Tensura: King of Monsters, being the newer game. However, as ISEKAI Memories approaches its first month anniversary, I'll be comparing the first month of both games upon release, and see how they stack up against each other.
If you aren't aware, Tensura: King of Monsters is the first Slime game released in English and is developed by Hoolai Game Ltd. King of Monsters first released in Taiwan, before getting an English version exclusively in SEA on January 26, 2021.
In the other corner, Slime ISEKAI Memories is much newer, releasing on October 28, 2021. Developed by Wright Flyer Studios and published by Bandai Namco Entertainment, the game released simultaneously globally and in Japan, garnering over a million pre-registrations prior to its launch.
With both contenders' backstories out of the way, let's compare the first month of Tensura: King of Monsters and Slime ISEKAI Memories to see which is the better Slime game.
Performance
Both games had bugs and glitches upon launch. King of Monsters had quite a fair bit of graphical glitches, frequent crashing and even bizarre exploits with one of the relics, Soul Drawing Core in Space Gap mode. This item was supposed to let the character who equipped it steal 5% or more stats from an enemy if deal a killing blow. Instead of 5%, it feels more like 1000%, with the exploit making the character invincible.
The character will one-shot all enemies and take virtually no damage from enemy attacks. This was an exploit that was abused throughout the first month of the game. Some enemies who have a similar effect to Soul Drawing Core could also use this exploit.
Despite these issues, ISEKAI Memories is easily the worse game performance-wise. On launch day, the game was unplayable for a large portion of the playerbase for almost an entire day, garnering a slew of negative reviews. Even after that, crashing is a regular issue with the game, with occasional moments where players cannot go past the title screen at all. Because of this, King of Monsters easily beats Isekai Memories in terms of performance.
Winner: King of Monsters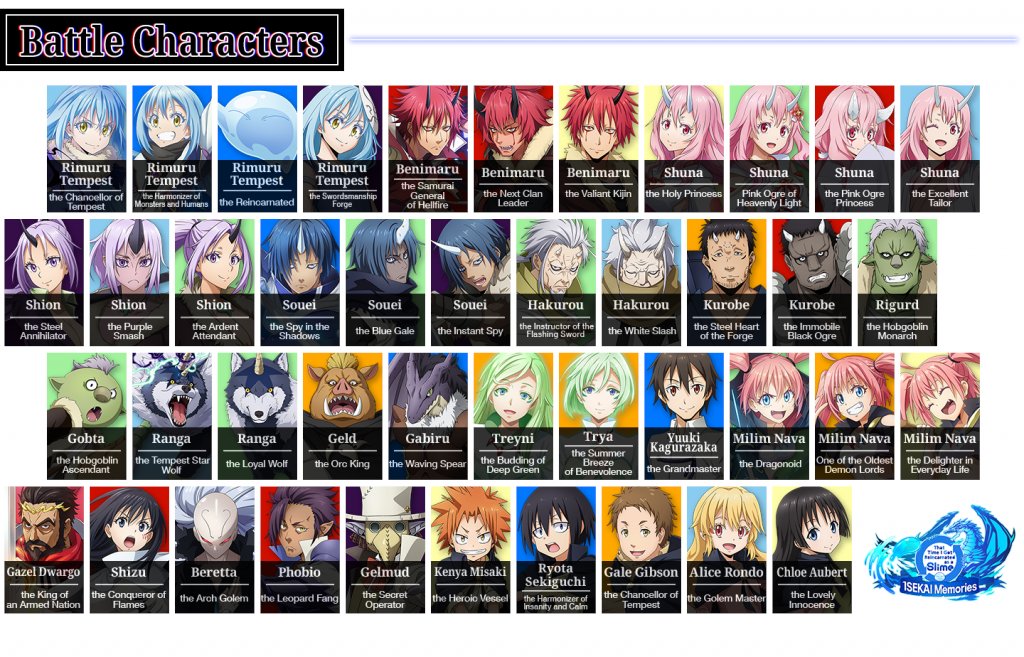 Characters
King of Monsters, even though it had a smaller roster at launch, managed to make units feel unique. Even an A-ranked character can outperform SS-rank characters. Characters in Slime ISEKAI Memories feel a lot more similar to each other as most of them have similar skills, unlike those in Tensura: King of Monsters.
Despite that, I have to give the win to ISEKAI Memories for this category. By separating characters into Battle and Protection characters, the game had a logical reason to include many characters like dragon-form Veldora and Ramiris who are not shown in any fight scenes. The fact that King of Monsters didn't even have a character like Geld was a travesty. Milim was only added to the game at the end of its first month! Thus, for an anime gacha game, having a bigger roster of characters to collect carries more weight. Also, as an added bonus, there was no power creep for the new characters released in the first month. They're great, but not META-breaking.
Winner: Slime ISEKAI Memories
Gacha/Monetisation
Between the two, King of Monsters is hands down the more free-to-play friendly title. Even though SS rates are at an abysmal 0.25% as opposed to ISEKAI Memories' 3% for 5★ battle characters and 1% for 5★ protection characters, King of Monsters' low pity rate makes pulling a lot more bearable. You only need to make 70 pulls to be guaranteed the banner's SS character, as opposed to 200 and 300 for battle and protection characters in ISEKAI Memories.
Rates aside, King of Monsters also has a monthly pass, something that ISEKAI Memories doesn't have. The former also gave players Gabiru, one of the strongest units in the game, upon making the first in-app purchase (1$ Gabiru, anyone?). ISEKAI Memories definitely feel a lot more pricey due to lack of good purchase options. On top of all that, it is a lot easier to max out a unit in King of Monsters than ISEKAI Memories.
Winner: King of Monsters
Gameplay
Both games have a fair amount of various modes and content besides the main story. King of Monsters combat is a lot more tactical and strategic, while ISEKAI Memories is definitely more casual. Both have their merits. While the latter does have base building as a cool feature, it's not as in-depth as you might expect—just hop in, upgrade your buildings and wait for hours.
Ultimately, I feel that ISEKAI Memories gameplay edges it out not because of the base building mechanics, but because of enemy variety. In King of Monsters, it always feels like you're fighting several different variations of the same 5 enemies. ISEKAI Memories feature a much larger variety of enemies you face. Combine that with the elements system and the various nasty skills enemies can use against your party, and I have to give it up for the game.
Winner: Slime ISEKAI Memories
Graphics
Both games feature similar graphics and animations. Some character models look identical, which isn't surprising. ISEKAI Memories does let you roam around your Rimuru City in 3rd person POV, but the novelty kinda wears off after a few days.
Both games have equally cool ultimate skill animations and nicely rendered 3D graphics. Story cutscenes use the same screenshots from the anime. Overall, it's hard to put one game above the other when both look like they're made on the same engine.
Winner: Tie
Story
Obviously, as anime games based on the same anime IP, the story is going to follow the events of the anime. Both games also have standard quality of life features like the ability to skip the story, or to let it run on auto, so not much to comment on that.
The biggest dealbreaker though, especially if you are a fan of That Time I Got Reincarnated as a Slime, is the original stories and scenarios written by the author, Fuse-sensei for ISEKAI Memories. There's even original characters like Rimuru's daughter, Shinsha, made specifically for the game. This fact alone, makes ISEKAI Memories worth playing for anime fans.
Winner: Slime ISEKAI Memories
Verdict
At the time of writing, it's hard to recommend King of Monsters to anyone, even though it is the more F2P-friendly game. There has been a drought of content lately, and just scroll through the comments on the game's Facebook posts and you'll see the many cries of "dead game".
However, strictly comparing the first month of both games, and I can confidently say that ISEKAI Memories is the superior Slime gacha game. Definitely worth playing if you are a fan of the anime. If you don't follow TenSura but enjoy gacha games in general, then the rapid rate of new content (average of 1 new character a week) in Slime ISEKAI Memories might either attract you or turn you off.
Winner: Slime ISEKAI Memories
SLIME - ISEKAI Memories
Android, iOS
Enter the world of That Time I Got Reincarnated as a Slime in a new 3D battle RPG! You won't want to miss this riveting, new adventure that brings together your favorite series characters—Rimuru, Great Sage, Gobta, Shion, Shuna, Benimaru, Gabiru, and more—and introduces brand new ones!
---
Check This Out Next
---