As That Time I Got Reincarnated as a Slime ISEKAI Memories players say goodbye to Christmas, they'll be welcoming Valentine's next. The new Valentine's Day event was revealed yesterday during the game's 3-month anniversary.
Making her debut as a playable character in the game is Myulan. Instead of her usual get up in the anime, she'll be dressed up in Valentine's themed attire. Check out her design below:
Her Valentine's design is exclusive to Slime ISEKAI Memories. All players who login during the event will get [The Serene Lady] Myulan for free.
Besides the free Myulan, Valentine's-themed Shizu and Soka will also be added to the game. Both characters are 5★ light element units, with [Date Night Beauty] Shizue Izawa being a Battle Character and [The Lovestruck Maiden] Soka being a Protection Character. These two characters are obtainable by pulling the "Always My Valentine" banner Part 1.
Furthermore, to celebrate the game turning 3 months old, all players will receive 6 Tempest Recruit Tickets and 300 Magicrystals. For players who wish to spend some money, the 3-Month Anniversary 5★ Battle Character Awakening Item Pack will be available for purchase. Check out the contents below: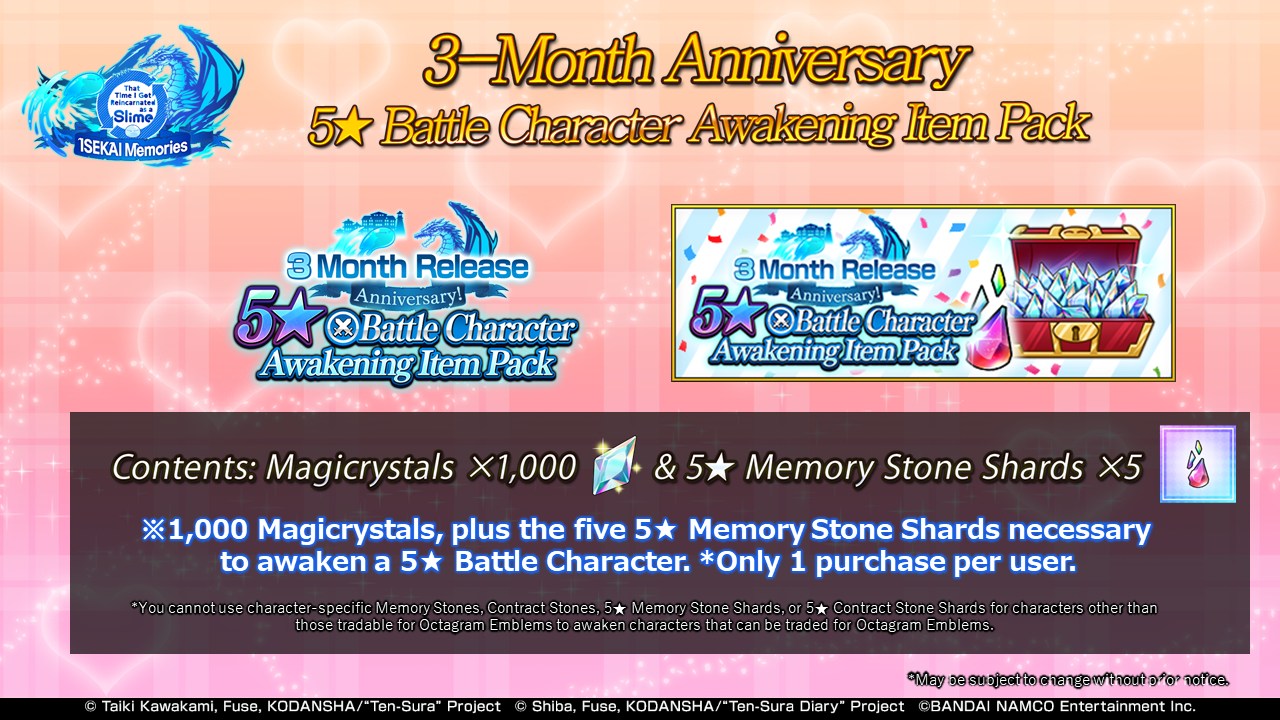 Other than characters and rewards a new mode will also come to the game. Tower of Izis: Mirror Madness lets players take on missions with branching paths as they climb said Tower. Depending on the route they take, players can encounter treasure, traps, enemies and also gain buffs to make the ascent easier.
In addition, new Material-Collection Quests will be available as well. Two new stages will be added to Gold Coin and Magicule farming stages. There will also be an entirely new quest for farming food items.
To help players recover stamina for the new content, the Hot Spring building can be built by players later during this event. Players can recover a random amount of stamina once per day with increasing amounts as the Hot Spring levels up.
Finally, various quality of life updates are also being worked on. Soon, players will have the option of skipping Secret Skill animations, the quest screen user interface will also be improved and players can revisit cutscenes without going into battle. For all the new additions and changes, check out the game on Facebook. For more Slime ISEKAI Memories guides, you can check out our:
SLIME - ISEKAI Memories
Android, iOS
Enter the world of That Time I Got Reincarnated as a Slime in a new 3D battle RPG! You won't want to miss this riveting, new adventure that brings together your favorite series characters—Rimuru, Great Sage, Gobta, Shion, Shuna, Benimaru, Gabiru, and more—and introduces brand new ones!
---
Check This Out Next
---