The post global launch updates are rolling in for Seven Knights 2, with new heroes and a new challenge in Guild War waiting for players to challenge.
Scarlet Volley Legendary Claire is the newest Legendary Hero, with her Schoolgirl Claire costume available for purchase at Yuri's Dressing Room. A Hero Summon Rate Up event will give you a better chance to obtain these Legendary Heroes:
Special Summon Rate Up: Increased Rate for acquiring Legendary+ Nestra's Disciple Shane
Summon Shop Rate Up: Increased Rates for acquiring Scarlet Volley Legendary Claire and White Wolf Legendary Evan
The Scarlet Volley Claire Upgrade Support Special Mission is meant to help players upgrade their own Claire, giving out rewards based on the level you've raised her to. A maximum of 20 Scarlet Volley Claire Soulstones can be obtained from this event.
Once you've trained her, bring her to the Seven Knights 2 Guild War! Besides Guild Missions, Guild Wars is a season-based content where guilds can battle each other for the season rewards. The pre-season special mission event will run until 8 December 2021. More details can be found here.
If you haven't already picked up the game, it's available on iOS, Android, and also Windows PC, so check it out!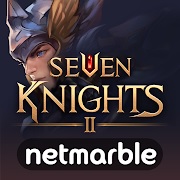 Seven Knights 2
Android, iOS
The official sequel to Seven Knights, a game enjoyed by 60 million players worldwide! Rudy's story continues in Seven Knights 2!
---
Check This Out Next
---