The cooler is scheduled to be launched alongside the launch of Spider-Man 2 for the PS5.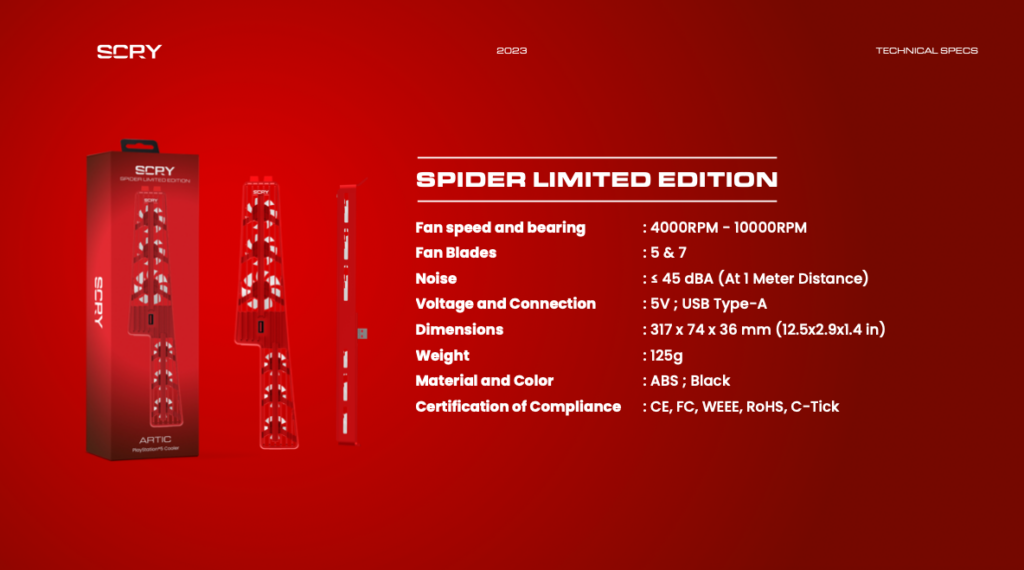 SCRY has crafted the Artic Spider (RED) Limited-Edition Cooler with both style and performance in mind.
Its striking red design is an homage to the iconic Spider-Man suit, making it the perfect companion for fans that are eagerly awaiting the release of Spider-Man 2.
Not only does the cooler come designed with a multitude of features that will help keep your console cool during intense gaming sessions, it is also easy to install, with a plug-and-play design.
Some of the key features include:
Efficient Cooling: To ensure your console runs smoothly during marathon gaming sessions.
Silent Operation: Whisper-quiet cooling technology for uninterrupted gameplay.
Sleek Aesthetics: Adding superhero flair to your gaming setup with its eye-catching design.
Easy Installation: Hassle-free plug-and-play setup for gamers of all levels.
Compatibility: Tailored specifically for PlayStation 5, ensuring a perfect fit and maximum performance.
The SCRY Artic Spider (RED) Limited-Edition Cooler will only be available in limited quantities.
A Limited Edition Marvel's Spiderman 2 PS5 was also launched earlier this year.
---
Check This Out Next
---