Dawn of Titans is a mobile RTS game developed by NaturalMotion. The game was first announced in March 2015 and was just released in December 2016. It took them a year to finish developing the game and we can see why. The game looks amazing with a very detailed landscape and character figures, it is almost unbelievable that it is a mobile game. With a rating of 4.5 Stars on Google Play and App Store, the game should attract fans who loved playing RTS.
If you are familiar with Rome Total War, then it shouldn't be difficult to understand how to play Dawn of Titans. The game is similar to that however there are other features that makes this game really interesting. Titans, are available for you to recruit to be part of your army. They are bigger and stronger and is the main force of your army. However one should not belittle the militia army as well. The swarming numbers can take down a Titan, so you'll have to command your troops carefully to protect your Titan while battling enemy troops. Before every start of the battle, you will be in a planning phase where you can command your troops to move towards the enemies or flank them. Just like Rome Total War, you can still control your troop's movements even during combat.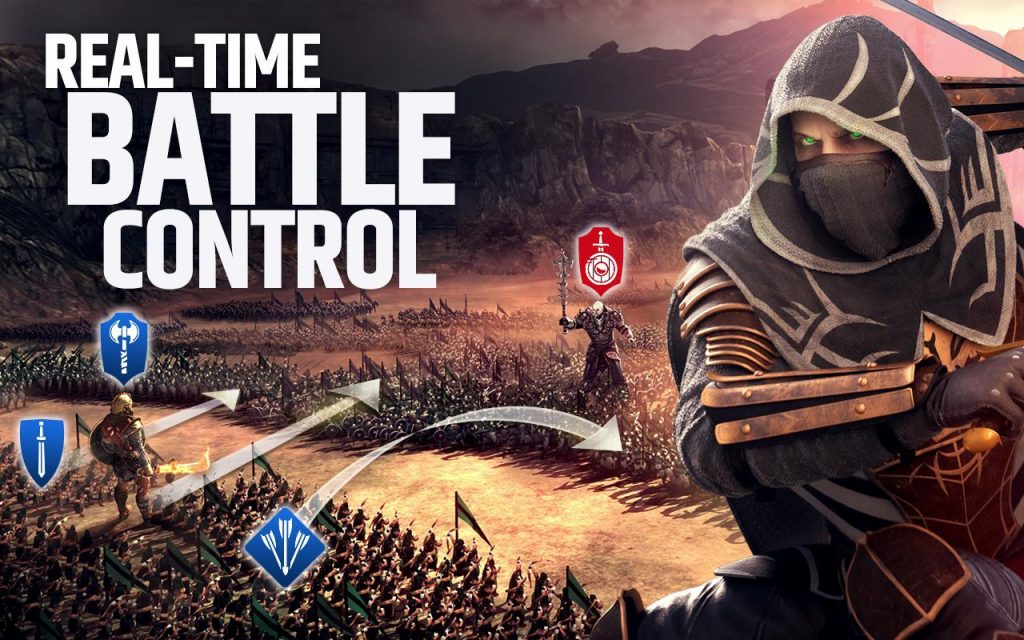 One of the features of the game is that you own a floating island with your castle on it. You rule and oversee your kingdom which you can zoom in and out with a pinch of your fingers. While taking care of your kingdom, of course you will require resources. You can build farms for food which is required to build troops and gold as well for building and upgrading buildings. You can also capture other resource islands that will provide you with gold and food hourly. However you can only hold up to 3 resource islands.
As your kingdom grows and progress through the main campaign, you will be able to join alliances or create your own. Because the game is in an open world, your kingdom can be attacked by random strangers and they will raid your kingdom, earning them a portion of your resources. By joining in an Alliance, it will help you build some reputation that will hinder others from attacking you at least. However, your Titans can only gain levels by entering into battle. You will need to either do campaigns or raiding to level up your Titan. There are resource islands and neutral enemies that are available for your raiding needs and if you are lucky enough, you may obtain relics or armories that your Titans can equip. Not just that, your player levels can increase as well and as you unlock more buildings and build them, you can unlock spells to be used during battle!
For such a genre on mobile, the game looks really cool with all the features and it is definitely one of the most beautiful graphics that we've seen. The gameplay is smooth with detailed graphics and the war mechanics are easy to understand and handle. This will definitely be one of the games that I will recommend to those who love RTS games such as this.
Source: 2P