Thanks to our friends at Sony Interactive Entertainment Singapore, we got our hands on a Ratchet and Clank: Rift Apart media kit, full of goodies to fill a dimensional portal! Let's take a look at what's inside:
The package comes in a very unsuspecting box, covered in Ratchet and Clank characters. Of course, this box wasn't made to be admired this way, so let's open it up and see what you get.
Arguably the coolest thing about this is the box itself, which opens up on itself to create a cool 3D diorama featuring Ratchet, Clank and Dr Nefarious peeking out through some portals. It's a really good centrepiece, and looks especially good when viewed head on like above.
It also comes with a red bag, printed on it the wanted poster for our new hero Rivet. Of  course, it's more than just a bag. Opening it up reveals more goodies:
Ratchet and Clank: Rift Apart Stickers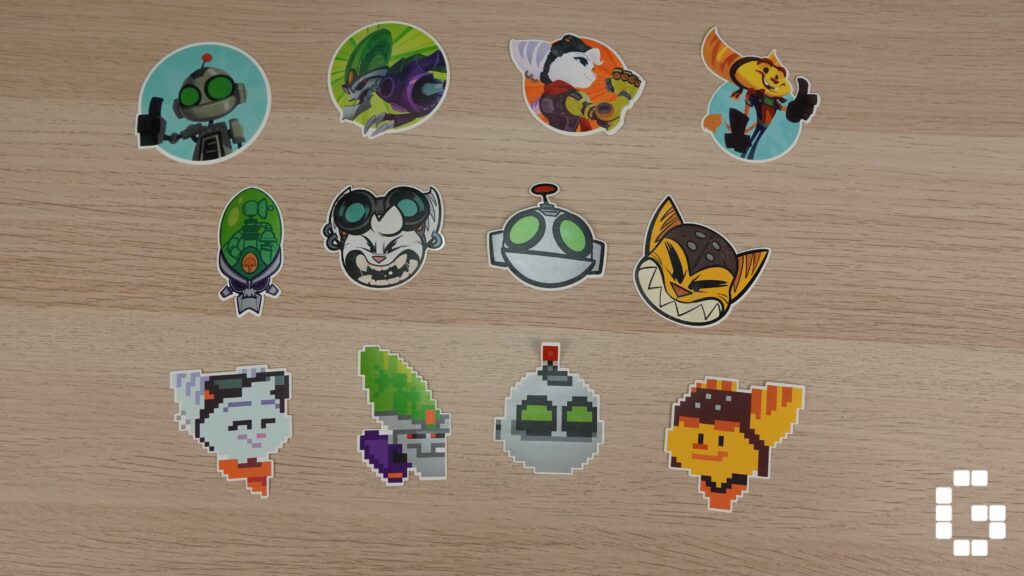 The kit also comes with these adorable Ratchet and Clank stickers, with different flavors to choose from. We're personally huge fans of the pixel-art style, but every single one of them is brimming with personality.
Weapon Fact Screen
Not to be confused with DM screen, it also comes with a screen that has information aon all the various guns you'll be able to use in Ratchet and Clank: Rift Apart. It also includes a mock-weapon wheel, so you can pretend to select your destruction-weilding weapon of choice.
Ratchet and Clank: Rift Apart Art Postcards
It also comes with postcards full of cool art for the game, letting you get a taste for all the alien worlds waiting for you on the PS5.
Decorative Patches
Of course, what better way could you show your love for Ratchet and Clank: Rift Apart than with these patches, featuring our heroic trio of Ratchet, Clank and Rivet. It's adorable how Ratchet and Rivet have their teeth bared, while Clank has my typical expression at the end of the day.
Ratchet and Clank and Rivet Poster
Last but not least, you can also give your room some flair with this Ratchet and Clank: Rift Apart poster, featuring cute art of our heroic trio:
Ratchet and Clank: Rift Apart is out today exclusively for the PS5, featuring seamless loading, a great campaign and gorgeous animations. Thanks again to Sony Interactive Entertainment Singapore for sending us this Ratchet and Clank media kit, and don't forget to pick up the game for yourself!
Interested to know more about the game? Check out our video review here:
Ratchet and Clank: Rift Apart
PlayStation 5
Go dimension-hopping with Ratchet and Clank as they take on an evil emperor from another reality. Jump between action-packed worlds, and beyond at mind-blowing speeds – complete with dazzling visuals and an insane arsenal – as the intergalactic adventurers blast onto the PS5™ console.
---
Check This Out Next
---