Three heroes from the city of merchants, Pedas, join the Exos Heroes roster! That's not forgetting the April Fool's Day event as well…
With this week's Exos Heroes update arrives three new Heroes from Pedas, a city of merchants. Meet Prithiof, the heir of one of the most influential families of Pedas; Dana, a lovable girl born with brilliant talent and mind; and Lang, a mysterious beast with incredible intelligence that follows Prithiof. The three new Heroes can be recruited with increased rate until 1 April.
Following that up is a 7 Days of Gifts event for the occasion. Just check in to the game to claim in-game rewards as always including 700 Xes and 50 Dye Coupons, and receive a special Fatecore 'Dewy Skin Bathory' on the seventh day of login. Last but not least is a free Premium Recruit event offering up to 55 free recruits.
You can check out the official blog post here, and check out the trailer for the new heroes below:
As always, you can check out the official Facebook to remain up to date with the latest news, and maybe share your grievances about the art director beating you up in the raid, who knows…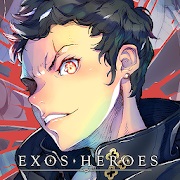 EXOS HEROES
Android, iOS
The grand adventure to search for 'Exestruk', the missing sword of the emperor, and the curse of the ancient dragon! Experience the adventure of your lifetime. Experience the unique visualism beyond your imagination. Experience the unique, extraordinary RPG!