Living up to its name, the MSI Titan GT77 (12UHS) laptop is, at first glance, much closer to a desktop machine in build. I mean, that's what the series is basically declaring on its product page:
Incorporating luxury experience, innovative technology and extreme performance, the Titan GT77 is the peak of gaming. With the latest high performing up to latest 12th Gen. Intel® Core™ i9-12900HX processor and NVIDIA® GeForce RTX™ 30 Series Graphics, and the luxury aesthetics of the Mystic Light bar, the Titan GT77 highlights top of the line performance and design. The Titan GT77 is Reborn.
Does it live up to those lofty claims? Let's find out.
PORTABLE COMMAND CENTER
This latest incarnation of the Titan GT77 is easily one of MSI's largest gaming laptops to date, measuring 397 x 330 x 23 mm and weighs 3.3 kg. Heft aside, its functionality is indeed more like a desktop, which I'll get into later. For now, let's first admire its build.
Clad in black, the laptop is fairly low profile at a glance should you need to break it out for work or public spaces. It starts showing its true colours with the various RGB trappings, found at the rear exhaust, the lid's dragon logo, and the keyboard. Granted, the 'flashier' effects are more for your eyes only, being visible on your side of the screen.
If you're going to be hauling this baby around using the MSI-provided premium backpack, bring along a cloth or some such with you. The laptop's finish seems especially prone to fingerprints, on what is a mostly plastic build. That doesn't make the laptop somehow feel 'cheap', but I do like a more 'robust' feeling, as it were.
When fully deployed, the rear of the laptop looks much like a giant fan system, which in turn, makes quite a bit of noise. Headphones recommended once they really get going.
KEYBOARD, TRACKPAD
Built into the MSI Titan GT77 is a SteelSeries mechanical keyboard with ultra-low profile Cherry MX switches. Its performance is anything but, offering one of the best typing experiences, having the right balance of travel and pressure perfect for long periods of typing and high accuracy for your gaming sessions. Admittedly, the sound of typing is louder than most typical laptops, just that it's more likely that the fan will be more distracting.
Keyboard customization is easily available thanks to the inclusion of the SteelSeries GG driver and app which is intuitive to navigate, with the whole suite of RGB settings at your disposal. Considering the black build of the laptop, the backlight stands out even more. MSI's also improved the lighting so that it works better regardless of whether you're in the sun, or in a really dark room.
It's a full-size keyboard, albeit the number pad and arrow keys shrunk to have them fit. They're still usable, something I appreciate as I am in need of numpad hotkeys. As for the trackpad itself, it's large, smooth, and functional with responsive clicks. Then again, I'm sure if you're picking up this laptop, I would hazard that you'll be using a mouse instead.
I/O PORTS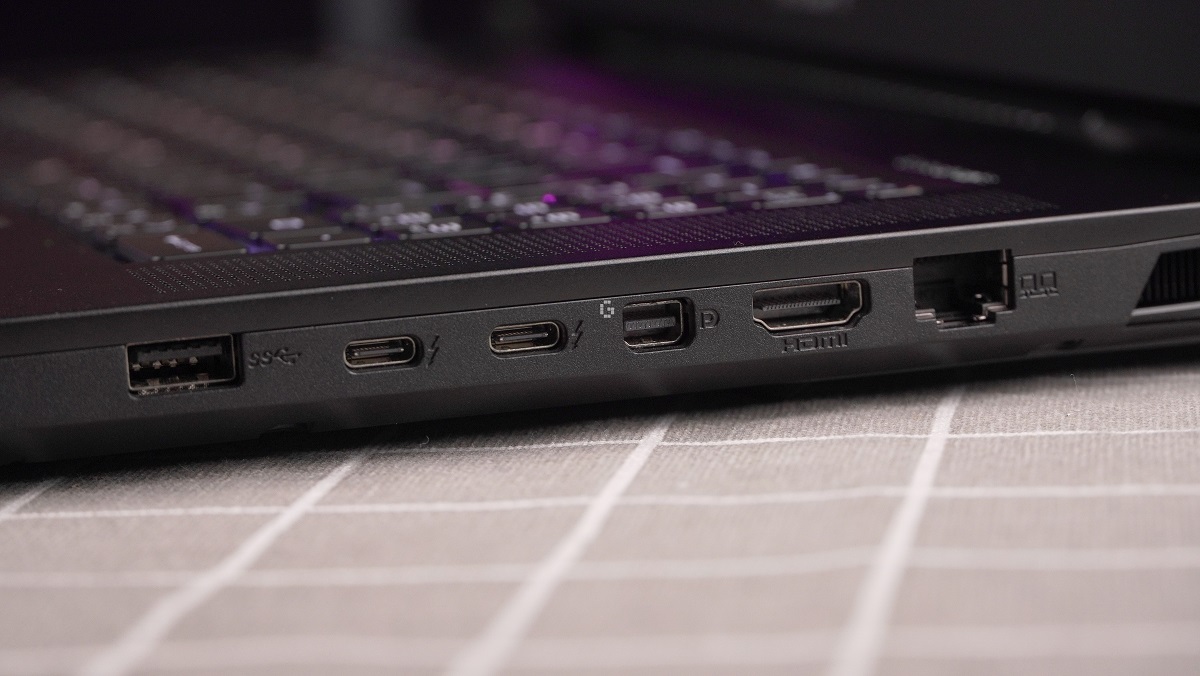 Seeing as the rear of the laptop is more fan, MSI has moved the ports to either sides of the laptop, making it much easier to swap around your devices. The left side has the power input port, two USB ports, an SD card reader, and a headphone jack. On the right side, you'll find two Thunderbolt 4 ports, another USB port, a Mini Display Port, an HDMI 2.1 port, and an Ethernet port.
DISPLAY
All your work and games will be displayed on a grand 17.3-inch, full 4K, 3840 x 2160 IPS screen with 120Hz refresh rate. Then, we have vibrant True Colour technology, offering sharper resolutions and well-reproduced colours, not forgetting the amazing contrast really allowing details to pop off. That's not all; it has 100% DCI-P3 colour space support too!
Needless to say, games look incredible on this large screen with the combination of the 120Hz refresh rate and 4K UHD resolution capability. Throw in fast pixel response time for gorgeously rendered games rendered with the details they deserve with smooth motion. The screen also has a coating to avoid reflections. Whether you're a gamer, editor, or visual media enjoyer, you basically have it all here.
PUTTING IT TO THE TEST
Within the MSI Titan GT77 12UHS model is an array of hardware including an Intel 12th-Gen 2.3Ghz i9-12900HX, 64GB RAM and NVIDIA GeForce RTX3080 Ti laptop GPU. Let's start off with the raw numbers:
PCMark 10 – Extended test

: 11068 (better than 97% of all results)
Cinebench R23

– CPU Test

Multi Core: 18605 (number 3 in results)
Single-core: 1763 (number 1 in results)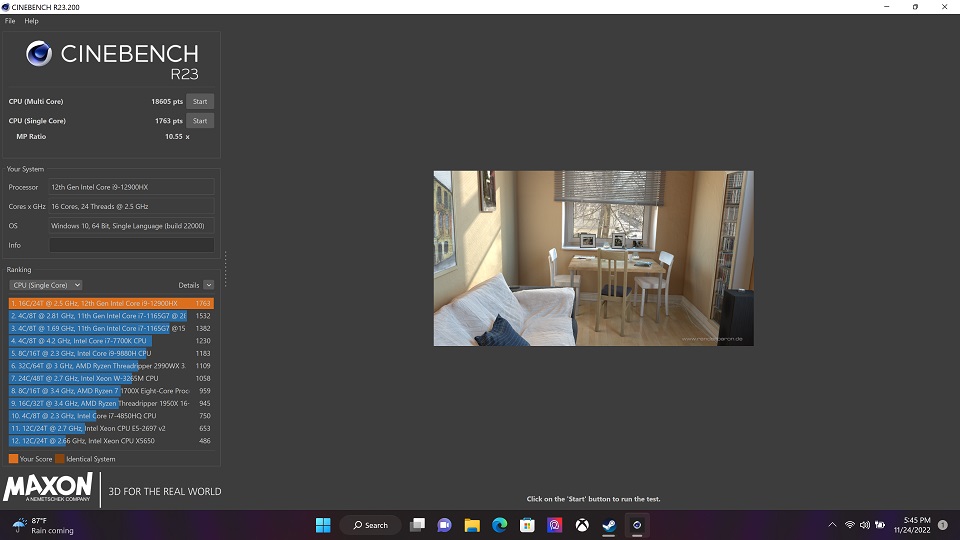 ALL MAX SETTINGS, RTX, 4K RESOLUTION TESTING
In brief, we have Marvel's Spider-Man Miles Morales at 50 – 60 FPS, God of War at 60 – 75 FPS, and Gotham Knights at 50 – 60 FPS. As promised, the laptop will be running some of the largest and/or most visually impressive games on its back. Sure, you could pick at it not being consistently 60 FPS, but keep in mind the sheer level of processing power needed to render this games at such high visual fidelity before the laptop might even start to stutter.
If it's available for the game, have that ray tracing on for maximum immersion. You, like me, are probably going to be glued to the screen, unable to tear away from the gorgeous lights and reflections. However, there's something else to consider: the MSI Titan GT77 is still a laptop.
2K gaming on the go is most definitely open to you, where you can still expect some of the best overall gaming experiences possible. Take Miles Morales: at 2K (2560 x 1440) resolution at Max settings: I could enjoy web-swinging at 70 – 90 FPS. God of War looked as lifelike as ever. Gotham Knights had no 60 FPS cap that it has for consoles, running at 90 FPS and above during the tests.
All this to say that your games will perform excellently even if you see no need for even more of the bells and whistles. Do take advantage of the hardware to have them look the best they can be!
KEEPING IT COOL
This laptop boasts a highly efficient cooling system thanks to combination of four fans, seven heat pipes, and six exhausts to make up the CoolerBoost Titan extravaganza. The base might feel warm, but that's pretty much a given. With all the fans whirring away, it won't get any hotter than this. It's just unfortunate that in doing its job, it gets really loud.
AUDIO
The audio quality is actually really good for a laptop! It has an array of two 2-Watt speakers, 1-Watt speakers and 2-Watt woofers with dual sub-woofers under the laptop to further add to the listening experience, working together with the Nahimic companion driver. It does lack just a bit in the bass department, as well as unfortunately getting overwhelmed by the cooling system.
BATTERY
You will need to carry around that 330W brick of a power adapter as the battery life for the MSI Titan GT77 is much like laptops of its kind; not known to last for any longer than just a couple of hours considering all the hardware it's powering. It won't stay on for long even if you're only doing some regular editing, much less trying to game.
SPECIFICATIONS
| MSI Titan GT77 12UHS | |
| --- | --- |
| CPU | Up to 12th Gen Intel® Core™ i9-12900HX Processor |
| OS | Windows 11 Home / Windows 11 Pro |
| DISPLAY | 17.3" UHD (3840x2160), 120Hz, IPS-Level |
| CHIPSET | Intel® HM670 |
| GRAPHICS | NVIDIA® GeForce RTX™ 3080 Ti Laptop GPU 16GB GDDR6. Up to 1640MHz Boost Clock 175W Maximum Graphics Power with Dynamic Boost. Max. 250W CPU-GPU Power with MSI OverBoost Technology. *May vary by scenario |
| MEMORY | Max 128GB, DDR5, 4 Slots |
| STORAGE CAPABILITY | 3x M.2 SSD slot (NVMe PCIe Gen4), 1x M.2 SSD slot (NVMe PCIe Gen5) Compatible |
| WEBCAM | IR HD type ([email protected]) |
| KEYBOARD | Cherry Mechanical Per-Key RGB Gaming Keyboard by SteelSeries |
| COMMUNICATION | Killer Gb LAN (Up to 2.5G), Killer ax Wi-Fi 6E + Bluetooth v5.2 |
| AUDIO | 2x 2W Speaker, 2x 2W Woofer |
| AUDIO JACK | 1x Mic-in/Headphone-out Combo Jack |
| I/O PORTS | 2x Type-C (USB / DP / Thunderbolt™ 4), 3x Type-A USB3.2 Gen2, 1x SD Express Card Reader, 1x (8K @ 60Hz / 4K @ 120Hz) HDMI™, 1x Mini-DisplayPort, 1x RJ45 |
| BATTERY | 4-Cell, 99 Battery (Whr) |
| AC ADAPTER | 330W adapter |
| DIMENSION (WXDXH) | 397 x 330 x 23 mm |
| WEIGHT (W/ BATTERY) | 3.3 kg |
| COLOR | Core Black |
CLOSING THOUGHTS
The heft of the MSI Titan GT77 will not encourage you to bring it along with you everywhere, at least. However, it doesn't detract from the fact that it is one of the most powerful machines available on the market for gamers demanding the best laptop possible. If you just need a break between game sessions, it's powerful enough to fuel all your editing or viewing needs.
The MSI Titan GT77 is one laptop that's done what it set out to do for whatever you need it for.