With the new Monster Hunter Stories 2: Wings of Ruin update, Hellblade Glavenus and Boltreaver Astalos join as available Monsties to add to your stable. Here's what you can expect when you get your own.
HELLBLADE GLAVENUS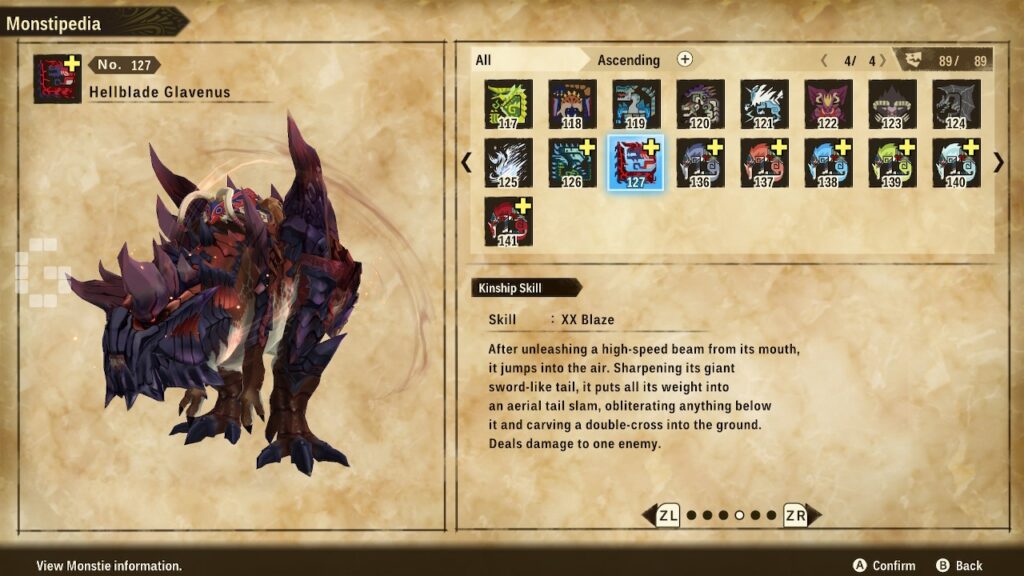 BASIC STATS
ELEMENTAL STATS
SKILLS
OVERVIEW
With 5 speed, Hellblade Glavenus is one of the slower Monsties. However, it's decently bulky with 7 HP, and defenses – excluding Water, its weakness, and Fire, its element – averaging at 6. Its 4 defense in Water is less relevant when the current patch does not have strong Water Monsties.
At 9 Crit Rate, it's the second highest critical chance among all currently available Fire Monsties, just behind Fire Palamute. Additionally, 9 Fire Attack is also the second highest among fellow Fire Monsties, behind Teostra.
Hellblade Glavenus only has two new genes:
Power – Hellblade: Deals Heavy single target damage, fairly high critical chance
Speed – Burning Tail: Deals Medium Fire single target damage, high chance to inflict Burn
At a glance, the genes it brings look great for PVE, with potential for a single target crit Hellblade Glavenus with Critical Eye and Critical Healing, alongside Heroic genes. Its lower speed usually means it'll get hit first, and its bulk will most likely help it survive. At that point, the Heroic genes can trigger to let it deal more damage when it takes its turn to attack.
BOLTREAVER ASTALOS
BASIC STATS
ELEMENTAL STATS
SKILLS
OVERVIEW
Boltreaver Astalos is similar to Thunderlord Zinogre in many ways, sharing statlines and Ice weakness. Boltreaver Astalos edges out its compatriot by having a higher base crit stat at 10 to Thunderlord Zinogre's 9. At 6 speed, 8 HP and an average of 6 in its defenses besides Ice and Thunder, it's one of the faster Monsties, and is decently bulky.
The Monstie also comes with 3 new genes:
Technical – Blue Plasma: Deals Heavy Thunder damage to all enemies, Medium chance to inflict Paralysis
Lightning Blade: Deals Medium Thunder damage to a single target, Medium chance to inflict Paralysis
Azure Voltage: Moderately increases Thunder Attack and Defense for 5 turns, and Charges up power for 2 turns
These genes are great. In particular, Blue Plasma is currently the first and only ability that can deal damage to all enemies, while also having a Medium chance to inflict Paralysis. Compare this to Rajang's Thundercrack and Ivory Lagiacrus' Plasma Blaster, both of which having only a Low chance.
Azure Voltage works like Pink Rathian's Valiant Fire, Charging up power similarly to Focus and Amplify, and can find incredible value in PVP.
Hellblade Glavenus and Boltreaver Astalos are now available as part of Free Title Update #2 for Monster Hunter Stories 2: Wings of Ruin.
You can check out our other guides for the game:
Monster Hunter Stories 2: Wings of Ruin
Nintendo Switch, Steam
A new adventure awaits you in this second installment of the turn-based RPG series set in the world of Monster Hunter! Become a Rider and form bonds with friendly monsters known as Monsties to fight alongside them as you take part in an epic story.