Monster Hunter Rise showcased more information at their January 2021 Digital Event! The full stream can be viewed below:
Naturally, they showed off locales and the monsters you can encounter in them. The locale they showed off was the Frost Islands, previously a nest of huge dragons. It's said to have a creepy atmosphere, but is nonetheless populated by much life that you can utilize in your hunts.
Meanwhile, the monsters you can hunt are:
Goss Harag: a Fanged Beast that attacks with Ice Blades
Barioth: this Flying Wyvern uses its spikes and scales to move around freely on the ice
Khezu: another Flying Wyvern, this monster mostly lives in dark places, capable of releasing electricity from its body along with its twisty neck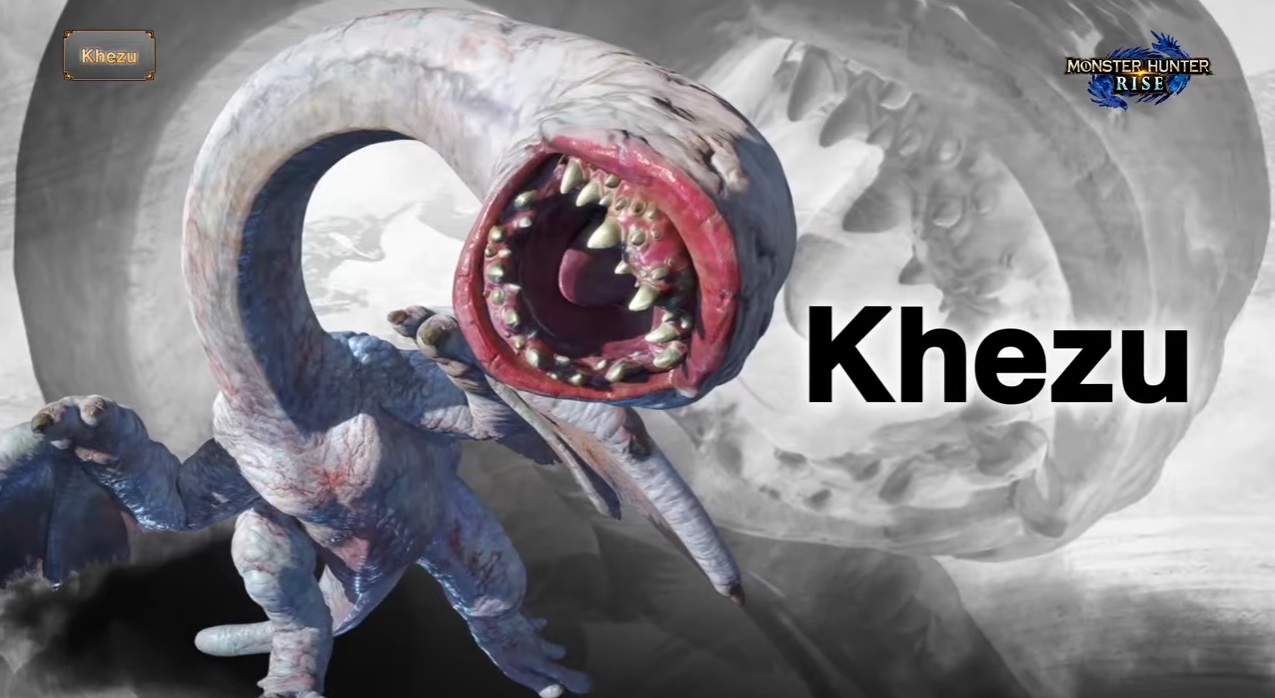 Great Baggi: the Bird Wyvern douses prey with a fluid that knocks them unconscious, so hunters will need to protect themselves against the sleep status effect
Lagombi: a Fanged Beast that glides around on its belly
Tigrex: this Flying Wyvern is one really aggressive creature, rushing at you with claws and jaw
Mizutsune: not from the Frost Islands, it can secrete a special fluid that turns it into bubbles that greatly hinder movement
Magnamalo: the flagship monster of the game, it has a armored carapace and attacks with its tail and a gas that looks like hellfire
You will be able to unlock a feature called Wyvern Riding, where you use your Wirebug to bind monsters. With Ironsilk, control the monsters, and use them to attack other monsters. Deal enough damage to monsters through aerial attacks or through Silkbind attacks with the Wirebug, or use the turf wars! You can also slam the monsters into terrain.
There will be the variety of supporting characters, of course!
Fugen: the village elder. Deeply trusted and certified long sword wielder
Minoto and Hinoa: Village Quest and Hub Quest maidens, and are Wyverian twins
Yomogi: runs the local Tea Shop
Hojo: Guild Master, manages quests
Master Utsushi: Leader of the hunters
Iori: the Buddy Handler
Kogarashi: Felyne Chief, deploys the Meowcenaries
Rondine: a Trader who came from far away
The base will have a training area to try out your weapon actions, and change the behaviour of objects you try the weapons on. You'll be able to take on the Rampage, whose details will be revealed in the future.
Editions have also been revealed:
Deluxe Edition

DLC

Kamurai – Hunter layered armor set
Shuriken Collar – Palamute layered armor piece
Fish Collar – Palico layered armor piece
Gestures (4 Jumps)
Samurai pose set
Kabuki face paint
Izuchi Tail hairstyle

Pre-order bonuses

Palamute Retriever Costume layered armor
Palico Forest Cat Costume layered armor
Novice Talisman for early game
Three amiibo will also be released on the same day as the game.
The demo will be available for a limited time, from 7 January onwards until 0:00 PST / 3:00 EST 1 February 2021.  The demo will have 4 quest types available:
Slay a Great Izuchi (Beginner)
Slay a Mizutsune (Intermediate)
Basic Training Quest (Tutorial)
Wyvern Riding Training Quest (Tutorial)
All 14 weapon types will be playable in the demo. The Beginner and Intermediate quests can be played solo, or with local and online co-op. The demo will take you to the Shrine Ruins to have you check out the endemic life. A Palico or Palamute will be available so you can ride a Canyne and receive Buddy support.
Last but not least, there will be crossover bonuses with Monster Hunter Rise and Monster Hunter Stories 2: Wings of Ruin. No further details were revealed besides saying Stories 2 launches sometime Summer 2021.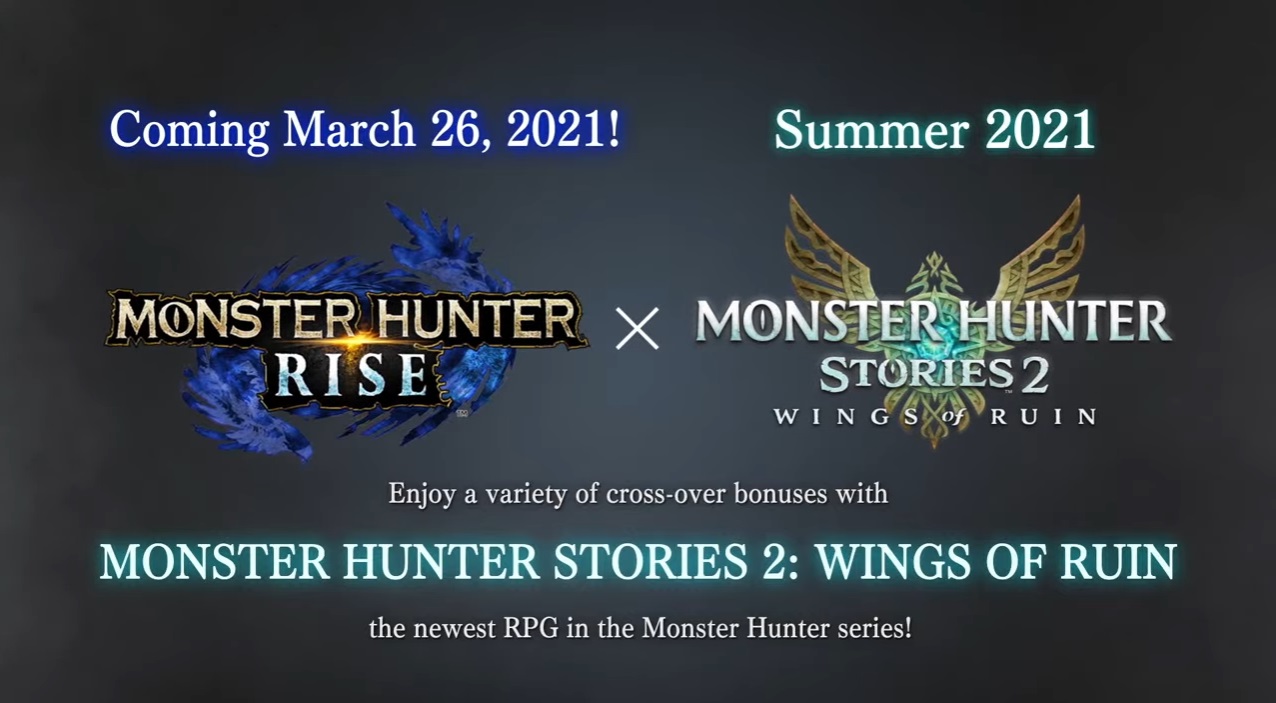 That's all for the Monster Hunter Rise reveal in the January event. Get the demo for yourself soon! The game itself will be available 26 March 2021.
---
Check This Out Next
---