Blue shells aside, Mario Kart Tour is celebrating its 1st anniversary, which kicked off with the Los Angeles Tour. There will be two parts to the 1st anniversary celebrations for Mario Kart Tour, the first half featuring previous drivers from earlier tours returning which include Pauline and Mario (Hakama).
The 1st anniversary naturally means a limited time event, with a corresponding Event Shop that has been upgraded with great deals. Collect event tokens throughout the game's courses to exchange in the shop.
The limited-time event starts on the first day of this tour! What's more, the Event Shop offerings have been upgraded and include great deals. Grab event tokens scattered throughout #MarioKartTour courses and exchange them for items! pic.twitter.com/UKRYdv1npT

— Mario Kart Tour (@mariokarttourEN) October 7, 2020
Last but not least, the various log in bonuses have been upgraded accordingly for the duration of the 1st anniversary tour. The second half of the log in bonuses will reward a High-End level-boost ticket from the 11th day onwards.
On its own, these offerings for the game's first anniversary – a pretty big milestone all things considered considering the lifespan of mobile games – seems pretty weak. However, if you're still playing the game or just want a quick spin on the tracks, you can hop on in for the event. It does at least have multiplayer which it did not have at launch, allowing you to race against up to seven others on the tracks, so you can have that at least.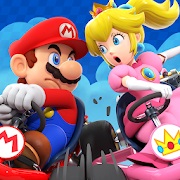 Mario Kart Tour
Android, iOS
Mario and friends go global in this new Mario Kart as they race around courses inspired by real-world cities in addition to classic Mario Kart courses! These destinations will be featured in tours that rotate every two weeks! In addition to courses based on iconic locales, some of your favorite Mario Kart characters will get variations that incorporate the local flavor of cities featured in the game!
---
Check This Out Next
---