Get your board shorts ready, it's time to head to LA. Mario Kart Tour's next stop is the Los Angeles Tour, with courses based off the city of Los Angeles, California. The tour will run from 23rd September to 6th October.
The tour was also previously announced via tweet.
The courses are based off of real-life locations in Los Angeles, such as Santa Monica Pier. The trailer also shows a desert-type location, this may be a reference to the Mojave Desert.
On top of that, Mario is also sporting a new look, based on his appearance in Super Mario Sunshine. The outfit is also featured in Super Mario Odyssey.
Mario Kart Tour is no stranger to letting the iconic Mario mascots into our world. In fact, this is far from the first time they've done so. Previous tours in the mobile racer have taken place in New York, as well as Vancouver and Tokyo.
The Los Angeles Tour also happens to take place in conjunction with the game's first anniversary.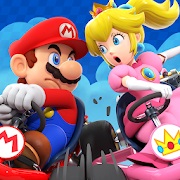 Mario Kart Tour
Android, iOS
Mario and friends go global in this new Mario Kart as they race around courses inspired by real-world cities in addition to classic Mario Kart courses! These destinations will be featured in tours that rotate every two weeks! In addition to courses based on iconic locales, some of your favorite Mario Kart characters will get variations that incorporate the local flavor of cities featured in the game!
---
Check This Out Next
---