As the website's resident Arknights stan, getting the illustration collection book seemed like a no brainer when pre-orders were announced. As the name suggests, it's a collection of various Arknights illustrations, featuring art from officially commissioned artists – namely those with Operators in the game – and fan artists.
A number of these illustrations you would have likely seen online already circling social media, like Twitter or Weibo, but how could that beat having it in print in your own hands?
The book is not very large or thick, at 103 pages. The pages are somewhat glossy, perfect for admiring. The cover jacket text is lightly embossed, but the effect is not carried to the inner cover. The Cliffheart, Ayerscarpe and Click bromides were pre-order bonuses. On the flip side of the Ayerscarpe and Click bromide is Folinic and Suzuran, who were the newest release Operators at the time when pre-orders went up.
If nothing else, I'm simply looking forward to the next volumes of art, with maybe a more diverse selection of Operators and of course, cool illustrations of the newer released Operators. Thorns and Surtr, please call me.
Now, if you'll excuse me, I will take my time to admire the fine arts and use this as offering to Human Resources to let me get the Operators I want.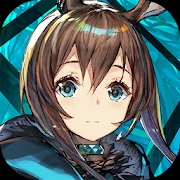 Arknights Global
Android, iOS
Take on the role of a key member of Rhodes Island, a pharmaceutical company that fights both a deadly infection and the unrest it leaves in its wake. Together with your leader Amiya, you'll recruit Operators, train them, then assign them to various operations to protect the innocent and resist those who would thrust the world into turmoil. Your tactics will determine the future of Rhodes Island. Fight for the Dawn!
---
Check This Out Next
---