Hogwarts Legacy is the Harry Potter franchise's first big step into the world of AAA gaming, seeking to fulfill many fans' dreams of quite literally stepping into Hogwarts and we can safely say that it really does feel magical. Actually being able to explore the ins and outs of Hogwarts feels like a fantasy come to life combined with fun combat.
I've never been a serious Harry Potter fan but I've watched all the movies and read a few books so I'm familiar with the world even then, it was a fun ride.
Welcome to Hogwarts
Hogwarts Legacy sees you placed in the shoes of a new 5th Year student at Hogwarts School of Witchcraft and Wizardry in the late 1800s. You'll begin by customizing your character with a surprising amount of options. There are, of course, standard picks like hair and eye color but you can even change the pitch of your voice. You can really bring yourself to life as a wizard.
After this you can a quick prologue to the school and are taken to the sorting hat to be put into a house. This may not seem like a big thing but considering what a big part of the Potter fanbase these houses are, this is done very well with a questionnaire to figure out what house best suits you. I got Raven Claw cause I'm a smarty. If you don't like the house the quiz gives you, you can always select another which feels a little cheap but I can imagine that people just wanna be in their favorite house so it's understandable.
A deeper story is revealed by playing through the main quest but it's hard to say much without spoiling anything. Let's just say it's a fun romp through the wizarding world with plenty of lore and cameos to keep fans happy.
Inside Hogwarts
From here on it's an average day in magic school. As a kid, I always thought it'd be cool to explore Hogwarts top to bottom, the old school feeling almost like another world in the movies, and now you can. The developers have down an excellent job bringing the location to life and not only making it feel spectacular but also lived in. There are students walking about, teachers to learn from, and plenty of hidden secrets around every corner. Your days here will be spent attending classes, racing on brooms (no Quidditch though sadly), and taking part in a cross-wands wizards duel although you can't play this once you become the champion which is kinda lame.
If you wanna be a real scholar in sorcery you can also take on the many side quests in the game, often involving extra circular activities with the many teachers of the school. Later on in the game, you'll also unlock a secret base called the Room of Requirement. This acts as your main hub, where you can conjure a lot of different stuff that you need to make potions, upgrade equipment, and customize to your liking. If you're a fan of Fantastic Beasts, you'll be happy to know there's also an animal ranch where you can find and keep some cool pets, who will provide you with new materials for upgrading. 
It's not just Hogwarts though, you're also allowed to move outside the school and the open world is massive. You can go to the nearby town and woods either on foot, by broom, or even by Griffon. Flying around an open-world game is always a blast and it's the same here. There's a healthy mixture of different activities where that require you to do different things. Some are pure combat like clearing out the bandit camp, while some require puzzle-solving, so it never gets too repetitive.
Yer A Wizard Now
This brings to the gameplay, the best part of the Hogwarts Legacy. Everything involving magic, no matter if it's unlocking, puzzling, or battle, is well done and feels unique to the Harry Potter world. 
One interesting concept is in order to use magic you actually need to learn the movement of the wand. You use your left stick to move a pointer, and then along the path you have to push buttons to speed up the pointer, as there's a red line behind your pointer chasing you down. You have to make it through the finish line before the red line catches up. While this may sound a little cumbersome, it does work and it feels fun creating the sense of really preparing to cast a spell. 
There are all sorts of magic to be learned, including the insta-kill spell Avada Kedavra. The only downside of this is that the number of magic spells the game has is a little bit limited, while I believe in the philosophy of "Quality over Quantity", this is a game that focuses on magic and wizard, so it would be nice to have a little bit more for us to play around.
A Magic Duel
The combat of Hogwarts Legacy is fun, a big part of that is due to how much freedom you have to combo your magic. The very basics of combat are just like what you would expect from an action game, you run, you dodge, and you shoot. The shooting is further emphasized by the fact that there's no melee attack, and there's no physical Mage route here. It's not too complicated and you'll get the hang of it pretty quickly.
Different colored magic has its own usage, for example, red color is for damage, and yellow is for control like disabling freezing or levitation. In terms of enemies, many of them have different colored shields around them, and you have to use the same color magic to break them. For example, you need to use a red color spell like Incendio to break a red color shield.
You can have at most four different configurations of magic, each configuration has a maximum of four magics. Each magic has a separate cooldown period, meaning that you can spam your four magics in configuration one, then switch over to configuration two making combat pretty wild as if your spell after spell out. 
You're even able to chain magic together for combos, in any way and in any order you want. The game is very flexible in letting you play how you want and encourages you to experiment in stringing together different forms of magic for the best results. The only limitation is how many magics you have and how creative you are.
Defense Against The Dark Arts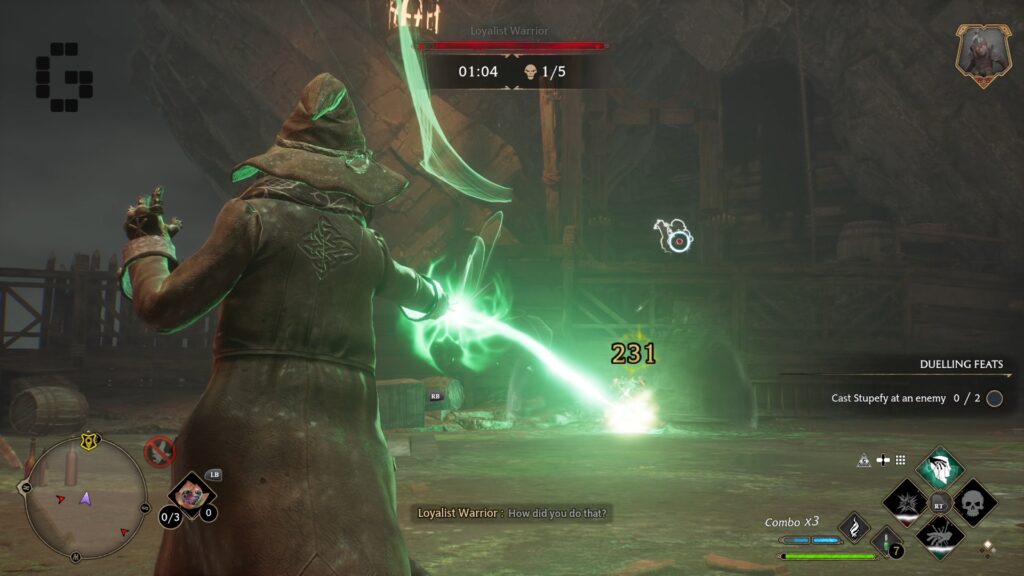 For defense, before any attacks land on you, there's something growing to warn you, and you can just dodge out of your way or use Protego to shield up/parry. There's also an item quick bar where you can use different types of potions or plants to your advantage. You have to buy/craft/plant/gather everything yourself of course. It's actually pretty cool that if you can out of healing potions, you can actually brew some up on the fly, just make sure you have the ingredients to do so. 
Character Progression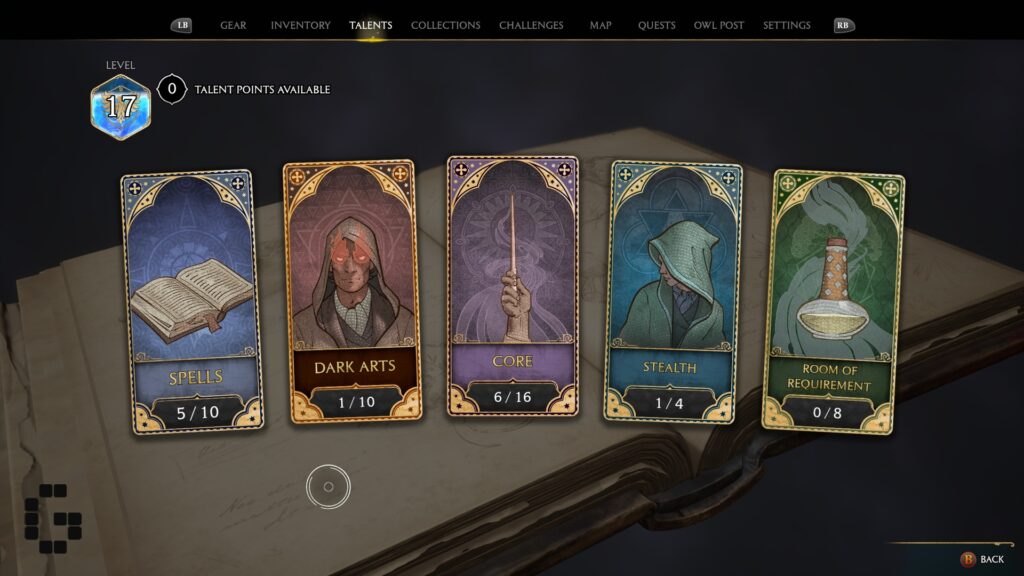 This is still an RPG, so of course there's gonna have equipment and a skill tree system in it. The equipment system of the game is Gear, and you have six different clothing parts, a wand handle, a flying mount, and a broom.
The skill tree in Hogwarts Legacy is called 'Talents'. They're not for unlocking new magic but to enhance the magic that you have and make them more useful. For example, Descendo is a magic that slams something down to the ground, after you unlock the Talents, it now creates a shockwave that can damage the surrounding target. 
There are 5 categories of talents (Spells, Dark Arts, Core, Stealth, and Room of Requirement), and all of them separate their upgrades into three different tiers. Tier 1 needs your character to reach level 5, Tier 2 is level 16 and Tier 3 is level 22. It's actually pretty addicting getting more spells and upgrading them. It goes along with the flexible combat, it's always cool to test up what you can do next and a upgrade. 
Equipping Your Robes
In terms of equipment, the most important thing here is the six clothing parts, as they affect your rating and combat power. You can upgrade your equipment and put different traits in them if the item has slots in it Equipment has a different rarity, but I ended up just using whichever is the strongest. Higher rarity does have a higher Trait Slot level, which affects the level of traits that you can slot into the item. Also, the equipment will affect how you look, so if you piece together a different set of clothing you might look ridiculous. Thankfully, the game does allow you to change the appearance of your clothing, so it's always easy to play dress up with your character.
The broom is primarily used for transportation but you can upgrade it in the shop to make it better. The same can be done for your wand handle however I honestly have no idea what this did. There doesn't seem to be much difference in how it affects your stats. Speaking of wands, the game does give you the option to make your own wand, but once again I don't think it changed much outside of giving you a snazzier new wand.
No Amount of Magic Can Save The Menu
Will all this being said, the game does have a serious flaw in the form of the menu system. The menu looks good, and it's aesthetically pleasing, but it's a real pain to navigate using a controller. I'm playing it on a PC using a controller, and you have to navigate the menu using a cursor as if you're using a mouse. It's annoying and unwieldy for no reason as the selections could easily be done with a d-pad. 
The map also has its own set of problems. Visually speaking, the Map in Hogwarts Legacy looks very elegant but it's a pain to actually use and navigate with. Apart from the 'no d-pad' issue, it doesn't label each area. I had a task in Herbology for example, that asked me to find plants A and B in Dogweed and Deathcap, neither of which are labeled on the map. I ended up spending an hour or so flying around desperately to the point of boredom. It's all good having a nice-looking map but if you can't actually use it to find your way to the world, it's all but useless.
Hogwarts Legacy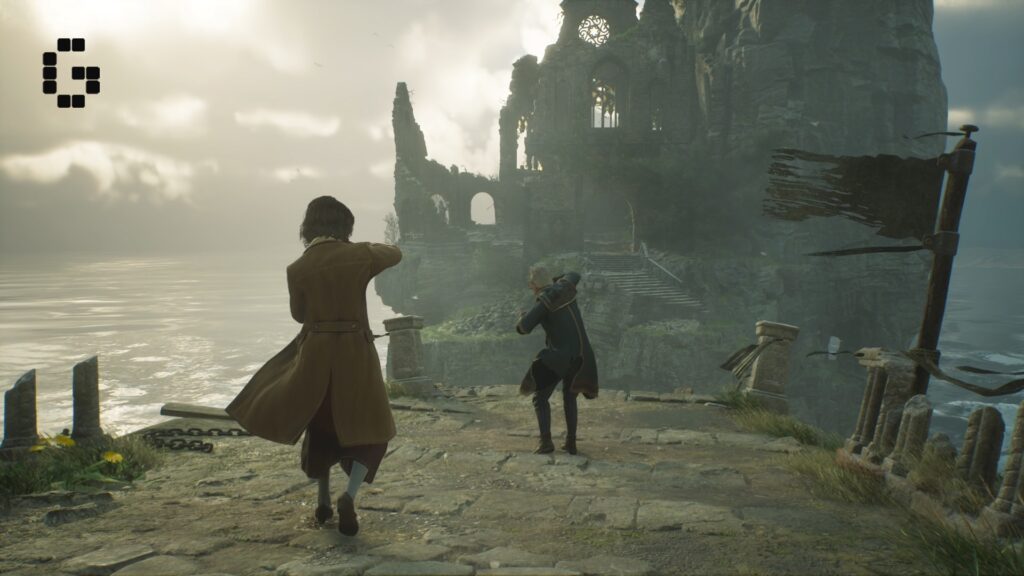 I haven't played most of the Harry Potter video game adaptations but Hogwarts Legacy is likely among the best, if not the best. It finally allows you to fully explore Hogwarts and learn magic through an exciting magic system that rewards experimentation and just lets you have fun with different spells.
It does have some issues, the menu and maps are a pain to deal with and I do hope they're improved in later patches especially considering this is an open-world game. Ultimately though, this feels like the love letter to the Harry Potter franchise, an invitation to Hogwarts for all those that dreamed of going there and performing real magic.
| | |
| --- | --- |
| Pros | Cons |
| Magic, in every aspect, is impressive | Menu design is anti-controller |
| Exploring Hogwarts is incredibly enjoyable | The map is hard to navigate with |
| Combat is intuitive and fun | |
Hogwarts Legacy is available for, PS5, Xbox Series X|S, and PC. It will also be coming to PS4, Xbox One, and Nintendo Switch in the near future.
---
Check This Out Next
---