WFS has announced the Korean release of Heaven Burns Red for South Korea. While we don't have that many concrete details as yet, there will be an upcoming presentation on 9 December 2022 for further news.
Various portals and social channels have been established for the Korean release of Heaven Burns Red, which you can check out below:
The presentation will go live through Youtube and Facebook on 9 December 2022, 16:00 KST. You can expect an introduction to the game, with potentially a release date. Heaven Burns Red has since been voted Best Game of the Year 2022 for Japan Google Play, so it's certainly doing quite well for itself. It is also available on Steam, but only in Japanese. Alongside the Korean release, there will also be a Traditional Chinese version as well.
At least we're starting to get confirmation of a more international release for the game, even if it's not yet in English. As mentioned before, the game did have an English portal before, which is no longer accessible. Hopefully we would still be able to get an English version to enjoy more of KEY's visual novel writing.
As the story goes, an interstellar enemy known as "Cancer" is assaulting humanity. The playable characters are girls who wield weapons called Seraph, thus becoming defenders of their world alongside wacky highschool hijinks and related drama.
You can check out our first impressions of the game here.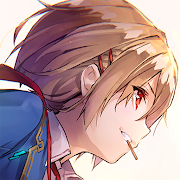 Heaven Burns Red
Android, iOS
Key by Associate Maeda, "Heaven Burns Red (Hebban)" is a story of girls who are entrusted with the last hope. A dramatic RPG that challenges you to fight for your life while running around the field and experiencing the irreplaceable everyday life!
---
Check This Out Next
---