It's amazing to think that Christmas movies are a genre in their own right, and one of the best subgenres in the said genre is the action Christmas genre. Violent Night is the latest entry into this group, taking queues from Die Hard and Home Alone to create a simple but delightfully gory holiday flick.
The story of Santa having to take on a group of mercenaries is one that will quite literally pound the Christmas joy into all that watch.
Christmas Eve
Violent Night is the story of Santa Claus (David Harbour). He's become jaded over the years as people no longer really believe in him, just wanting new toys and gadgets every year before moving on to the next big thing to the point that he feels like retiring.
On his regular Christmas Eve trip, he stops by the Lightstone house where a divorced couple has brought their daughter Trudy to spend time with their snooty, gold-digging family. Everything's going delightful passive-aggressive, until a group of mercenaries led by one Mr. Scrooge (John Leguizamo) attack and hold them all hostage to steal their fortune.
Now it's up to Santa to give everyone on the naughty list exactly the present that deserves. A nice lump of coal straight through their skull.
Christmas Under Attack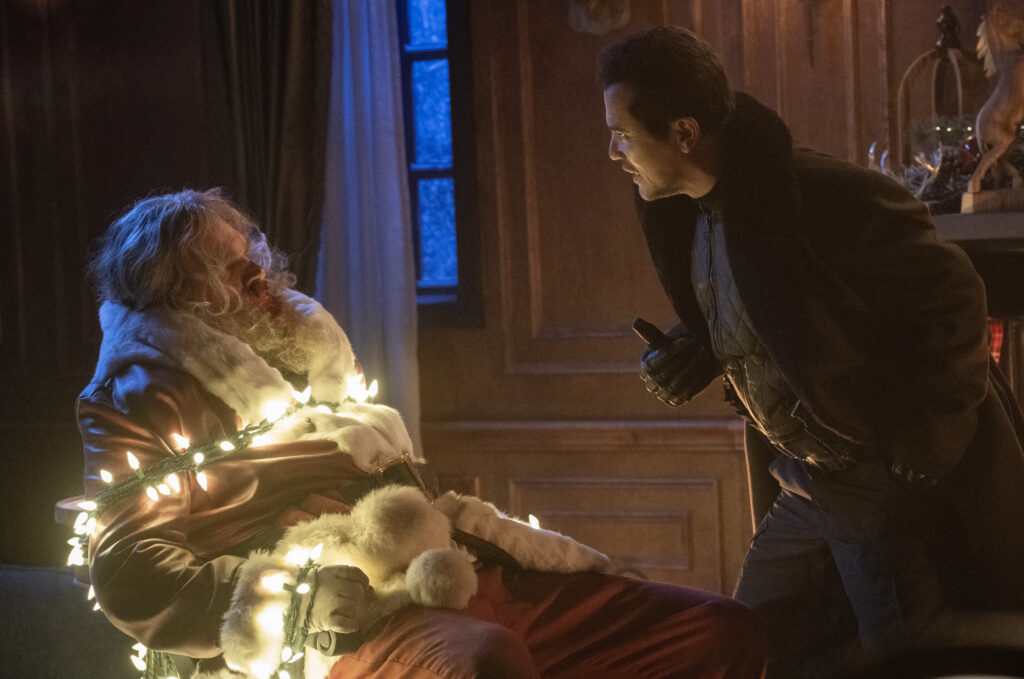 You can pretty much predict every plot point in Violent Night right from the start. Santa and Trudy work together showing him that there are still people who believe and her family to be kinder to each other. That being said it's all in the execution.
The movie takes a similar approach to 2015's Krampus of being hilariously mean-spirited with the holiday. Pretty much everyone who's not Father Christmas or the little girl is an egotistical jerk which makes it all the funnier and more cathartic when bad things happen to them. The film feels almost like the demented version of Home Alone we've always joked about, the one where Kevin was legit trying to kill the bandits. There are over-the-top violent traps and fights to cause immense but comedic suffering to bad people. The film knows it too since they reference Home Alone by name in one scene.
Santa gets pretty creative with his methods of pain including ice skates, sled hammers, and great use of festive Christmas ornaments. I was honestly a little taken back but just how brutal the kills got by I'm glad they didn't hold back as it adds to the pure chaos of the movie.
Bad Santa
David Harbour does a good job of playing a cynical Santa. He seems like a washed-up old man, done with the spoiled nature of mankind constantly wanting more. It's a little preachy but he's got a point. Nowadays even little kids tend not to believe in Santa, Christmas is treated as a time to just get new stuff. He manages to make this point blatant but feels in character for a guy that's done this job for hundreds of years and has seen it all go down like a bad Turkey dinner. He brings that same tired energy into his fight scenes scrambling around to use anything he can to slay the bad guys before going further down into "done with this mode" and mowing through goon after goon.
That being said, underneath all the tiredness he still manages to pull off the classic Santa spirit. He wants to be kind, he wants to be jolly and it shows when he interacts not only with Trudy but most of the other characters. Several times he tries to sympathize with the bad guys but of course, they're too far gone to listen. Only then does he deliver the pain. He's a hardened guy but he's still Santa underneath.
A Family Christmas
As for the rest of the characters, the young girl Trudy (Leah Brady) is your standard sweet kid. She's a pure innocent who loves Christmas. That being said she does show a violent dark side after when setting up Home Alone traps (Kevin rubbing off on her I guess). Her parents (Alexis Louder and Alex Hassell) likewise are your standard estranged couple that you know are going to get back together by the end but the actors do the best they can with the material given. Alex Hassell in particular has one great torture scene with his screams in terror being both funny and wince-inducing.
The rest of the family consist, of a sleazy corporate grandma, a gold-digging aunt, her failed actor husband, and their influencer-obsessed son who's already been convicted of sexual assault (because of course he has). They are wonderfully douchey, bringing in all of the crappy relative stereotypes but it works with the tone of the movie and you very much see them humbled by the end.
The other noteworthy character is Luigi Mario himself, John Leguizamo. This guy is having a blast playing the mercenary leader Mr. Scrooge even if the character is a fairly standard mustache-twirling criminal. Leguizamo does a solid job as both intimidating and funny, but the script doesn't give him a lot to work with. I think the thing I find most fun about him is that he has an almost irrational hatred of Christmas. I kind of love that outside of being a merciless murderer who has no problem torturing innocent people, he also just so happens to hate everything to do with the holiday for fairly unjustified reasons. It's touches like that that really make these kinds of comedies work.
Closing Thoughts
Violent Night is a fun action comedy to celebrate the holiday season. It's not super intelligent and very predictable but that's not a bad thing. This is one of those movies that delivers exactly what you expect on the tin, Santa Claus beating the crap out of a bunch of bad guys with excessive amounts of gore. The movie knows what it is and executes it to the best of its ability.
This is backed by solid performances all around, especially with David Harbour as Santa who shows both the naughty and nice sides of the character and feels genuine, or at least as genuine as Santa getting drunk and puking on a person can actually be. I think that last sentence sort of wraps ups if you'll like this movie. For me, it's a jolly bowl of head-cracking fun to start the holidays.
Violent Night is currently available to watch in Malaysian cinemas.
If you're looking for other action movies currently in cinemas, check out our review of the recently released Black Panther: Wakanda Forever.
---
Check This Out Next
---
The Review
PROS
David Harbour plays an excellent Santa
Action is bloody good fun
Comedy is delightfully mean spirited
CONS
The movie is very predictable
Characters, while funny, are very stock and you're not likely to remember them