When it came to Hearthstone Mercenaries, the card game's latest game mode, I already had a pretty good idea if I'd like it or not. You see, roguelites / roguelikes come close to turn-based and / or card games when it comes to being my favourite genre of games. Mercenaries is the -lite, having permanent progression regardless of whether you succeed in completing a Bounty or not. As this early access review goes up, the game mode might be live for the rest of you, so that you can dive right into it.
INTRODUCTION
The long and short of it is that Valeera takes you through the early steps of Mercenaries, getting you familiar with the very basics of the mode. There is a little bit of a narrative here, but what exactly it is, we will have to wait on the team to further develop a cohesive storyline besides "go out and whack some dudes". Don't worry too much about it right now.
In terms of actual options, there aren't any Mercenaries specific settings right now, though the team may consider changes if needed. Do check out our Q&A with the dev team with regards to design and all that good stuff.
PRESENTATION
The characters don't look too much different from the base game, all having their own portrait, card border colour, complete with any extra flourishes to make them stand out. Without a portrait frame, these mercs look like regular cards. Gold frames gives them more animations, again, like the base game's Golden cards.
The really fancy stuff are the mercs with Diamond frames. These portraits are a lot more dynamic, with sweeping gestures that can break out of their frame. These are also the ones with in-battle voicelines, reacting to the board condition, and such. Summoning them onto the board also gives them this subtle rainbow glow, before they declare their presence once you hit the Ready button.
With how the Mercenaries board looks more vertical and wider – even if it does zoom in once the combat phase begins – I feel like there's some room for the devs to make better use of the empty space. I like having bigger text to read, which I'm sure could be a challenge to implement when considering the mobile platform. All the necessary tooltips aren't all quite in yet either, one of the bigger omissions arguably being the "Horde" or "Alliance" tags, where someone unfamiliar with the Warcraft franchise are unlikely to know.
The skill effects and sounds have been pretty much imported from the various other game modes. Besides my gripes about text size, the rest of it really is the standard game implemented in a different way. Drag the arrow over to a target with a skill where applicable, or just watch the sparks fly. What may be disappointing is the detailing for the game board. Below are examples for the Barrens, and Blackrock boards.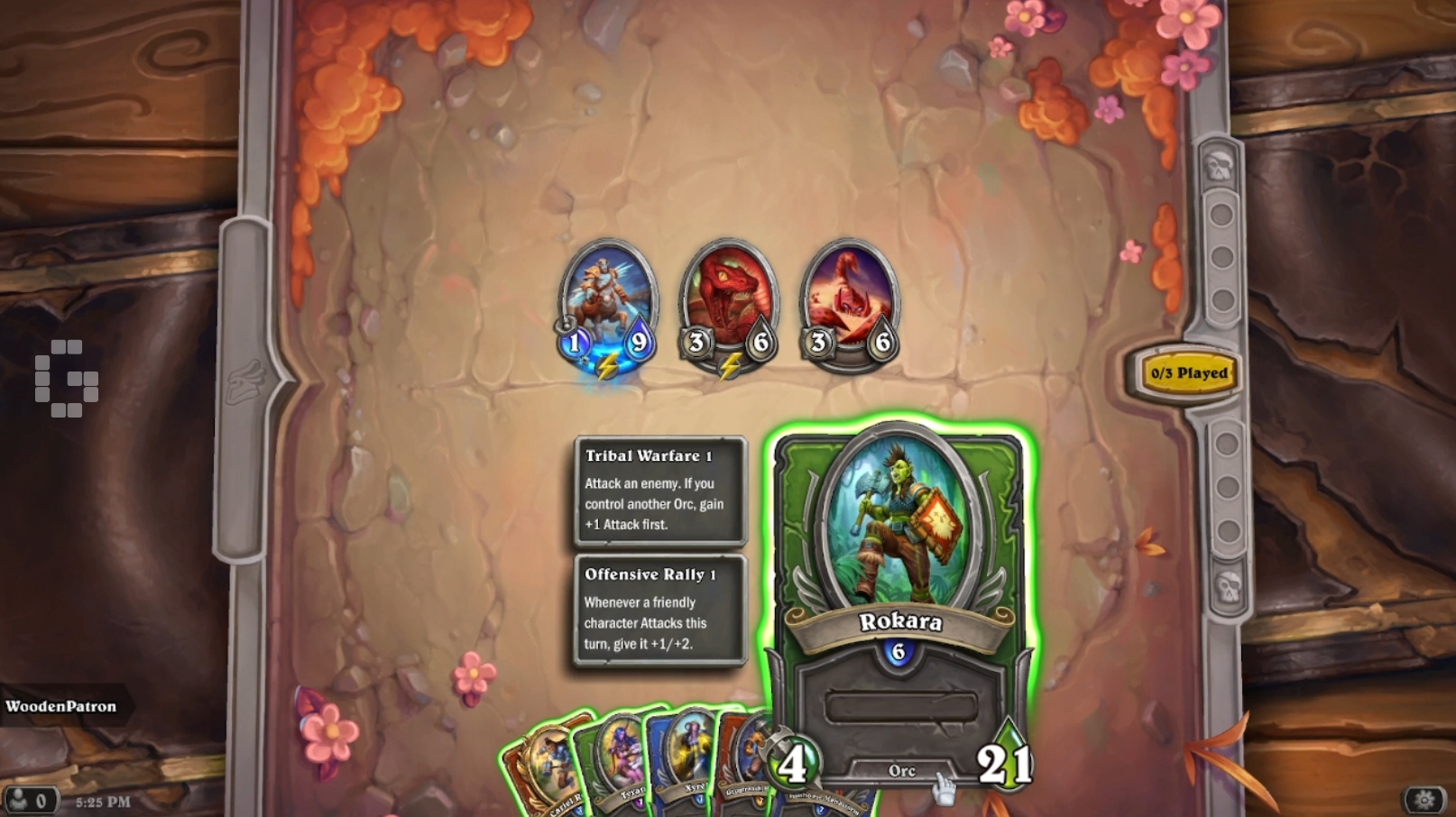 They don't look too different from one another, a far cry from the staggering variety the standard mode has. I suppose the size plays a factor.
On the left, you can check some of the history of moves made. The right will be where you can see the other party's remaining units on the bench, both number and colours. This is more relevant in PVP, where everyone would be bringing a full 6-man team. Of course, you're not going to be able to see who the units are.
As there's use of a weakness triangle in this mode, you'll get this glowing, cracking effect if the unit you've selected is more effective against the opponent's. As for skills in the Ability Tray, you'll see their Speed stat and / or cooldown where relevant. This will be elaborated further in the gameplay section. Other visual cues include a subtle golden sparkle over any skill affected by equipment, numbers indicating a merc's level, and the sort. The cards' ATK and HP values of each of the three types have different bauble designs as well, so you're less dependent on actual colour recognition.
GAMEPLAY
The core gameplay is really simple: put together a ragtag team of mercs, to a maximum of 6, made up of 3 types: Protector, Fighter, Caster aka Red, Green, Blue. The weakness triangle goes Red > Green > Blue > Red, with refreshers available in both the Bounty screen and the collection screen. Characters take double damage from whichever type they're weak to, with summoned units usually appearing as neutral (grey). A board can only hold 6 units at a time including summons, so you can't try to flood the board. Any survivors of a battle will return to full health for the next bout. I've tried to deploy only 1 or 2 mercs – 3 is the maximum on the frontline – and the game always drops one more unit on the board if I have brought a party of 6. I'm not sure if this unit is randomly selected.
Simply hold down a merc's card and drag them over to the board to place them. Do be warned that once you place down the third merc, the rest will be automatically shuffled into the bench, so don't misclick!
Each merc has their array of skills, with cooldowns or speed where applicable. I haven't seen a 0 cost skill, so a Speed value begins from 1 to 10+. A 1 Speed ability will act first. If you have multiple characters with the same Speed, the one you queued first will act first. If you and an opponent have the same speed, it will be a coin flip to decide who goes first. You can always choose to end your turn early if needed.
All characters will gain EXP so long as they're on the team – dead or alive, benched or not. Failing a bounty still gets you a consolation prize, though of course you'd love to win for the most rewards. Rare mercs need 100 coins to craft, followed by 300 for Epic, and 500 for Legendary. Both skills and equipment upgrades also require coins, gradually increasing in cost. Skills cap out at level 5, while equipment is at level 4. Unlocking equipment requires completion of Tasks, or level thresholds.
The hub area is not too complicated, with the most pertinent buildings likely being the Campfire and the Travel Point. You'd like to upgrade the Campfire as fast as you can to "get more visitors" hanging out, which means more Tasks to complete. There's a level of time-gating to this, as it will note you can get a new visitor "tomorrow". These Tasks can be found during your Bounty runs, which is, as you might expect, random, from a selection of mercs you own.
Bounties come in Normal or Heroic flavours, Heroic being the more challenging runs. There'll be branching paths for you to go on, for either a fight, maybe a buff. Should you come across buffs, these are not revealed until you choose to accept it. You might also come across Elite battles for more difficult mid-way fights. There's a healthy need for luck due to the random nature of the mode, so you could end up getting multiple upgrades for one merc, and none for another. From what I can tell, the enemy line-up looks fixed, so route planning could be easy, with the deciding factor being the treasures along the way.
When it comes to PVP, you can either fight another person, or a generated AI opponent. You can opt to grab some daily win chests and leave, or try to rank for the monthly seasons for more goods. At this point, I can hardly decide if buying merc packs with gold would be worth it, though I can see there's a decent amount of grind ahead.
VERDICT
Do I find it fun? Absolutely. As a self-proclaimed fan of the roguelite / roguelike genres, this is one completely up my alley. I have found myself just casually spending over an hour completing bounties…
I will readily acknowledge the grind is very obvious, as the coins you obtain are random. Bounties have a higher chance to drop certain coins, but they don't exclusively drop the listed mercs. Getting skills to level 3 should be a decent baseline for most people, as the devs have said that's where the biggest power spikes lie. You're not going to be immediately accessing the equipment for further upgrades, which itself will be another cost.
The Tasks encourage you to try out characters you've yet to use, getting you to discover some synergies for yourself. I'm sure there'll be a list of mercs which would end up on some high priority list, which once again, can prove to be a difficult task when the quantity of coins obtained are random.
You can still lose to the AI if you try out the PVP, so it's not an easy roll-over there. I completely understand if you see the grind as "too much", something that's less of an issue for me due to how much I'm already pre-dispositioned to like this mode. I see the launch version as a very solid addition to Hearthstone, so it's up to you to decide how much time you wish to invest here.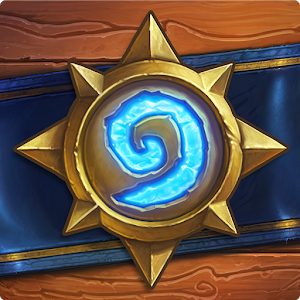 Hearthstone
Android, iOS, Microsoft Windows
The hit digital collectible card game from Blizzard Entertainment! All the colourful characters from the Warcraft universe show off their prowess in card form!