The resident Arknights connoisseur is here to flex totally unrelated tower defense knowledge in this apparent guide to Genshin Impact's latest seasonal addition in the Theater Mechanicus! Here's a rundown of the whole she-bang.
UNLOCKING THEATER MECHANICUS
You'll first have to complete Xiao's Character Quest, Alatus Chapter: Act 1 – Butterfly's Dream.
Next, you'll need to complete the chain of quests starting from Verr Goldet in Lantern Rite: Part 1 – The Origin of the Lanterns.
You'll then finally be free to do the rest of the Lantern Rite quests, and most importantly, unlock the Theater Mechanicus. You'll be given a short trial stage to get used to the whole building thing. The trial is free, and you'll have access to the currently available stages until the end of the Lantern Rite as long as you have a Xiao Lantern.
THE MECHANICI IN BRIEF
HYDRO: Circular AOE attack
Lv. 3: Larger AOE
Lv. 5: Creates bubbles
PYRO: Lobs a projectile attack
Lv. 3: Larger AOE on impact
Lv. 5: Pyro fields
CYRO: Fires a single bullet
Lv. 3: Slows enemy movement speed
Lv. 5: Bullets deal AOE damage
ELECTRO: Zaps enemies in its range
Lv. 3: Attacks 3 targets at a time
Lv. 5: Periodic lightning strike
RECOVERY: Provides bonus Veneficus Points for enemies killed in its range
Lv. 3: Larger AOE
Lv. 5: Larger bonus Points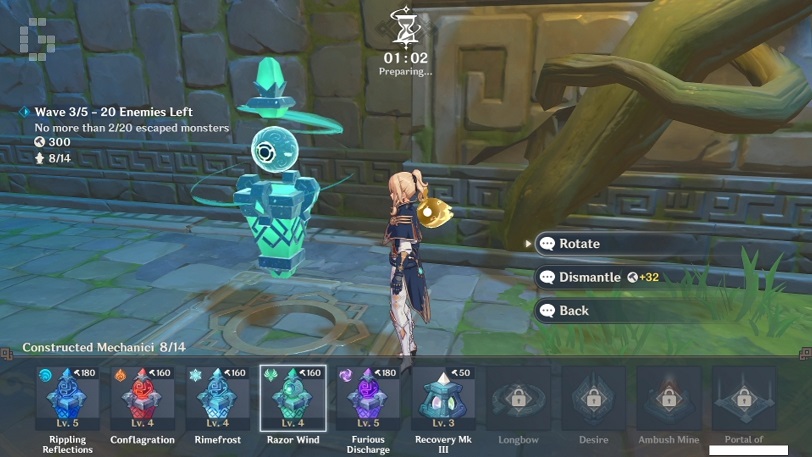 ANEMO: Fires in a straight line depending on rotation (interact with it until you see the opening)
Lv. 3: More knockback
Lv. 5: Pulls in enemies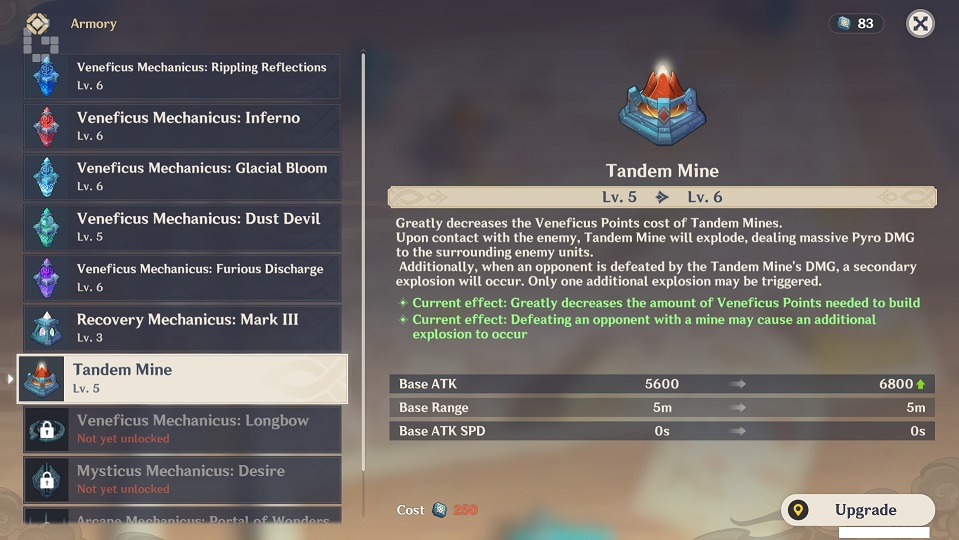 AMBUSH MINE: A one-time use mine that explodes and deals Pyro damage to enemy units. Placing them in a middle slot will oftentimes NOT be triggered
Lv. 3: Decreases Points required to build
Lv. 5: Triggers additional explosion

LONGBOW: Physical damage from range. Shots WILL hit obstacles, requires clear line of sight.
Lv. 3: More effective against Geo
Lv. 5: Shattering bolts gain homing ability
MYSTICUS: Buffs damage of other Mechanici. Cannot stack
Lv. 2: Increases AOE
Lv. 3: Can now stack with others of its type
PORTAL: Just for mobility purposes. It's pretty unnecessary.
WHAT TO UPGRADE FIRST?
I would definitely argue for the following order to start:
For now, the jury's still out on how useful the Recovery Mechanicus is, which will probably come into play for the later stages. The Anemo Mechanicus doesn't push larger enemies, so I'll also judge that for later. As for the order:
Electro + Hydro for

Electro-Charged

reactions for the early waves, as they'll slow down and continuously deal damage as they move
Add on the Pyro Mechanici for 

Overload

or 

Vaporize

to deal massive damage in an AOE. 

Overload

also pushes back smaller enemies
Cyro for last to pick off stragglers and trigger any other elemental reaction
WHO TO BRING?
Crowd-control where you can on your Elemental Skill. You won't be dealing any damage, but it does help when you can stop enemies however briefly to let your Mechanici attack.
Otherwise, you can bring Catalyst users who can apply and cause elemental reactions without the use of a skill, or characters with low cooldown Elemental Skills.
Sucrose, Jean and Venti are all helpful with their crowd control Elemental Skills. Jean especially may find herself a very important job when it comes to this mode:
EXAMPLE LAYOUTS
Here are some guide layouts I used in my time for my Theater Mechanicus shenanigans. You can of course find your own strategies, especially once you've upgraded your Mechanici! Maps are assigned at random (e.g. me constantly getting the Adepti map on Difficulty 3) so don't feel too bad about getting any leaks. Build your Mechanici close to their spawn so that they actually have a shot (hah) at attacking the monsters.
THE WIND FROM THE REEDS TOPPLES WELL-FED TREES
Starting off with the Hydro Mechanici in the middle slot, and one Electro on either side
Place the next Electro Mechanici
Place the Pyro Mechanici where possible
Complete with Cyro in case of any leaks
The stage mechanism is not used for this stage.
STOP TO REST YOUR WEARY HEAD, PAINT THE BRIDGE WHERE ADEPTI TREAD
Start with the Electro and Hydro Mechanici
Add the Pyro Mechanici
Gradually build outwards with alternating elements
The stage mechanism is not used for this stage.
IN PAIRS, THE SWALLOWS COME HOME TO ROOST
This layout can be tricky in single player as you might not be able to sprint fast enough to get to either lane, which is where the crowd control comes in handy. I'd recommend the usual set up of Hydro + Electro and Cyro where possible, while getting Pyro reactions for the sweet DPS.
THREE STARS TUSSLE FOR THE SPOTLIGHT
This starting formation should serve you well, until the third portal opens up at Wave 3. It should spew out elemental slime, so you'll have to adjust your Mechanici accordingly, or use the Ambush Mines to destroy the larger slimes' armour.
BEAUTY WITHERS HITHER WHILE TRUTH DITHERS HITHER
I started out with the usual Hydro + Cyro + Electro formation, then planted two Longbow because…
The second portal will open from this direction. You can probably also concentrate all firepower near the exit portals instead.
RHYTHMIC ECHOES IN THE PAVILLION
This map may look scary at first, but it's actually one of the easiest. There are two exit portals and three spawners, and all of them can be easily spawn-camped. Place the usual Hydro + Electro/Cyro combination and then build up as you go. Hopefully the tower AI won't screw you over a perfect clear. For this map, I will highly recommend getting the +1 Mechanici Mystic Art if it appears.
EMPTY HALLS BEHIND LOCKED DOORS
There's only one exit, with enemies streaming in from four directions. You can set up the Hydro + Cyro + Electro combo in the forward slots, then mines at the back to cover for early leaks.
The Special Challenge difficulty is a 10-wave slog so I wouldn't recommend running that besides for, well, a challenge.
MYSTIC ARTS: YAY OR NAY?
It's a matter of luck if you can get the Mystic Arts you want, so this Theater Mechanicus guide will not be giving a strict recommendation of the ones to choose. The Fearless ones are for bonus Veneficus Sigils which you can pick if you are confident enough, but now that I've played more of the mode, it's hardly necessary. I do especially like the +1 Mechanici Limit, which is universally handy.
You can only hold a set maximum of Veneficus Sigils anyway, so you don't need to keep picking Fearless Mystic Arts for the bonuses.
---
With that, hopefully this little Theater Mechanicus guide will help you in your tower defense endeavours. Good luck, have fun!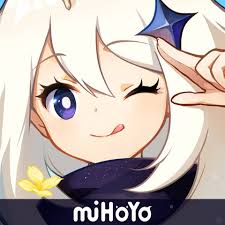 Genshin Impact
Android, iOS, PlayStation 4
Step into Teyvat, a vast world teeming with life and flowing with elemental energy. You and your sibling arrived here from another world. Separated by an unknown god, stripped of your powers, and cast into a deep slumber, you now awake to a world very different from when you first arrived.