With almost 80 different Digimon available in the Vital Bracelet, we decided to guide aspiring tamers on how to get the Digimon they want.
Those who are keen to know how the product works, feel free to read our first impressions. You can also refer to our full review of the Vital Bracelet.
This Digimon Vital Bracelet guide is only possible thanks to our friends at Impulse Gaming. Click on the hyperlink to see the Vital Bracelets, Dim cards and other related products they are selling online.
---
Your bracelet will alert you with ringing and this heart line graph when your Digimon wants to Digivolve.
How to Digivolve
You slotted in your Dim card. A baby Digimon hatched out of an egg. Congratulations! Now what?
First things first, do not feel frustrated that most of the menu options are not accessible. A newly created Digimon can do nothing but wait until it can Digivolve. All Digimon (except Megas) will automatically attempt to Digivolve if it meets the minimum requirements to do so.
For Baby/Fresh and In-Training Digimon, the only requirement to Digivolve is to wait for a certain number of hours to pass. Rookie, Champion and Ultimate Digimon have additional requirements on top of the time requirement.
Note that the Digivolution timer does not count down if:
the Digimon is sleeping
the Digimon is in the Vital Lab companion app
the Vital Bracelet is turned off
Here is how long it takes to get to a specific stage of Digivolution.
| | |
| --- | --- |
| Stage | Duration |
| In-Training | 1 hour |
| Rookie | 3 hours |
| Champion | 16 hours |
| Ultimate | 24 hours |
| Mega | 24 hours |
For Rookie, Champion and Ultimate Digimon, there are additional factors that determine what Digimon they will Digivolve to. These are:
Vital Points
Trophies
Wins
Win Rate %
Assuming a certain amount of time has passed and you met the specific requirements for a particular Digivolution, your Vital Bracelet start to ring and its screen will show a heart rate graph with your Digimon below it. Pressing the lower button on your bracelet will trigger the Digivolution. To cancel the Digivolution, hold the lower button on your bracelet.
Note that a select few Digimon have an added requirement of clearing Adv stage 15. These Digimon are:
Shroudmon
Imperialdramon Fighter Mode
DoneDevimon
Nidhoggmon
To see all the requirements for currently available Digimon and their Digivolution branches, you may refer to the following chart by humulos.
Right below the displayed time, the icon of the human indicates Vital Points. Below that, the footsteps icon represents the number of steps taken.
Farming Vital Points, Trophies and Wins
You can earn Vital Points just by wearing the Vital Bracelet. The rate at which you gain Vital Points depends on your steps and heart rate. However, if the bracelet is on and you are not wearing it, Vital Points will decrease over time, so beware.
The quicker way to earn Vital Points is to win battles. While you can trigger battles by reaching a set number of steps during Adv missions, the faster way is to tap your Vital Bracelet on a device with NFC (near field communication) capabilities such as vending machines, Nintendo Switch and many recent smartphones. You can even use the same smartphone that is linked to your bracelet via the app to trigger battles.
Ensure your device's NFC is on. Move the Vital Bracelet close towards the NFC-capable device. The moment you do so, a random encounter will take place, no steps required whatsoever. However, do be careful not to scratch your screen in the process.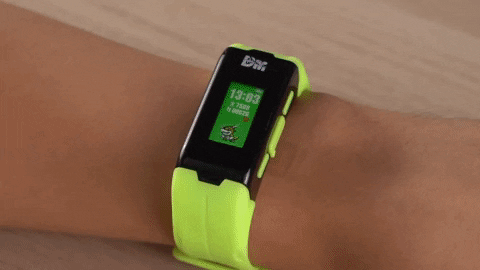 This is how you trigger fights at a whim.
Note that losing battles will reduce Vital Points. Thankfully, you can always run away from fights by holding the lower button when the image of the enemy Digimon appears on your screen. If you feel that your opponent is too strong, do not hesitate to run away.
If you do not mind playing a little dirty, you can switch off the Vital Bracelet mid-fight if you feel like your Digimon will lose. As long as the "Lose" screen has not popped up, the results of the battle will not be recorded. Your number of steps and your progress in missions will also reset, so you may want to complete your normal or special missions first before farming for Vital Points and wins.
Trying to attempt more than 4 hard missions in a day results in the above screen.
Trophies are a lot easier to obtain. You can earn them mainly through hard missions. Completing a hard mission rewards tamers with one trophy. However, if you performed extremely well, you can sometimes earn 2. Each day, you can do 4 hard missions, potentially giving you a maximum of 8 trophies.
However, if you are keen on getting even more trophies, then you can do so by completing SP missions. You will get one SP mission a day, but you can purchase more through the in-app shop. Each SP mission gives 3 trophies upon completion, on top of Tamer Rank EXP. Do beware of the one-hour time limit, especially for SP missions like achieving 6000 steps.
Even though it asks if you are ready, you cannot actually back out once you see this screen.
Beating Adv stages
As mentioned in the Digivolution section of this Vital Bracelet guide, certain Digimon require Adv stage 15 to be completed as a requirement.
Unlike normal random encounters trigger from NFC devices, Adv stages are a bit more troublesome to complete. This is due to the required number of steps needed to trigger the fight in the first place. While you can turn off the bracelet if things go awry to avoid losing, you will still need to log in the required number of steps.
Usually, you will be facing Digimon of a higher Digivolution stage than your current Digimon. In terms of stats, your Digimon will be outclassed. Thus, how do you maximise your chances of winning?
Victory results in more Vital Points and the ring getting filled with yellow.
The secret behind defeating stronger Digimon lies in Vital Points. Each Digimon has a maximum cap of Vital Points they can earn, with Digimon of higher stages having a bigger cap. The closer your Vital Points are towards the cap, the better your Digimon will perform in fights.
To see how close you are to the cap, you can press the top button on the Vital Bracelet once, followed by the lower button. If the ring is empty, you will likely lose to Digimon of a higher Digivolution stage. Likewise, if the ring is completely filled, you have the best chance of beating a stronger Digimon.
Note that ultimately, even with a fully filled ring, you might still lose fights. However, your best odds in beating difficult Adv stages is to fully max out on your Vital Points before starting the Adv mission.

If you proceed with the Digivolution, the bracelet greets you with this cool screen.
Jogress/DNA Digivolution
Jogress or DNA Digivolution is the act of fusing two Digimon into one of a higher stage. For the Digimon Vital Bracelet, two compatible Digimon can DNA Digivolve into a new higher-stage Digimon, completely ignoring the requirements such as Vital Points of its like.
In addition, DNA Digivolving also allows Digimon to Digivolve into a Digimon outside of its fixed Digivolution route. For example, DNA Digivolving an Exermon from the Impulse City Dim card with Algomon (adult) from the Gabumon Dim card may result in Valvemon, A Digimon that is outside the standard Digivolution path for both Digimon. However, do note that the result may not be what you like.
To DNA Digivolve, you must have two Digimon in your Vital Bracelet, one stored in your bracelet's backup while another is active in the bracelet. If they are compatible, after a few hours, the Vital Bracelet will ring and will inform you of the impending DNA Digivolution. Like standard Digivolutions, you can hold the lower button of the bracelet to cancel the DNA Digivolution.
Earlier in this Vital Bracelet guide, it is stated that Mega-level Digimon cannot Digivolve. However, a select few can DNA Digivolve. Currently, there are only two Digimon that are exclusively obtained through DNA Digivolution between two Mega Digimon—Omegamon and Omegamon Zwart. For the former, you will need WarGreymon and MetalGarurumon in your bracelet. For the latter, BlackWarGreymon and BlackMetalGarurumon are required.
Exercise enough, and your Digimon will not be the only one winning.
Closing
Whether you decide to game the system just to get the Digimon you want or just want to exercise and raise your Digimon fair and square, it is ultimately your choice and your own Vital Bracelet experience.
If this guide inspired you to get a Vital Bracelet or more Dim cards to raise, collect or DNA Digivolve new Digimon, you can pre-order these items from Impulse Gaming if you are based in Malaysia.
Otherwise, stay tuned to future guides and articles on the Vital Bracelet from us. In the meantime, feel free to check out:
---
Check This Out Next
---