Nothing gets you in the mood for watching two giant monsters duke it out like a whole host of mobile games featuring Godzilla, courtesy of Toho Games. The publisher announced multiple mobile games all featuring everyone's favorite atomic reptile.
The Godzilla mobile games consist of three titles, Godzilla Run, Godzilla Destruction and Godzilla Battle Line.  While Destruction and Battle Line won't be available until April, Run is set to release worldwide today. At the time of writing, however, it has not appeared on the local App Store.
Here's the summary of the three games, provided by the publisher:
Run, Godzilla! (Release Date: March 25th) A bizarre casual game where you raise Godzilla.
This is an idle game in which Godzilla and Kaiju become stronger while you're away. In the village, the sun rises and sets day after day. What you must remember is that Godzilla, Kaiju, and the villagers have only a limited amount of time. One day, they will say goodbye. Raise Godzilla and Kaiju well, so they are ready to say goodbye when that time comes. Don't worry! You can look back on the Godzilla you've raised even after they're gone. Pass on their abilities to the next generation and raise even stronger Godzilla and Kaiju!
Godzilla Destruction (Release Date: April)
Become Godzilla and crush cities underfoot! Step inside the monstrous body of the legendary Godzilla and terrorize all corners of the world! Destroy cities across the globe in this exciting and easy to play game!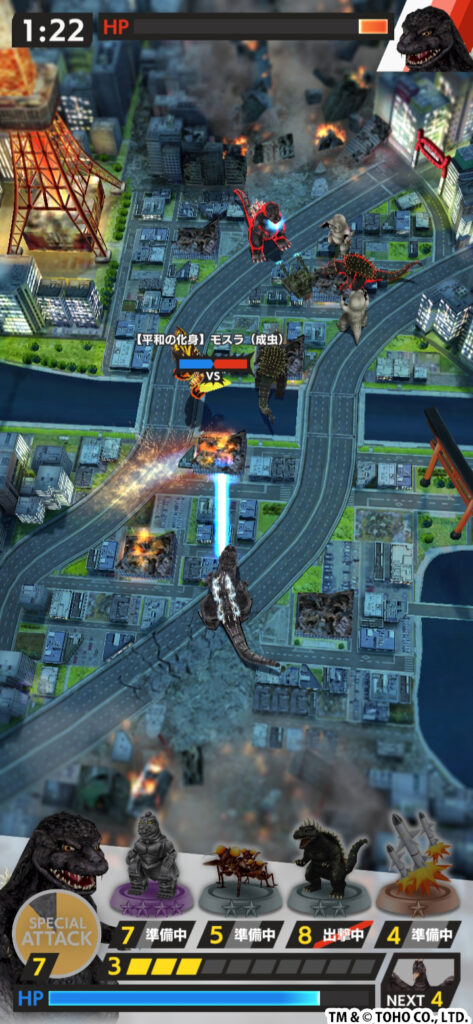 Godzilla Battle Line (Release Date: April)
Take on the world! 3-minute monster all-star battles! All the popular monsters and weapons from the Godzilla series are ready for battle! Build your own team of the strongest monsters and fight against players from all over the world in real time! Get ready for fun but intense 3-minute battles!
Godzilla has gotten a real pop-culture push, with the recently announced Godzilla Singular Point anime as well as the upcoming Godzilla Vs Kong movie releasing soon.
---
Check This Out Next
---