Garmin has released their Instinct 2 and 2 Solar models of Smart Watches with a special treasure for anime fans: three versions based on characters from the hit shounen manga One Piece. There's a Yellow watch for Luffy, Green for Zorro, and Pink for Chopper.
At the price point of RM2,299, this is a piece of merch aimed mainly at the older fans and for said older fans, this is certainly a good sports watch. Not only does it pay a respectable amount of homage to the Straw Hats but it's also a comfortable watch to wear and use as you sail the high seas of everyday life.
Opening The Treasure
While most of our rowdy Straw Hats forgo the need for a watch, Garmin has gone all out to pay tribute to the One Piece universe. Each watch comes in a pristine box consisting of a colorful outer level holding a literal treasure chest within. Breaking it open will greet you with the Garmin Instinct 2 Solar securely cushioned alongside a number of accessories:
charging cable

Instructions

Garmin brand stickers

exclusive authorized Q version of the character stand

Exclusive character stickers

exclusive watch frame
It's clear that there was far more effort in creating these watches beyond slapping Luffy's face on the box for marquee value. The treasure chest box is a lovely piece of fan service that gives the watch an authentic pirate feel. Garmin has made something truly premium for One Piece fans.
The Models
Now let's take a look at what each of the Garmin Instinct 2 Solar Watches has to offer.
Luffy
The Luffy model is yellow and red in color, with the iconic Straw Hat Pirates flag logo on the watch. The yellow inner circle is based on his yellow belt, while the red buttons on both sides represent his red clothes. The double clasp on the watch is likewise red with a print of the straw hat jolly roger. 
Zoro
The Zorro watch color scheme is a combination of green and black inspired by the swordsman's hair and clothes. This is complemented by the strap which is printed with what looks like numerous katana slashes.
Chopper
While the Luffy and Zorro models were Garmin Instinct 2 Solar watches, the Chopper model is a Garmin Instinct 2S.
This means it's a smaller and lightweight model more suited for those with smaller wrists. The main color of the watch is pink and white, lining up with the good doctor's hat. The strap is designed with pink cherry blossoms that can also look like reindeer hooves. The watch features blue buttons that are also based on Chopper's hat. 
Each watch also comes with a stand, character stands, and stickers. This means that not only do you have a safe space to store the watch but you can even make your own One Piece diorama out of it. If you've got a Chopper character shrine lying around, this would make quite the headpiece.
Design
Now that we've looked at the differences between the three watches, let's take a closer look at their interface which is more or less the same between each model.
The most notable aspect of the watch is the exclusive One Piece UI interface, featuring the Straw Hat Flag. Even in black and white it stands out from a distance making the branding easily identifiable like a ship on the distant sea.
The case is made of a fiber-reinforced polymer material and the screen is made with gorilla glass. This means that the watch can absorb heavy impacts, something that's fairly important for a sports watch that is likely to get bashed about while out on a run. 
The watch is also fairly light and easy to wear, weighing in at only 53 kg. The strap is made of "skin-friendly" silicone and the optical heart rate sensor feels firm without pressing into your arm and leaving a mark. When combined with a very adjustable strap size and the watch does a good job of accommodating its wearer whether their arm is big or small. You can casually wear the watch all day without your arm getting too itchy or sweaty.
The Many Modes
The Garmin Instinct 2 and 2S Solar is primarily a sports watch and this is an area where the device excels. It is equipped with 30 different modes for a number of different kinds of sports. These include both outdoor sports like jogging and hiking, as well as indoor activities like yoga or gym fitness.
It features a number of ways to measure your health including heart rate, steps, and calories burned. The kind of info I probably need to have strapped to my wrist to get me to exercise.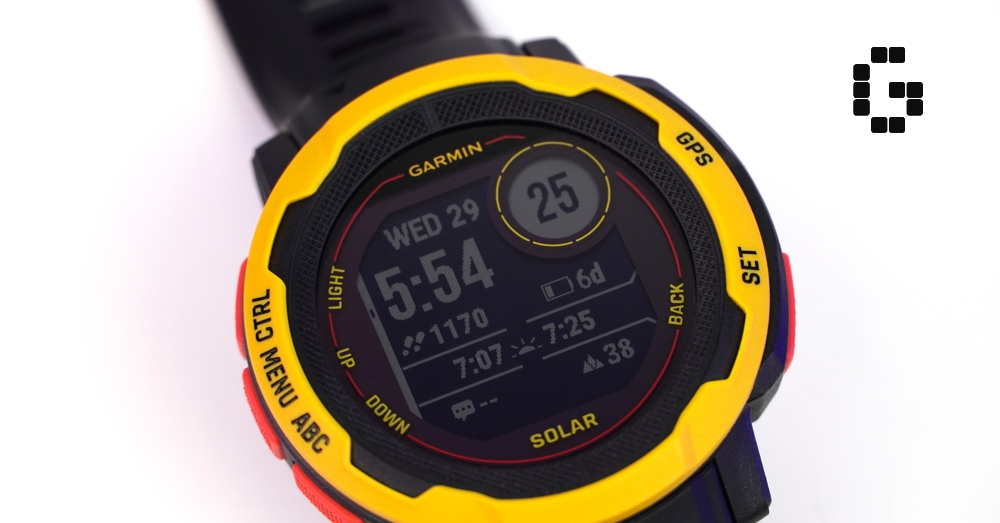 Another interesting feature of the Instinct is that it can use detect the outdoor environment. It can show the sunrise and sunset times and includes ABC sensors, an Altimeter, Barometer, and Compass which can be helpful if you're going trekking, hiking, or sailing The Grand Line and need to check where you are.
The watches are equipped with a GPS but this requires mobile reception meaning it's not quite as helpful. If you want to make calls or search the net, it's probably best to keep your phone on you as well.
Battery Life
Thanks to the watch's monochrome screen and physical buttons, the battery life is nice and long. Even at 15 percent, the watch can still last for a good few days and it takes around three hours to fully charge the watch from 0 to 100 percent.
In addition, the Instinct 2 Solar has a solar panel on the surface of the watch, which can further increase its battery life. When testing the solar charger, leaving the device under the sun for a few minutes did manage to increase the battery by 1 percent. It's not ideal but it's not meant to be a proper charger either as much as it is a supplement so I wouldn't say it's too big of an issue.
Mobile Connection
You can connect your Instinct 2 Solar to your phone using its specialized app Garmin Connect. Using the phone app allows you to check your daily steps, calories, heart rate, and more. Additionally, notifications you receive on your phone can also appear on the watch, however, considering the amount of battery this consumes, I wouldn't recommend this. 
It's also possible to connect your Visa or Mastercard and make payments using the watch. It's very easy to set up through the app and be very convenient if you want to grab a bite to eat after a jog and not lug a heavy wallet around. 
Closing Thoughts
The crossover between The Garmin Instinct 2 and 2S Solar and One Piece is the brand's collaboration with a popular anime and reaches out to the anime community. With that in mind, I think these brightly colored treasures will make any active One Piece fan happy.
The designs are eye-catching and take a lot of inspiration from the well-loved characters they're based on, from the color schemes right down to the very box they arrive in. Any One Piece fan could see these watches and instantly make out who they are based on, very much acting as a love letter to the long-running series.
As sports watch on their own, they are also very versatile and adaptable to a number of different outdoor and indoor activities. They are physically comfortable and come with a number of modes and measurements to ensure you remain in shipshape for the challenges ahead. You can even use it to pay for dinner.
If you're a One Piece fan who also desires to be as strong and flexible as Luffy, these should definitely be on your radar.