After much ado, EXOS HEROES Global is finally available on iOS and Android, ready for download in 149 countries. Published by LINE Games and developed by Oozoo, the hero collecting mobile RPG has launched after gathering 1.5 million pre-registrations from all over the world.
The game managed to achieve No. 5 in top grossing game apps soon after its release on the Korean Google Play store, it is also now available on iOS and Android in multiple languages including English, Korean, Japanese, Chinsese (Traditional/Simplified) and Thai.
Featuring stunning 3D graphics and intricate story telling, Exos Heroes opens up an engaging mobile gaming experience for fans of the RPG genre to global audiences now that it is available officially in other languages. With a huge roster of more than 200 Heroes clad in beautiful Fatecores (costumes) with content ranging from scenario quests, PvP, monster raids, guild battles, daily dungeons and even mini games, there's much to do!
Collect, strengthen and build your team of Heroes in this unique approach to turn-based combat, with Guardian Stone and Break systems as an additional layer to strategy. To celebrate the global release, all players will receive 70,000 Gold, 300 Xes and 17 Golden Clock, equal to 17 Draws, as well as a Grand Open exclusive Fatecore for the game's main character Iris.
That's not forgetting the Grand Open events including a week-long Check-In Event, Level Up Event, and Exos Festa, all of which will reward players daily and as they complete various missions.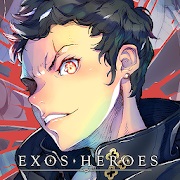 EXOS HEROES
Android, iOS
The grand adventure to search for 'Exestruk', the missing sword of the emperor, and the curse of the ancient dragon! Experience the adventure of your lifetime. Experience the unique visualism beyond your imagination. Experience the unique, extraordinary RPG!