Digimon is holding a new event called Digimon Con. This is a brand new online event for Digimon fans that will see new content featuring toys, games, trading cards, live performances, and more.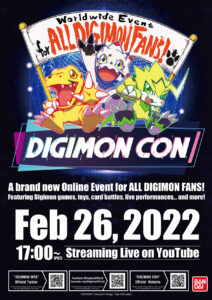 The event will take place on the 26th of February 2022 at 17:00 PST (9:00 MYT). It will be streaming live from the Namco Bandai youtube channel.
Being a live event on Youtube, Digimon Con will be free of charge to watch. The event will have both live and prerecorded segments.
According to the official website here is roughly what is scheduled to be shown:
Digimon anime special planning segment
Digimon series game info segment
Digimon Vital Bracelet Series new info and special app-related planning segment
Announcement of the initial selection results of the Digimon Illustration Competition
Special live performance by singer Ayumi Miyazaki (singer of Brave Heart)
And more…
It should be noted that there will be both an English and Japanese version of the event, however, Bandai Namco has also stated that the "one portion" of the event will differ slightly between the two versions.
Now, this is personal speculation with no evidence of it being accurate but I think there's a good chance that we could finally get some news on Digimon Survive at this event.
With all the rating boards appearances of the game including one from the ESRB, it seems that they are setting the game up to be released next year and a big Digimon-centric event like this would be a good place to show it off to fans. The event is set to have a "game info segment" as well. I have no evidence this will be the case but I think it is a strong possibility.
Digimon Con will go live on the 26th of February 2022.