As a live service, Diablo Immortal has a large variety of systems and modes to accommodate its faction-based PvP content. Trying to put together cohesive and engaging PvP mechanics for a game that will be host to potentially millions of players is no easy task.
Earlier, we met with Scott Shicoff, Principle Game Designer and Kristopher Zierhut, Senior System Designer of Diablo Immortal as they share their thoughts on designing and balancing the PvP content of the game. In particular, the Cycle of Strife, Diablo Immortal's unique cyclical PvP system.
Getting started on the Cycle of Strife

Q: Regarding the lore of Cycle of Strife, was it a matter of crafting the story first before figuring out the game system or rules that would match it or vice versa?
Scott: I think some of the core system ideas probably came first in this case, but the lore started working alongside it pretty quickly. I think it started with the systems, but the lore started working hand in hand and then adjustments were made to both sides to make the whole thing feel cohesive.
Kristopher: The Cycle of Strife is one of the earliest ideas we had for what the endgame would include in Diablo Immortal. Once we knew we wanted to have this really unique endgame system that we have never seen something exactly like this in another game, then it was, "How could we make that system work within the world of Diablo Immortal with the lore that explains it and it fits into what it means to be a hero in Sanctuary." It was game system first and then lore, but they were very close together and they have been interwoven the entire time in development.
Scott: Yeah, I want to say that there is probably lore that is changed because of systems and I think that there are systems that have been created because of the lore.
Kristopher: That is absolutely correct. 
Q: Despite being an endgame system, will players be able to access Cycle of Strife or any PvP game modes during the middle of the story?
Scott: Other than the Cycle of Strife, we have two other primary ways where players can participate in PvP. The ancient arena in Bilefen and Battleground, both of which you can access level 40 onwards. Considering that the max level in closed alpha is 55 and that the max level at launch will be 60, we are actually giving players the chance to start engaging with the Cycle of Strife a little beyond midway through the leveling curve. Because we have PvE elements within the Shadow and Immortals, there are things players can do to participate and contribute to the factions even if they are not max level yet or they feel like they are not ready to fight against max level opponents. 
Q: Will players who prefer PvE miss out on the full Diablo Immortal experience if they skip PvP?
Scott: It is a very large game. There are a lot of different things you can do and we don't think that there is any right way to play. We think it is important for the player to do the things they like. There is a reason why we made the Cycle of Strife optional. We think that it should be fun for players to participate in, but we don't want it to feel required. It is going to depend on the type of player and what they enjoy doing. Keep in mind since the Cycle of Strife, you are not making a permanent choice to participate or not participate. You may choose to play during one cycle as a Shadow and then the next cycle you may want to be an Adventurer and that is perfectly fine.
Kristopher: Also, the gear for your character can come from anywhere. It is not like there is a special gear that you can only get from being a Shadow or Immortal. The legendary items you are collecting can drop anywhere in the game and the material and the gold you need to upgrade them can come from anywhere in the game. The experience you need to raise your Paragon level can come from anywhere in the game. If you choose to be completely a PvE player, all the paths of progression will depend on you.  
Q: Does the cycle of strife put some distance between casual and hardcore players? It seems like this feature will be more advantageous for hardcore players as casual players would not have a chance to experience the Cycle of Strife.
Scott: The Cycle of Strife is made up of a lot of different pieces, there are some elements that are going to lend themselves more to the hardcore player and some things where the less hardcore will still completely be able to contribute and advance their faction. Within the Shadows, if you are doing Contracts and you are growing your Path of Blood, during the week, you are making your Dark House stronger—Dark house being a sub-faction or a sub-mini guild within the Shadows. You are making your friends stronger. You are making your group stronger even if you are not a hardcore player who has found their favourite legendaries or has the highest Paragon level.
Even within the Immortals that is sort of the high-end group on the server, they tend to be more hardcore players. Even within the Immortals, players who are available to participate more often are going to be very valuable members, even if they are not the most hardcore on the server. I think there are a lot of opportunities for more casual and more hardcore (players) because this is really a system that cares about participation and engagement.
Kristopher: It is more about, "Did you do all the things you could do each day to help your faction get stronger?" and that doesn't take an enormous amount of time. That is like a very measurable quantity of time (sic) that most players who are engaged in the game can accomplish each day. So, you are not holding back your faction because you are a more casual player and any player is going to be able to join the Shadows. One of the neat things that happen during the Cycle of Strife is that as it progresses, the number of people who are allowed to become shadow grows and grows until when it is near the end, any player who wants to can join in and see how the Shadows play out and participate in that overthrow.
Balancing the Competition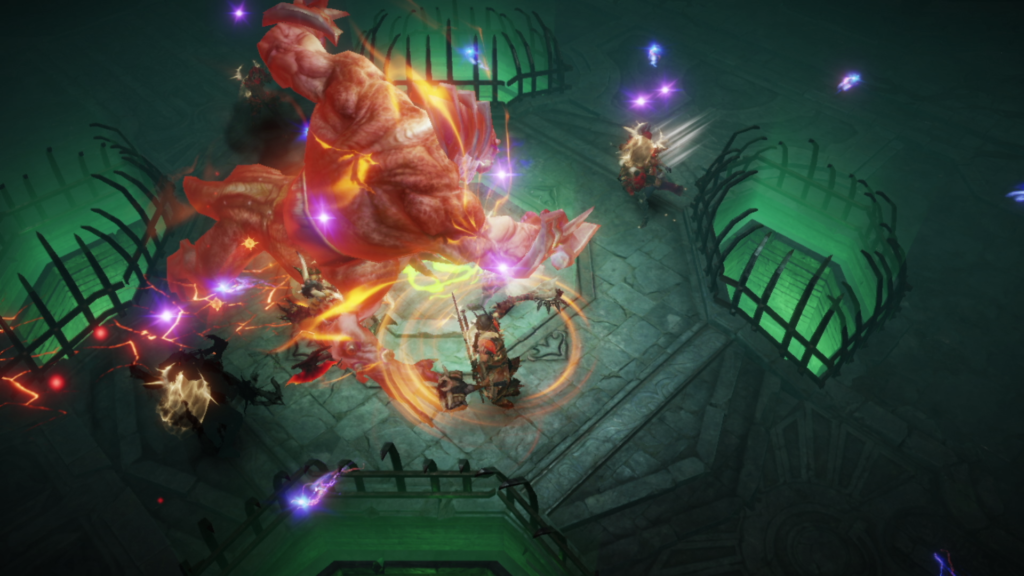 Q: How do you balance all the classes on PvP?
Kristopher: The overriding goal for class balance in PvP is that "every class is viable, but no class is dominant". We want every class to have unique ways that they can affect the battle—cool things that they can do that no other class can do. Thinking about long-term game balance, if a particular ability is way too strong, we will take quick action, but for the most part, we will make minor skill rebalances over time. We don't want to take drastic actions that might be an overreaction to the way things are. We want to make sure that our skills function the same everywhere in the game, so you are not going to have a skill that does one thing against monsters and completely different things against players.
They always work the same everywhere you go, but we can have special global rules for PvP. For example, we might say across the board that all crowd control abilities have a maximum duration of 2 seconds in PvP, whereas they might last longer when you are fighting against monsters. It is also possible that we may find specific legendary items that are too strong and need to be brought down specifically for PvP but we would do that very surgically, one by one. One of the things we are hoping for in the playtests that we are doing right now is seeing where the balance is and where do we need to make adjustments. We will then take that feedback and make those gradual changes to get the game in a better state of balance. It is a never-ending process. We will always be working on it by taking baby steps.
Q: How was the difficulty when it came to balancing the game to provide a fair experience for players?
Kristopher: That is going to be a challenge for the entire lifespan of the game. For any game like this where you have competitive PvP and PvE, you need to constantly be looking at class, skill and item balance and again, as I said before, we are going to make minor rebalancing as needed over the entire lifetime of the game. If something gets way out of hand, it's a problem, we will nip it in the bud immediately but other than that, we will constantly be evaluating the state of things A lot of it is looking at what are the very common builds that people are using. If there is a build that is becoming very dominant, then maybe we need to find ways to bring those builds down. If there are builds people are not using, how can we bring those up? It will be an ongoing process of frequent small changes.
Q: Given the Cycle of Strife pits the best of the Immortals and the Shadows against each other, are the team concerned that the higher echelons of the PvP system are going to be dominated by the same few groups of players and is anything being done to counteract this possibility?
Scott: I can understand where if you have in the Dark House, your 8 strongest players—those are the ones who are going to specifically participate in the Rite of Exile, but just because a Dark House has 8 very strong players, it doesn't mean that they're necessarily going to even be one of the top Dark Houses. It is really about, "Are the people in your Dark House engaged? Are they doing their Contracts? Are they doing all of the things that they can do to get their Dark House in the top 10?" Once you are in the top 10, some of the higher-ups or higher echelons of players might be the ones that you send to battle in the Rite of Exile, but that's one event. Everything else is really about, "Are you playing? Are you participating? Are you doing everything you can to get your Dark House to the top? For the Immortals, are you around when the vault is being raided? Are you helping to defend it? Are you doing your daily goals?" That doesn't require the strongest player for those things.
Kristopher: It's gonna take dozens of players just to do the Rite of Exile on each side. Each side needs 80 Immortals to go into that battle and 10 different houses of 8 Shadows to go into that battle. That's a big group of people. They are not going to be just one big unified bloc of people. There are going to personalities, conflicts, vendettas and aspirations amongst them. They are not going to stay a stable group of people. Over time it will shift, "Where the alliances are? Who is in charge? Who is the strongest right now?" It's unlikely it will ever be stable.
Q: When it comes to player count in the Rite of Exile, does the team see that it could be challenging to balance the game as some people might think that 8v8 could make it go way too chaotic? Is there any chance that the mode will see some changes?
Kristopher: We tried it before with more than 8 players and with more than 8 players, it was indeed too chaotic, so we brought down the number of players to 8 on each side in the battle. What we have seen is that it works pretty well because you have to split up into different objectives. You don't stack all 8 players in the same place, so you typically have groups of three or four players working together at once. We've been focusing on that 4v4 scale of PvP combat and that works pretty well, pretty happy with it. We really don't want to go too much below 4v4 because then individual class balance becomes too important. The particular matchups of particular classes become too important, but in 4v4 scale, it is more about the group effort and individual class design doesn't come as a problem.
The Immortals and Shadows
Q: What are the different kind of members within an immortal faction and their specific buffs or perks?
Scott: I will sort of talk about this in clan or guild terms. Within the Immortals, you have a leader, you have four lieutenants, which together they all make up the officers of this group. You have the elite rank and you have the member rank. By default, when you join the Immortals, unless you are a leader, you are at the member rank which gives you access to most of the things within the Immortals. An event like Kion's Ordeal does require you to be promoted up to elite or higher, so those who become Immortals have to work really hard. They work with the leadership to figure out, "What do I need to do to be promoted to elite?" which would then potentially give them access to Kion's Ordeal.
As far as extra bonuses or buffs or powers that an Immortal leader or the lieutenants might have, the leader and each lieutenant get a unique power once the reign of the Immortals have reached a certain level because you do level up in your reign. Each power has an area effect burst that buffs friendlies, each one is different. I believe the Immortals have an attack speed boost. Each of the other lieutenants' buff is based on the theme of that lieutenant, so we have one lieutenant called the Hand of Iron that's a very defensive one. So their buffs add a defensive bonus. We've got the Shadow Breaker. The Shadow Breaker adds the ability to do better with crits or critical attacks or critical damage. We try to theme the buffs around the different lieutenant for each one. There is Hope's Dawn, which is sort of the healer lieutenant and they have a healing buff that they do. We have the Pathfinder which helps with movement speed and attack speed.
Kristopher: The buffs get better as you level up. As the Immortals' reign gets stronger, all those buffs get stronger as well.
Q: So between the Shadow, the Immortal and the Adventurer, what is different between them besides their objectives? What about the Shadows and the Immortals' features and designations?
Scott: For the guild feature systems—on the Immortal side, they get access to special cosmetics and ways to show off that they have achieved this very lofty position. The Immortal leader gets a statue of themselves that updates every day in Westmarch. The leader and the lieutenants permanently for the life of the server get on the Wall of Honor viewable at Westmarch. If you get to that point, that is awesome and you are going to be remembered for the life of the server. Of course, every immortal gets a glowing cloak that flows off the back of them to let everyone know, "Hey, I done it". 
The Shadows don't have something like this. The cosmetic gifts right now are more for the act of Immortals, but the Shadows have access to different content than the Immortals have access to. Shadows have Path of Blood, they have Contracts, they have the ability to Raid the Vault which is a chance to sneak in and steal the stuff from the Immortals and then everyone has access to things like the Helliquary which is sort of a PvE progression challenge system. Everyone, of course, has access to dungeons, Paragon, legendary equipment to find in the world. 
Q: If the Shadows succeed in raiding the Vault, what are the items they can get from the Vault?
Kristopher: The Immortals are accumulating all kinds of items in their Vault which includes legendary items, legendary gear, as well as those yellow items for the jewelry and secondary slots that are in the Vault. A lot of the best possible items in the game are accumulating in their Vault and they are very excited about that, but every time the Shadows raid the vault and when they open one of the chests in the Vault, there is the possibility that they will steal one of the items out of the Vault and take it for themselves on the spot. Both sides are able to get access to these items, but they are really still the same items that can drop anywhere in the world. The same item that drops if you find an ancient boss in an outdoor world zone and you kill the ancient boss, it is going to drop legendaries that are really no different and powerful than the ones the Immortals are getting out of the vault. It is just a different way to play the game to get the same rewards.
Scott: One thing I love about it is as items fill into the Vault, Immortals are allowed to pick up to three items a week where they say, "Hey, I want that," but the system does not give out the items until the end of the week. These are the exact items the Shadows have a chance to steal, so if I see this awesome piece of equipment that I really want and I say, "I want that," and the week goes by and it gets stolen, it's gone. I didn't get it. Some Shadow took it from me and maybe next time, I will try to make sure I am around to defend the vault.
Q: Being at the top of the competitive ladder can put a lot of pressure on players. Will the Immortals be able to abdicate their roles voluntarily and return to Adventurer status if they so choose?
Scott: Yes, you are not forced to be an Immortal for a whole cycle. You may choose to go back to being an Adventurer and that is perfectly fine. There are not a lot of people who get to be Immortals, so if you are not participating, it is always possible that the leadership on the Immortals might put you back to being an Adventurer. You really do decide your level of involvement there.
Kristopher: At the same time when you choose to be a Shadow, you choose to work against the current leadership, so if you choose to be a Shadow for a particular cycle, you are going to stay a Ahadow for that cycle. There is no forgiveness until the cycle is turned.
Scott: That's right. At the end of the cycle, of course, everyone who is not becoming the new Immortals does become an Adventurer again.
PvP and the Future
Q: Will every announced PvP game mode be available at launch? Will the game have more PVP content like game modes coming in the future?
Scott: Yeah, I mean the short answer is that we said it before that this is a living game. We are going to continue to grow and add to it. I don't think we are ready to talk about other things that haven't been announced yet, but I will say there are more things in development than what has been seen so far.
Kristopher: But everything we have announced will be available. We haven't talked about post-launch things, though. They will all be available.
Q: Will Diablo Immortal have a player killing arena later so that players can openly PvP and big numbers?
Kristopher: We actually have one already in Bilefen. There is an arena that essentially is free-for-all PvP combat for all those who show up. You can be in a party and the people in your party can win as a group, but other than your own immediate party members, it is a free-for-all with as many people that show up to fight it out in the Bilefen and that happens once an hour.
Scott: Just to be super clear, even that is still effectively opt-in because players have to go to that spot. We don't currently have a plan to just do like free-roaming open world PvP.
Q: We have seen how other PvP games feature ideal party compositions in higher-ranked competitive play. Are the teams concerned about this taking place in Diablo Immortal?
Kristopher: We would definitely be concerned if there were ideal party compositions. If somebody said our team of 8 people going into the Rite of Exile must be these exact 8 classes with these exact 8 builds, we would know there was a problem. The builds, classes and skills that were considered mandatory, we would probably find the ways to bring down their power a little bit or make them work together less well. Those that were not considered mandatory or those that were discouraged, we would find ways to bring them up, so we can mix up the meta of what people are bringing in. We don't want it to be a set problem that been solved. We want players to be constantly innovating with, "Hey I just got this new legendary and this Paragon and this legendary gem. How can I combine them together to make this really cool thing happen that other people aren't doing?" We want players to have an opportunity to explore their own unique combinations of power and abilities.
Q: What aspect of PvP are you most excited for players to try out when the game releases?
Kristopher: I think we are really excited to see how the Battleground goes as the game releases, how players figure out the strategies and coordination, the best ways to organize and win the Battleground. I think we are also really excited to see how Raiding the Vault plays out, what is going to be the best strategies for Shadows to raid the Vault, when are they going to do it, how many will do it at once, how do the Immortals organize themselves so they can keep it defended sufficiently at all times. It should be a lot of really interesting in the plans, how do the Shadows and Immortals plan their assaults against each other in the raiding and defending of the Vault. I think it's probably the most interesting and unique thing.
Scott: Yeah, the thing that I am super interested in is how long will an Immortal reign be able to stay on top and will that average duration change as people learn more? Like, will it become that reigns get shorter or will they get longer? What's going to happen as people start to learn the system and create meta strategies?
Q: Love for action RPG aside, what do you think will be the main factors to differentiate between Diablo Immortal players and Diablo on console and PC players?
Scott: I think when we were going to make Diablo Immortal, one of the biggest priorities for us was that it felt like a proper Diablo game because we knew that people love Diablo. They are going to be coming from PC, they are going to be coming from console and maybe they have never played a mobile action RPG. We wanted it to feel good and we wanted it to feel authentic for Diablo, so if we have done our jobs correctly, then those who are using a virtual joystick and virtual buttons for the first time, they are going to be able to slide right in and they are going to say, "Wow, this really feels like Diablo," and I think we have been pretty successful there.
Kristopher: At the same time, I think we will be drawing in a lot of players who can't sit in front of a PC or a console for hours. Maybe they are traveling or they work remotely or they are playing the game on the subways. It is attracting an audience of players who could not sit at a computer or console for an extended period of time, but now can play on a phone or perhaps they didn't have a powerful enough PC or console to play the game. So many people have phones. That opens up this huge new audience of players that could not play before including entire regions of the world where people have phones and very few people have desktop computers and console.
Scott: Yeah, I think the biggest thing that is going to differentiate between playing on mobile versus playing on console or PC, is just the fact that you have got it in your pocket.
---
Many thanks to Kris and Scott for opening up about the unique PvP content of Diablo Immortal. We also interviewed Kris previously on developing the game and preparing it for its alpha. Feel free to give it a read if you are curious about this mobile Diablo title.