Call of Duty / COD Black Ops Cold War has gotten a new content update which sees the arrival of the Jungle Multiplayer map, UGR SMG, and Eleazar "Lazar" Azoulay, who worked alongside Adler in the hunt for Perseus.
JUNGLE
The Black Ops series classic returns. How will you tackle this large 6v6 Multiplayer map? The environment consists of a low-lying river abutting a military base, ruins, and village, with vantage points abound in this loose, three lane structure for movement options.
UGR SMG
Accurate and deadly, these steel darts can penetrate even the thickest armoury. Gunsmith can outfit the SMG into a short-range powerhouse or a mid-range precision tool, its accuracy and handling in either form assured to carry you through any situation.
Full-auto submachine gun. Underwater rifle modified for improved land performance. Fires 5.56mm steel darts with moderate bullet velocity.

In-game description
Here's how to unlock the base version in Multiplayer and Zombies:
Multiplayer: Using an SMG, kill an enemy revealed by your Spy Plane, UAV, or Field Mic in 15 different completed matches.
Zombies: Eliminate 1000 enemies while using an Epic rarity or better SMG.
LAZAR
Having had a major presence in the Black Ops Cold War campaign, Lazar is finally joining you here. Handpicked by Russell Adler to track down Perseus to disrupt his spy network, he can lend you his strength in both Multiplayer and Warzone.
Purchase the Lazar Operator Bundle in the in-game Store, which unlocks Lazar's "The Broker" Operator Skin, you'll also get the "Dealmaker" SMG Blueprint, "Dealbreaker" Assault Rifle Blueprint, "Unlikely Volunteer" Finishing Move, "Standard Issue" Accessory, "Skeleton Fish" Charm, "Swamp Beast" Calling Card, "Bog Demon" Emblem, "Fixer" Reticle, and the "Refresher" Gesture.
More is yet to come throughout 2022, including a new Melee weapon, Operator Skins, Weapon Blueprints, Finishing Moves, Calling Cards, Charms, Emblems, and other cosmetics.
All details are available through the official blog.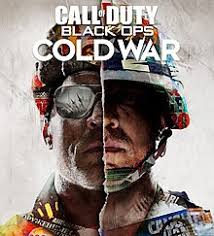 Call of Duty: Black Ops Cold War
Microsoft Windows, PlayStation 4, Xbox One, Xbox Series X|S
The next generation of global combat is here with the iconic Black Ops Multiplayer experience,
defined by Treyarch's signature combat, deniable operations, and a connected experience across
platforms and console generations.