During Blizzcon 2023, we got the opportunity to speak with Adam Jackson, the Lead Live Class Designer for Diablo IV.
Adam Jackson had years of experience working in the game industry, starting off his career as a Customer Support Representative, eventually working his way to his current role in Diablo IV.
Working as a Lead Live Class Designer, he and his team's focus lies within everything related to the five classes in the game, on top of the aspects that go into the live game, from balancing to system work.
[Interview is edited for clarity] 
Underpowered Classes
Considering how Diablo IV has been out for a while now, we asked Adam if there were any classes that are underpowered in the current build of the game.
To which, Adam said that there's no classes that are underpowered right now.
"When we redesigned and kind of redid all of our combat in the Season of Blood for Diablo IV, one of our goals with that update was that we wanted to make sure that all the core builds for every class would be able to complete all content in the game," said Adam.
Adam continued by saying that underpowered in terms of the differences between the worst build and the very best build, there's definitely some builds that are way stronger than other builds.
He reiterated that as long as all of the builds can complete the content in the game, the team considers that as a success.
Lessons Learned 
With Diablo being such a long running series, we asked Adam what were some of the lessons he learned about class design from previous games in the franchise.
Adam mentions that the team definitely learned a lot of class learning over the years between now and back in Diablo I. In the case of Diablo IV, Adam talks about how players really want to go fast in the game, where players talk about clear speed and how power is measured by speed.
"Like they want to clear things fast, they want to move fast.  They want to do things quickly and one of the key challenges there is that when you're making a class, a lot of the way that these kinds of games feel good is having a progression of your character."
Adam continued on that point by saying that when first logging into the game, the player's character needs to feel good to play, but at the same time it's important to leave room for that character to grow and progress.
He mentions that the team also learned a few things about pacing, how they deliver rewards, and with how they grow the character. An example he brought up was with the Necromancer class and the importance of the class fantasy where every class needs to feel different from one another.
One of the examples Adam brought up was despite that the Necromancer class doesn't have access to a ton of movement based skills like dashes or teleports, which makes the class feel different; there are some aspects that all of the classes need to be able perform at at a minimum level, else they'd fall apart.
Do Players Really Want Balance?
As a class designer who's seen thousands of pieces of feedback, we asked Adam if he believes that players actually want balance, or does he believe that players just want their chosen classes to be the best and that they may not realise it and mask it in the name of balance.
Upon hearing the question, Adam laughed and had this to say.
"I think players want to feel powerful and feel like they're doing cool and awesome things and I don't know that they necessarily care as much about balance except for when they see someone else doing something that's way cooler and way more powerful, they kind of want that right? Because it feels bad if you see it over there and you don't have it. "
Adam mentions that he personally doesn't think that people are inherently trying to seek out being overpowered. However, they do want to feel powerful and grow in that power to have a sense of progression of feeling there's a next goal that they want to achieve.
Adam brings up that at the core, Action Role Playing Games (ARPGs) consist of two different things: one being efficiency, where you maximise getting loot drops, or strengthening your character. The second thing is goal setting, where players chase certain goals and have things to set themselves up for to feel good.
As long as the team are delivering on those two fronts, Adam feels like players would be happy.
Keeping Class Designs Fresh
With Diablo IV being a live service game, we asked Adam how the team plans to keep class design fresh for each season.
To which Adam first stated that his current role as a Lead Live Class Designer is geared towards looking at the live service portion of the game and keeping it fresh over time. He mentions that there's a group of dedicated people including himself that look at the problems that players have in the live game, and look for ways to make the game better.
"So on the class side, there's a ton of things that are very easy, I think. Obviously we add new Legendaries and new Uniques to the game that's gonna shake up the class meta, and what people are doing and the fantasies they can chase and the builds they can make."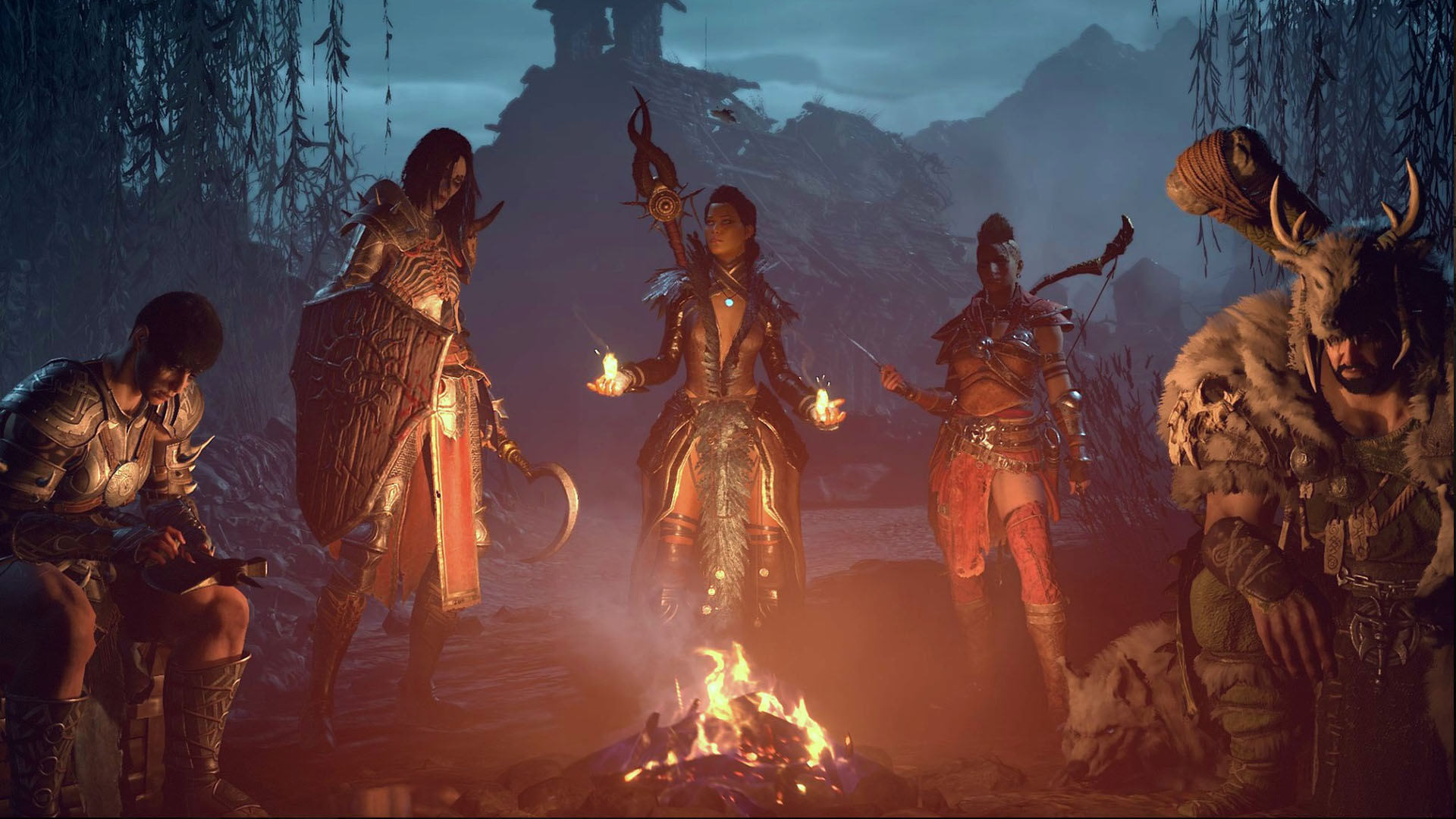 Adam continues by saying that they fully intend to do balancing and design updates to skills that players aren't attracted to, or adding new things that maybe players aren't even asking for. One of the examples Adam brings up is with Season 2, and how the team added a bunch of new scaling mechanics where players can use stats to scale certain effects.
Rogue vs Druid
From a leaderboard listing the first thousand Wanderers to achieve level 100 in hardcore mode, it seems that the rogue class is performing well where four of the top players are of that class. Coincidentally, the Druid class wasn't performing as well, with only one being in the top 20 spots. We asked Adam whether this was within the team's expectations when balancing the classes.To which Adam replied by saying that it was within expectations and mentions that he's unsure if he sees that as a problem necessarily, as he and his team didn't want to balance the game around getting to a benchmark quickly.
"I think it's definitely a consideration if the gap is way too wide. But I think it's within expectation that rogues are moving faster than most other classes most of the time as that's part of their core fantasy."
Continuing on with his answer, Adam mentions that every class needs to hit a minimum bar of mobility, but if every class is as good as rogue, it strips away the unique aspects of the different classes.
When applying the same logic to other parts of class design, it restricts the team into a tight box where they can't design creative and interesting things when it's that strict.
Adding a Sixth Class
Diablo IV houses 5 very distinct and unique classes that fit in different archetypes. We asked Adam what would hypothetically be the ideal sixth class to add into the game to complement the current roster.
While Adam didn't give anything too specific, he did mention that the sixth class would be something completely different than what players have seen before.
With the launch of Diablo IV, Adam and his team delivered on five very unique fantasies that have been done before which players appreciate and love. Adam reiterated that the ideal sixth class that they want to add into the game is something completely different that players have not seen before in a Diablo game.
"It's no secret to us that there's quite a few archetypes out there that people want that we've done and we hear that loud and clear. But I think there's also an expectation that we should deliver to players really new and fresh things."
The Blood Knight
Diablo Immortal added the Blood Knight class this year, which arguably fits in the content of Season of Blood. We asked Adam if there's been any discussion into porting that class over to Diablo IV or would it simply not work in the way that the team wanted it to.
Adam mentions that while there's no hurdle to bring in the Blood Knight or anything new that Diablo Immortal or other games make into Diablo IV, the team is focused on making the things that they think fit in the game and the narrative of the world.
"We could do the same thing or we could do something new, and I think there's a good place in time to do something very different and a good place in time to bring back something that people want."
The Most Beginner Friendly and Most Difficult to Master Class
One of the questions we asked Adam was which class he believed to be the most beginner friendly and which class is the most difficult to master.
To which Adam replied by saying that the team doesn't necessarily think of the classes as a whole as an easy or hard class. Rather, they see the skill builds of the classes and whether it's geared towards new players, or for players who have higher APM and want something a little more challenging.
The example of a high skill build Adam brought up which is the Walking Arsenal Barbarian which the key passive which requires players to equip three different weapon types and cycle through in a rhythmic cadence.
Meanwhile, the example of a simple build that Adam brings up is the Werebear for the Druid, which mainly focuses on the Pulverize skill, on top of making the player tanky and hard to kill while in Werebear form.
However, Adam did mention that the Sorcerer class is fairly beginner friendly, as they have access to a lot of AoEs and tools that are needed to get through the game. While on the flip side, Adam mentions that the Barbarian class might be a bit tougher early on, as it's a melee class which means players need to care about positioning.
Solo and Group Play 
The next question we asked Adam was how the class design affects group play and for those who prefer playing the game as a solo.
Adam mentions that the team primarily focuses on the solo player experience, and whether it works in group play is a bonus as there's very few skills that actually directly impact group play and they didn't want to make that the only way to play where solo players would be at a severe deficit.
When designing classes and builds, Adam once again reiterates that everyone has to perform at a minimum level at everything in the game, or else it wouldn't work and the team has to buff them to hit that bar.
Sorcerer Cosmetics
There's been recent sentiment within the Diablo IV community that the cosmetic sets for the Sorcerer class don't resemble the classic high fantasy spell casters with the big pointy hats and robes. We asked Adam what his thoughts were on this issue.
While there weren't any specific details shared, Adam mentions that the team is well aware of the feedback and that they're open to flexing the original philosophies and designs of the classes, as the players are the ones that eventually determine what the team has to prioritise on doing.
Helltide Living Steel Chest 
There's been a lot of talk within the community regarding the drop rates from the Helltide Living Steel chest being not so lucrative. We asked Adam if there's any plans on tweaking the drop rates in the future.
Adam replied by saying that the team have definitely heard the feedback from players where two of the problems stem from either players not getting enough Living Steel out of the chests, and the other being that the Helltide event isn't always available for players to get the materials whenever they want.
While Adam didn't have anything specific to share, he did assure us that the team recognises that it's a concern for the players and they have plans to address this issue in the future.
Storage Space
From a developer update livestream back in July, there were some talks about increasing the overall storage space for the game. We wondered if Adam had any information that he might be able to share with us.
Unfortunately, Adam didn't had any specifics to share with us. However, he did mention that the Diablo team is well aware of the issues and are currently working towards that.
---
We would like to thank Adam Jackson for taking the time to answer our questions during Blizzcon, and we would also like to thank Blizzard Entertainment for setting up the interview.
---
Check This Out Next
---